It might be a small country, but Denmark is still one of the most popular destinations in Europe, especially for its characteristic architecture and its history related to Vikings. This nation can offer you a lot of things to do, especially in Copenhague, the capital city. But, if you want to enjoy that, you must apply for a Denmark ETIAS first. This is an online document that will be mandatory from 2021 for visa-exempt countries.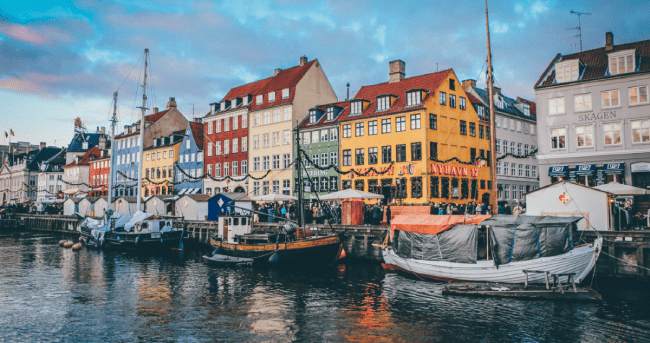 Israel is part of the visa-free countries, so you can easily obtain a Denmark ETIAS for citizens of Israel, but you should know the requirements first. In this article, you get to know more about this information and other useful tips, including the processing times and prices.
For your convenience, you can apply with iVisa.com's online form. This method is 100% guaranteed and it doesn't require much time to be completed. You'll just need an electronic device with an Internet connection and that's it!
Keep reading the FAQs below to learn more about the Denmark ETIAS.
Frequently Asked Questions / FAQs
What is an ETIAS?
As you probably read before, some non-EU citizens aren't required to apply for a visa to enter certain countries in Europe. But, by 2021, this measure will change because the ETIAS will be necessary. Denmark is one of the countries that will ask for an ETIAS if you want to visit it.
You should know that the ETIAS document will be mandatory for all EU nations that belong to the Schengen Area, not only for Denmark.
The ETIAS is a visa waiver program and it stands for European Travel Information and Authorization System. This system was created to strengthen the borders of the Schengen Area so that the authorities can have proper control of the travelers entering this region.
Unlike a paper visa, you can obtain the ETIAS via the online application form without going to the embassy, and you'll be able to do the whole process before setting off by taking just a few minutes to complete the form. Once the ETIAS is approved, you'll be able to move freely between Schengen Zone members for 90 days.
I have an Israeli passport, do I need an ETIAS to enter Denmark?
Please note that once the ETIAS system is ready to use, all citizens of non-EU countries will need to apply for the ETIAS before entering Denmark, and that includes the countries that can enter Europe visa-free. In other words, if you have an Israeli passport, you still need to apply for the ETIAS.
Keep in mind that the Denmark ETIAS application form oversees all applicants who want to enter this country and other Schengen countries as well. This is important to know because when you're applying for the ETIAS, you need to select a country, which should be the country you'll be visiting first. If you're traveling to Denmark, then you'll just have to select Denmark in your ETIAS application, but if you want to visit more countries in the Schengen Zone, then you'll have to select the first country to visit in your application.
What documents do I require to get the ETIAS?
The list of documents might vary depending on what method you choose to apply online. If you apply with iVisa.com, you'll just need the following:
Valid passport with all of your personal information visible, including nationality and Issue and expiry dates.
*Your current email address because you'll receive your document via email inbox.
Valid debit/credit card or a Paypal account to pay for the service with iVisa.com.
If you decide to apply with the ETIAS official website, then you'll need to provide other documents because the list of requirements is longer. That's why we recommend you to apply with iVisa.com since we focus on making everything easier for you.
What are the prices and the processing times with iVisa.com?
This procedure has only been released for a short time, and the ETIAS document will be in use by 2021. That's why we cannot give you precise information on the price because it varies for each person, but we can offer you information about the 3 procedures that iVisa.com has so that when you apply for the document, you'll already have an idea of ​​which option to choose:
Standard Procedure Alternative: This is the least expensive option with an average waiting time.
Rush Procedure Alternative: Your Denmark ETIAS will be ready in less time, but the price will increase.
Super Rush Procedure Alternative: With this option, you'll obtain your document asap by paying the highest price.
How can I apply?
The ETIAS application form on iVisa.com is fast, simple, and affordable. You can apply from anywhere as long as you have WiFi access. You don't need to join a queue at the embassy and you don't have to wait for an official website to load properly. You just need to follow these steps:
First, answer the first questionnaire of your application form here. Then, select the procedure time you prefer with iVisa.com.
Second, double-check the information you've offered us to make sure that is correct. After that, you will be able to pay for the service.
Third, you can upload your documents carefully and you can also make the last revision before sending the online form. Once you click 'submit', you're ready to receive your ETIAS!
Please remember that once you send us the application form, you won't have to do anything else but wait for your document via email. Remember that if you need assistance, you can contact our support service 24/7.
You should also remember that this process isn't long, so you'll probably complete it in no more than 20 minutes. However, there's no rush, you can take your time to complete the form. In case you want to receive your document the fastest way possible, you can simply select the Super Rush procedure.
Does this application form guarantee the approval of the ETIAS?
On some rare occasions, the ETIAS application form may not be approved, which is why we always emphasize that the online form doesn't necessarily mean that you'll be ready to enter Denmark. Most of the time the results are positive, but that's not something exclusive.
Please note that this system will always review the applications properly, and it might deny entry to certain travelers that are included in the ETIAS watchlist, or in Interpol or Europol. Don't forget that the ETIAS system was created to improve Europe's border security.
Nevertheless, it might be also a mistake or even something that you forgot to upload. In that case, you'll receive the notification and you'll be able to appeal for the document.
Don't forget that we always offer a support service if you have doubts about this process.
Is it safe to apply with iVisa.com's online form?
As you read in this article, iVisa.com's online form is an excellent option if you want to avoid slow electronic procedures or a long queue at the embassy, but that's not all. In iVisa.com, we take security seriously, which is why we have a high-quality platform that won't put your information in danger. In our reviews section you can confirm this information.
Where can I obtain more information?
There are many things to learn about the ETIAS form, and that's why you might have more questions. We invite you to reach out to iVisa.com's customer service center if that's the case, or explore more articles on iVisa.com's blog if you prefer.