Since the COVID-19 pandemic started, international travel has changed, and many protocols have been developed to make tourism safe. Before any trip, you needed a COVID-19 test certificate, to be up-to-date with the accepted vaccines, and to find out the requirements of local authorities.
The Egyptian government developed additional security measures to keep the tourist areas safe for travelers and locals. The Passenger Locator Form was one of the measures to help Egyptian authorities track and control the coronavirus cases.
However, little by little, Egypt and other countries have been lifting the COVID-19 restrictions. Since July 20, 2022, the Egypt Declaration Form is no longer necessary to enter the country. Also, passengers don't have to present a vaccination certificate or negative PCR test certificate on arrival. This article will provide further information about the current COVID-19 protocols.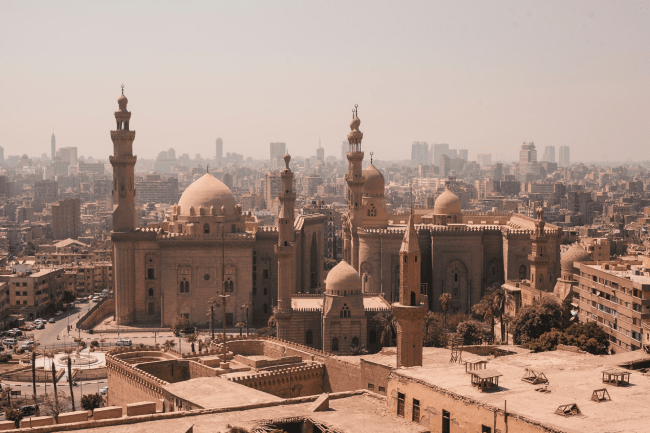 Travel to Egypt from the UK - Coronavirus Frequently Asked Questions
HOW CAN CITIZENS OF THE UNITED KINGDOM TRAVEL TO EGYPT DURING CORONAVIRUS?
Egyptian authorities used to require a Health Declaration Form, valid vaccination certificate, or negative PCR test for unvaccinated travelers. None of these items is required anymore. Local authorities have lifted the COVID-19 restrictions.
So, all the UK citizens need for this trip is an Egypt eVisa. You can apply online in a few clicks and receive the document in your email. This electronic visa allows trips for tourism and business purposes.
DO I NEED A COVID VACCINE OR VACCINATION CERTIFICATE TO ENTER EGYPT?
No, you don't. As of today, passengers arriving don't need to present a COVID-19 vaccination certificate. This is no longer part of the entry requirements, and fully vaccinated visitors with accepted vaccines, as well as unvaccinated visitors follow the same protocols.
DO I NEED TO TAKE A PCR COVID-19 TEST BEFORE TRAVELING TO EGYPT?
COVID-19 testing doesn't have to be part of your travel plans. Egyptian authorities no longer require a negative PCR test certificate or antigen test for foreign residents on arrival.
IS THERE A QUARANTINE REQUIREMENT ON ARRIVAL IN EGYPT?
There is no mandatory quarantine on arrival to visit Egypt. On the other hand, if a traveler tests positive during the trip, self-isolation is recommended to avoid the high risk of compromising others.
WILL I ALSO NEED A COVID TEST CERTIFICATE IF I WILL JUST BE TRANSITING THROUGH AN EGYPTIAN AIRPORT?
According to local laws, arriving passengers who only need to pass through the international zone of an Egyptian airport no longer have to present a negative PCR test result. The local authorities have lifted COVID-19 testing requirements.
Egypt eVisa for Foreign Nationals
Egypt is a fantastic destination country and sometimes you can find commercial flights with excellent prices. So, if you have the opportunity, you should explore this place full of history. Now that you have detailed information about the COVID-19 restrictions and test results requirements, you can plan your travel relaxed.
The first thing you need is to apply for the Egypt eVisa. United Kingdom countries are eligible to fill out the application form online for this electronic visa. The document allows entry to Egypt for tourism or business purposes.
The Egyptian eVisa is valid for 90 days after issued and permits travelers to spend up to 30 days in Total in the country.
You can use the eVisa to explore the country's fascinating sites, attend religious festivals, or for business meetings/events. However, visitors are not allowed to engage in any work activity with this visa.
DOCUMENTS REQUIRED TO VISIT EGYPT
Whether for visiting rural areas or spending some bucks living your best life in Sharm El-Sheikh, you have to meet some requirements of Egyptian authorities to enter the country. Upon arrival, Egyptian government officials will ask for the following documents.
Be sure to have them handy:
A passport; valid for at least six months after the arrival date.

A hard copy of your Egypt eVisa.

Travel itinerary; it may be helpful if you have tourist sites tickets.

A supporting letter, e.g., a letter from a company if it's a business visit, or invitation letters in case offamily visits.

Hotel bookings/further details about places you plan to visit if you're a tourist.
The travel advice is to check if everything is in order before the flight departure.
HOW TO APPLY FOR THE EGYPT EVISA
The Egypt eVisa is quite simple. In a few clicks, you can submit your information. Applying with iVisa, you can count on our expert team's support throughout the application process.
Follow the steps below:
First, complete the visa application form with personal details and select the processing time that suits you best.

Second, before proceeding to the payment, we will ask you to double-check that your form is error-free. This is to avoid potential setbacks. After that, you can proceed to pay the fee. We accept any credit or debit card.

Third, you have to upload the necessary documents and pay the visa fee.
Simple, right? You will then receive the document via email. You must print it to present to Egyptian authorities on arrival.
CAN YOU GIVE ME THE PROCESSING TIMES AND FEES FOR THE EVISA APPLICATION?
The processing fee varies according to the processing time and if it is a single or multiple-entry eVisa. You can choose between the following options:
Egypt eVisa - Single Entry
Standard Processing Time: USD $74.99 - 6 Business Days. The option with the slowest processing speed but the most affordable of the three.

Rush Processing Time: USD $123.99 - 4 Business Days. For a faster turnaround, you can use Rush Processing. It costs a bit more, but it is also a bit faster.

Super Rush Processing Time: USD $182.99 - 3 Business Days. The best choice for those in a hurry to get their eVisa.
Egypt eVisa - Multiple Entry
Standard Processing Time: USD $140.99 - 6 Business Days. A slow option for travelers that need to visit Egypt multiple times, but with a low-budget cost.

Rush Processing Time: USD $191.99 - 4 Business Days. You can have the multiple-entry Egypt eVisa faster, paying a little more.

Super Rush Processing Time: USD $275.99 - 3 Business Days. The best option for travelers that need the multiple-entry Egypt eVisa asap.
WHAT IF I HAVE MORE QUESTIONS?
You can contact our customer service team anytime; we are available 24/7. You also have the option to send your queries about how citizens of the United Kingdom can travel to Egypt during the coronavirus pandemic via email to [email protected].