Are you looking to travel to the quaint and quiet country of Estonia? Well, look no further than iVisa.com. We help you get what you deserve: a relaxed and pleasant holiday in beautiful Estonia with the minimal time spent on paperwork and processing.
Although not as traditional or old as the rest of Europe, Estonia has the advantage of being new and unexplored. The capital, Tallinn, represents Estonia perfectly. The old town, VanaTallinn, is surrounded by medieval walls and towers while the newer parts of the city features high-rise buildings and luxury hotels. It is a charming blend of old and new and all you need to do to see this yourself is iVisa.com's online ETIAS application.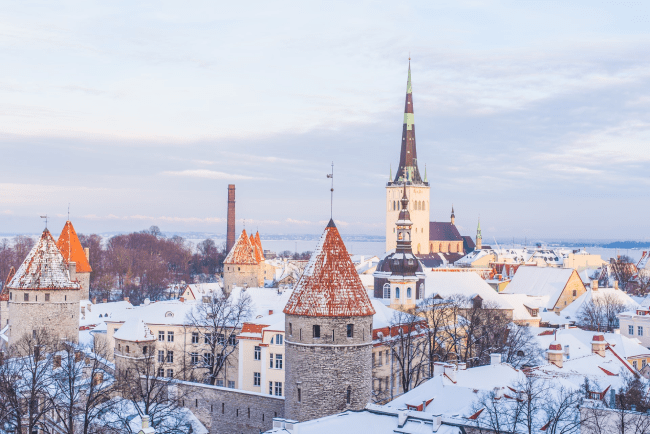 The country also offers excellent public transport thereby giving the tourists easy access to its lush and clean outdoor spaces.
Cannot wait to get there? Check out iVisa.com's online form and keep reading the FAQs to learn how to fill it out.
Frequently Asked Questions (FAQs)
WHAT IS AN ETIAS?
The European Travel and Information Authorisation System or ETIAS is just like a visa, but without all the hassle of procedures and long waiting times. It is an online authorization system that keeps track of visitors from countries that do not require a visa to enter the Schengen zone.
Given that Mexico is listed as one of these countries, if you are a Mexican citizen, look no further than our Estonia ETIAS application. We've made this form so easy to fill out, that all you need is 10 minutes!
DOES THE ETIAS APPLICATION NEED TO BE FILLED PRIOR TO TRAVEL DATE?
Yes, you should apply for the ETIAS at least 72 hours (3 days) prior to your travel date. Keep in mind though, the ETIAS authorization can be revoked by the EU authorities and canceled if the conditions for its issue no longer apply.
Have more questions? Reach out to us any time!
WHAT ARE THE STEPS TO APPLY?
iVisa.com has a super easy 3-step process for the Estonia ETIAS application that will take you less than 10 minutes to fill out completely!
Step # 1: Enter your basic details into the online application form and choose a processing duration that works for you (more on this below).
Step # 2: Triple check the information to avoid the need for any extra charges and then simply link your credit/debit card or your Paypal account to pay and confirm.
Step # 3 Just upload your docs and hit apply now!
To learn more about the payment modes and processes, click here.
HOW MUCH TIME AND EXPENSE IS INVOLVED IN THE PROCESS?
iVisa.com has three payment options that you can pick and choose from, depending on your timeline and budget. The options are:
Option A: The "Standard" option offers you the basic services for a moderate waiting time and price.
Option B: The "Rush" option is much quicker and will be yours for a slightly higher price.
Option C: The "Super-Rush" option is hugely beneficial for people who need to make immediate journeys and require a super fast-tracked process.
We always want to hear how we can help you! For more information, feel free to contact one of our customer service agents.
CAN YOU TRAVEL ACROSS EU WITH AN ETIAS?
Ideally, yes. However, the final decision lies with national border guards and will be assessed via an in-person inspection procedure only on entry.
Here, the ETIAS plays a major role as it provides the authorities with information from prior preliminary checks to border controls, hence speeding up the process of the entry/exit. So yes, the ETIAS application is super crucial and you should get started now!
Remember that the ETIAS is specifically for European countries located in the Schengen Area, so due to its location, Ireland is not included.
WHAT DOCS DO I NEED IN HAND TO APPLY FOR THE ETIAS?
Apart from questions regarding your nationality, criminal record, and travel itinerary, the only things you will need are:
A passport scan - Make sure you take a legible scan and your passport is valid.
A digital photograph- Check out iVisa.com Photos to get that picture-perfect photo!
E-mail address- Make sure you use an email account that you check frequently.
Ready to apply for an ETIAS? Click here and get going!
IS IVISA.com SAFE?
Yes! We put a lot of time and effort into making it the best option for you and your loved ones.
Do not believe us? Read our client reviews!
HOW CAN I KNOW MORE?
Contact our customer care representatives by calling them on +1 (786) 460 2707 or click here to email them directly.
We'll get back to you as soon as possible and look forward to answering your questions!
You're ready to go go go! Click here to apply now. Andale!