Breakaway from the routine of your life and travel to the unexpected cultural jewel of Estonia!
Estonian history is as interesting as the country. Always influenced by political drama from neighboring countries, the Estonians fought back in their own unique way: by singing. And this is reflected in the way people live and celebrate their lives in Estonia. Sounds like a great place to be, right? Get one step closer to living that dream by getting your ETIAS authorization through iVisa.com, now!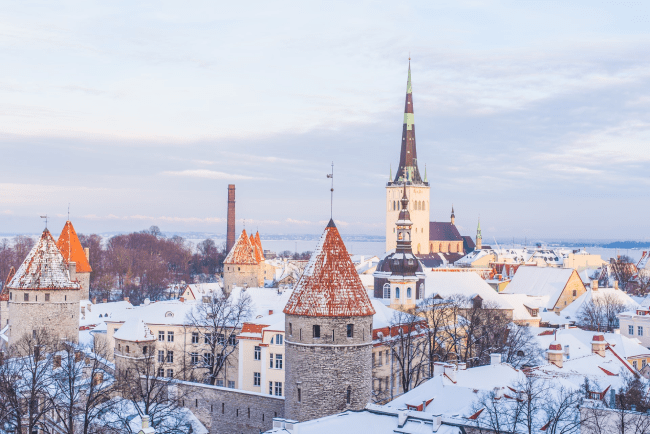 Walking down the streets of Estonia will give you the feeling of traveling back and forward in time all at once. Want to know more about how you can apply for Estonia's ETIAS? Keep reading our carefully curated FAQs to understand more and then click here to apply now!
Frequently Asked Questions (FAQs)
WHAT IS THE ETIAS AND WHO NEEDS IT?
If you plan to travel to a European Union country in 2022, it is important to note that there is going to be a new requirement: the ETIAS authorization. ETIAS stands for European Travel Information and Authorization System. It is a completely online system that allows the authorities to keep a track of visitors from countries that do not need a visa to enter the Schengen Zone.
The ETIAS visa waiver program will allow travelers to travel between all of the Schengen countries by applying for one single visa waiver. Begin your application with iVisa.com today!
IS A CITIZEN OF MARSHALL ISLANDS REQUIRED TO FILL AN ETIAS TO TRAVEL TO ESTONIA?
Yes, since the Marshall Islands form part of the list of countries exempt from the Schengen visa, you will need an ETIAS.
To know more about eligibility criteria check iVisa.com's Visa Checking Tool on the iVisa.com homepage.
WILL HOLDING AN ETIAS GUARANTEE MY ENTRY TO THE SCHENGEN ZONE?
Unfortunately, no. The holding of ETIAS will not guarantee your entry into all of the EU countries. Sometimes, the decision to grant or refuse entry is different for different national border guards
The ETIAS is a state-of-the-art electronic system that simplifies the entire application process and provides the authorities with the data to deny or grant entry to the EU. And unlike normal visa processes, the iVisa.com Online ETIAS form barely takes 10 minutes to fill and will be authorized within your chosen processing timeframe!
WHAT DO I NEED TO KNOW BEFORE FILLING IN THE FORM?
The iVisa.com Online ETIAS form is expected to take approximately 10 minutes to complete. It must be submitted online, thus relieving you of the paperwork that generally accompanies visa processes!
All you need is:
A scan of your valid passport.
A digital photograph.
Your PayPal or card details to pay the fee and submit the form.
And you're good to go!
DO I NEED TO CARRY AROUND A HARD COPY OF ETIAS?
While the authorization will already be directly linked to your passport, it is advisable to bring your iVisa.com ETIAS authorization email printout to the airport to be on the safe side. The validity of the ETIAS visa application is directly related to the validity of your passport, so keep that in mind too.
CAN I RELY ON IVISA.com TO GET MY ETIAS SAFELY?
According to our customer's testimonials, it looks like you absolutely can!
We've worked hard to create a system that is user-friendly and requires minimal time and effort, while ensuring that the back end is fortified with the latest technology to protect you and your information.
STILL HAVE UNANSWERED QUESTIONS?
No worries! If you do have any other questions in mind, here is what you can do:
Click here to contact us with anything and everything you need.
Visit our page to learn more about iVisa.com and how we do what we do.
Or simply contact our customer care representatives by calling them on +1 (786) 460 2707.
To apply today, fill out the ETIAS form via iVisa.com!