The Baltic country known as Estonia may be small compared to its neighbors, but it's also what makes the territory so accessible. You can visit the main cities and smaller towns to enjoy their wooden houses and beautiful waterfalls, only a bus or train ride away.
Its capital, Tallinn, holds a combination of medieval architecture and modern design, all in one. The main square keeps the 11th-century vibe with cobblestone streets, medieval churches, and pastel-colored warehouses.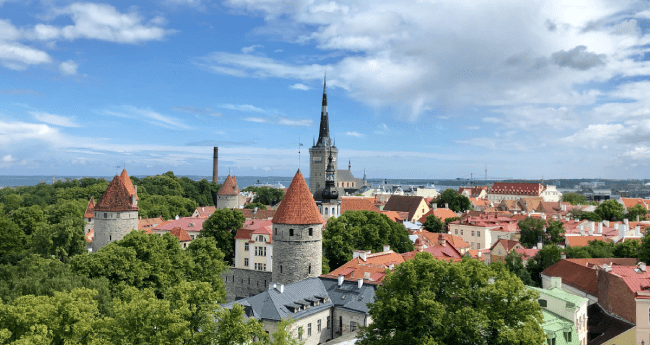 Visitors can also decide to look for more nature and approach Lake Viljandi, or head over to the seaside beaches. Nature is also found through over 2,000 islands near the shore, and all parts of Estonia in three main natural parks.
An enjoyment of scenic views and historical tours can be appreciated easily by all travelers incoming from Schengen visa-exempt countries. But this process will soon give way to a new requirement. The need for an Estonia ETIAS for citizens of Palau will be mandatory and the only way to enter Estonia or any other Schengen state.
An ETIAS is a digital authorization document that analyses the personal information of the travelers to revise that they're entering legally and with no intention of disrupting the local safety.
The ETIAS application can be fast and simple, not to mention trustworthy through the iVisa.com online form. All the information you need to know about the Estonia ETIAS for citizens of Palau can be found next.
Frequently Asked Questions
What is the Estonia ETIAS function?
The ETIAS is created by the Schengen authorities and will only be implemented to have easy access to all of the member states of the region. All travelers incoming from visa-free countries must apply for their ETIAS before departing their country of origin towards the Schengen area. It will work as a pre-screening process to visitors so that customs officers and departments can know beforehand that the incoming traveler is not a threat to the Schengen states.
Are all citizens of Palau required to have an ETIAS?
An Estonia ETIAS is needed for any travelers from visa-exempt countries that wish to enter Estonia or other Schengen zone destinations. Application of the Estonia ETIAS for citizens of Palau is effortless but will need to be done by every traveler, no matter their age.
When should I request my Estonia ETIAS?
There are currently no written indications about when you must start your ETIAS application, but it's recommended that you proceed to initiate it at least 96 hours before traveling. Although the process is speedy, you don't want to risk having documents denied or delayed in their submission, which could change all travel plans.
Which countries can I visit with an Estonia ETIAS?
With an Estonia ETIAS, you are authorized to travel around the Schengen Area on a multiple entries condition. You must stay aware that your ETIAS document is for short trips of 90 days or less during the entire trip.
For how long will the Estonia ETIAS be valid for citizens of Palau?
ETIAS holders can plan their stay in Estonia and other Schengen countries for a maximum duration of 90 days every 180 days. This is only subject to the condition of how long the ETIAS is valid; it could be restricted to your travel plans or 3 consecutive years. The determination of the validity is based on your ETIAS application form.
Which documents do citizens of Palau need for an ETIAS?
The ETIAS application process does not require many actual documents from the applicant traveler; it mostly asks for information about the planned trip and travelers' background. These are the items you must have at hand when filling out your questionnaire:
Valid passport and digital copy: they will be required to fill in the online form with your personal details, and the digital copy to verify your information
Current email address: so that the applicant can receive the final ETIAS notifications and answer any additional questions during the application process
Method of payment: to make the online fee payment. It can be through a PayPal account or with a debit/credit card.
How can I start my Estonia ETIAS application?
The Estonia ETIAS application process for citizens of Palau is simple and direct, but it can still be a bit overwhelming and tedious if done through the official website. You can choose to do it through the iVisa.com platform, and not only does it have a more structured process, but you can request a faster analysis speed, and that way you receive the results in less time.
Start your application by following the three iVisa.com steps:
1.First, you must complete the application form with your personal details, and determine your chosen process alternative.
Standard process alternative - the cheapest option to receive your ETIAS results but will take longer to process.
Rush process alternative - is a more expensive option to process your information, but the results will be delivered faster.
Super rush process alternative - is the fastest solution to get your ETIAS notifications, but it does mean a higher price of service.
2.Second is to revise that the provided details are valid and correct, as well as proceed to make online payment.
3.Finally, you must upload any documentation requested at the beginning of the application and send the form to submit.
Once you have sent your application form, you only need to wait for the results to arrive in the determined time frame.
How safe is an applicant's information with iVisa.com?
Any citizen of Palau applying for the Estonia ETIAS can have normal doubts about the iVisa.com website. Because of numerous digital threats, the platform has a modern and updated security system that protects each user's information throughout the application process.
Here are some clients' reviews about the services and platform to confirm our statement.
I still have some questions about the Estonia ETIAS; where can I find more info?
If you continue to have doubts regarding the Estonia ETIAS for citizens of Palau, you can contact our customer service team through an online chat message or email message to address your questions. You can also review the iVisa.com website for more tips and information about ETIAS in general.