Back in July 2020, the European Commission agreed to launch the ETIAS visa waiver program (officially named the European Travel Information and Authorization System).
This system will offer a travel document for Europe that will work as a security tool to strengthen the EU's external borders and make border controls faster for all visitors. The ETIAS background and security questions are mandatory and will contribute to recognizing those individuals who could be a threat to the Schengen Area and its residents.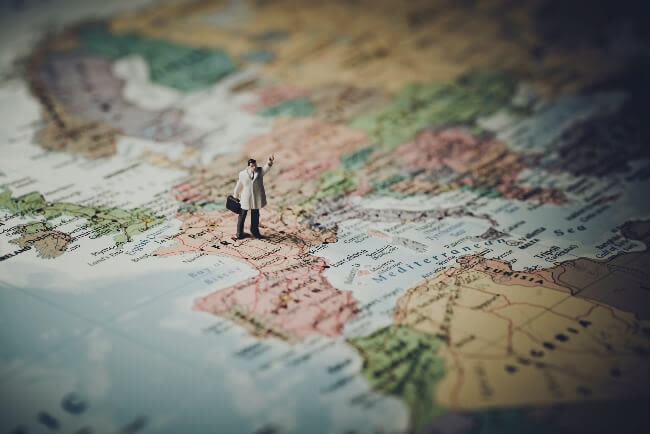 At least 60 countries can travel to the Schengen area without needing a visa or travel permission by now. However, this will change by 2022 when the ETIAS system will be fully executed and travelers from visa-free countries will be pre-screened through the ETIAS.
Those visitors, including U.S. citizens, will have to enroll in the ETIAS system before entering Europe. The ETIAS online form must be completed with personal details like passport ID and email address.
To learn more about this form and the ETIAS background and security questions, we suggest reading the list of questions below.
Frequently Asked Questions
Will I need an ETIAS to enter the Schengen Area?
You might need to apply for an ETIAS before entering the Schengen zone. The only way of knowing that for sure is using our visa checker tool, at least on our website.
Using that tool is convenient to see what documents you need to enter certain countries. In this case, you'd only have to select your country of origin and choose a country that belongs to the Schengen area to see if you can apply for an ETIAS or not.
Get more help about this topic and the ETIAS background and security questions here.
What is the Difference Between a Schengen Visa and an ETIAS?
ETIAS is a visa-waiver program that's electronically-issued, and it was created for those countries that don't need a visa to enter the Schengen zone (for example, Australia, the US, Canada, etc.). Contrary to that, it's the Schengen or EU-visa, which is not automated and it can be received only at a local embassy that issues it.
You can apply for the ETIAS with iVisa.com easily without having to spend much time in tedious forms, but keep in mind that we do not issue Schengen Visas.
What items are required to apply for the ETIAS?
If you want to apply for the online application successfully, you have to check that you comply with all the ETIAS qualifications first. The things you need are easy-to-get, so you shouldn't worry about that.
If you use iVisa.com you'll need the same things as if you apply with official Schengen websites:
You need your passport with good validity, meaning that it shouldn't be expired at the time of flying.
You also have to offer an email where you will get the details of the process and the ETIAS in PDF format.
A confirmed payment method is also required. It usually is a Paypal or credit debit card.
To check more information about these items, go to this link.
What are the ETIAS background and security questions?
Many travelers will need to register with the ETIAS system by 2022. Getting a valid ETIAS will be crucial to visit any nation in the Schengen Area. When finishing the ETIAS form, you'll be required to answer some ETIAS background and security questions. All of them will focus on your criminal record.
You'll have to inform authorities of any convictions for serious criminal transgressions over the past 10 years, including terrorism, sexual exploitation of children, human trafficking, trafficking of drugs, murder, and sexual assaults.
You'll also have to answer if you stayed in any specific war or conflict zones and of any prior administrative arrangement that required you to leave a country over the past 10 years. If it's from terrorism, the period increases to 20 years.
It's obligatory to answer with honesty, otherwise, your application could be rejected. Don't forget that the ETIAS will screen all information provided through many security databases like Europol and Interpol.
How much will the ETIAS cost?
The average price for this document is around 7 euros, but it'll probably change soon due to some updates related to the ETIAS code. Plus, we charge an extra fee to make the visa process more comfortable for you, meaning that you'll get your ETIAS in less time with less effort.
The processing times we provide for the ETIAS are as follows:
Standard Processing with the most affordable price and an average waiting.
Rush Processing with a more expensive cost but faster processing.
Super Rush Processing with the most expeditious waiting but also the most expensive cost.
How do I apply for an ETIAS?
The official process is easy-to-understand, but we can tell you that's a lot easier and faster to use iVisa.com's application form. You'd just have to complete this 3-step process:
The first part is to pick a processing option that suits your needs and budget. You also have to offer basic details through the online form.
The second part is to verify that all of your private information is correct before paying for iVisa.com's service.
The third part is to attach all the items required to the online form so that you can send it easily.
Is it safe to get an ETIAS through iVisa.com's online form?
iVisa.com is a trustworthy company that takes the protection of its system thoughtfully. Therefore, you can feel secure when applying with our ETIAS Form because we created a strong and convenient platform. You can also check our reviews if you have doubts.
Where do I read more?
Find out more information about the ETIAS background and security questions by clicking on this link, or just contact us if you prefer personal help.