People from Mexico often wish to travel to Europe to explore the magnificence and heritage of the place. Travel to the coastal region in Italy for once-in-a-lifetime views of the Mediterranean Sea from beautiful cliffside towns.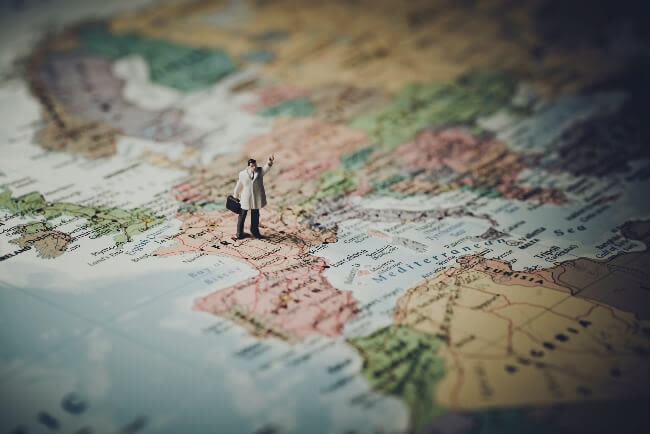 Spend your days hiking the nearly 4-mile-long Il Vallone delle Ferriere trail, wandering the dreamy streets of Positano, or retreating to more secluded places like Fiordo di Furore beach. To soak up even more sun, consider an Amalfi Coast boat tour, which may stop at points of interest like the Emerald Grotto and the waterfalls of Marmorata.
Use the iVisa.com platform to know more about the ETIAS for Citizens of Mexico. Read along the following questions and answers to get further details on the ETIAS.
Frequently Asked Questions
WHO NEEDS AN ETIAS, AND HOW DOES IT WORK?
The ETIAS is to be applied to travelers arriving at Schengen states and coming from visa-free countries. These visitors will need to apply for the ETIAS before departing and must only travel for a short time and with the purpose of tourism, business, or medical visit.
It works as a travel authorization but also as a prescreening measure for security authorities among borders.
WHICH COUNTRIES CAN CITIZENS OF MEXICO VISIT WITH AN ETIAS?
With an ETIAS authorization, you are allowed multiple entries throughout the validity of your document.
The only limitation is that you can only travel among the Schengen states and can stay 90 days at the most in a six month timeframe.
CAN I VISIT THE SCHENGEN AREA TWICE IN A YEAR WITH AN ETIAS?
Having an ETIAS for citizens of Mexico, you can travel around the Schengen countries until the validity of the ETIAS expires.
This validity can be the entire planned trip or up to 3 years; during this time, you can stay a maximum of 90 days in the Schengen region every 180 days. This means that depending on your ETIAS validity you might be able to visit Europe twice a year.
WHAT INFORMATION DO I NEED TO START MY ETIAS FOR CITIZENS OF MEXICO APPLICATION?
The digital option of applying for the ETIAS for citizens of Mexico simplifies the process and makes it more accessible to all applicants.
The easy process only requires the applicant to gather together the following documents:
Valid email address for you to be kept informed of the ETIAS process and notifications.
Your passport which will be used to provide your information on the application form.
The selected method of payment can be a credit card, debit card, or PayPal account to pay the online fee.
HOW CAN CITIZENS OF MEXICO GET THEIR ETIAS RESULTS DELIVERED FASTER?
Although there is currently no precise information regarding the speed of the ETIAS for citizens of Mexico process, iVisa.com can offer information on some options to make your future application documents go faster.
These are the iVisa.com choices to getting your documents delivered in less time:
Standard processing: this is the current and most affordable option for getting your ETIAS documents delivered.
Rush processing: it's an option that will deliver your ETIAS results in less time for a higher price.
Super Rush processing: you can choose this option for a faster processing time of your ETIAS document but it implies an expensive cost.
HOW DIFFICULT IS THE ETIAS APPLICATION PROCESS FOR CITIZENS OF MEXICO?
Unlike other travel authorization processes, the ETIAS for citizens of Mexico can be straightforward and practical when applying with iVisa.com.
Its process requires the applicant to follow three simple steps to provide their information, and then select how fast they want their documents to be delivered.
These are the three-steps for applying with iVisa.com:
First, you need to fill out the online form with your personal data and select the process alternative you want for your ETIAS application.
Continue the process by reviewing that your information was correctly entered and make an online payment.
Your last step is to upload any documentation requested at the beginning and send your form.
Once you've submitted your form, you only need to finish for the results to be delivered in the selected processing time.
IS MY DATA SAFE WHILE DOING THE ETIAS APPLICATION THROUGH IVISA.COM?
You can calmly start your ETIAS application with iVisa.com because of the secure system it has, which protects all information on their website and databases from cyber threats.
Here are a few reviews from previous clients regarding our services.
HOW CAN I GET MORE INFO ON THE ETIAS?
You can find more information about the ETIAS for citizens of Mexico on the iVisa.com website.
But you also have the opportunity of contacting the iVisa.com team with your questions about the ETIAS and application process through a chat message or email at [email protected]
Find all the basic details you need about the ETIAS on iVisa.com to get your Europe itinerary planned.