There are some steps you have to follow to have a successful trip to a destination like France. The most important step you should start with is to collect the required documents to enter the country as soon as you land at the airport. For that reason, you should remember that if you're Chilean, you can apply for the France ETIAS for the Citizens of Chile. To do this, you must complete an online form that shouldn't take more than 20 minutes.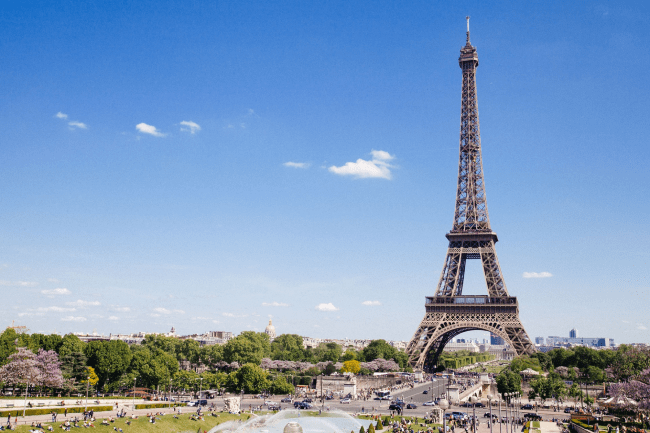 You can do this process with an official Schengen webpage, or you can simply apply with iVisa.com and save a lot of time and effort that you could use to finish preparing other important things for your trip such as luggage or tours in Paris.
To learn how to apply for this document with iVisa.com, we've prepared a series of FAQs that will facilitate the work and help you prepare better for this process.
Frequently Asked Questions (FAQs)
What is the meaning of ETIAS?
ETIAS is the acronym used for European Travel Information and Authorization System. This is a visa waiver program created by the Schengen Members Authorities to have better control of its borders. With this system, you can receive an online document that allows you to enter any Schengen country without problems at the airport.
This online authorization is mandatory to enter any Schengen country, including France, and it's a must for any foreign citizen, including visa-free nationalities like Chile.
How many countries can apply for the ETIAS?
This program was recently launched and it's available for 60 countries by now. It might increase in the future, and it's possible to keep track of this information by always taking a look at iVisa.com's webpage.
Do I need an ETIAS to travel to France if I'm Chilean?
Yes, you need this document to enter France or any Schengen country because Chile is one of the 60 nations eligible for an ETIAS.
What documents do I require to apply online?
Contrary to other online documents and processes, with iVisa.com you don't have to scan a lot of personal requirements, you just have to provide the following:
Valid passport with a visible copy of the information page.
An email address
Available payment options like credit or debit card, or Paypal to pay for the service.
Please note that these are the only things you need by applying with iVisa.com, but you might need other documents if you apply with other options like the ETIAS official website.
What are the prices and the processing times for the ETIAS?
Since this document was recently made official, it's not possible to have an exact price for each nationality that needs it by now. That's why, in iVisa.com, we cannot offer you exact information on this point, but we can give you an idea of ​​the procedure times that we have. Please note that the price would include the authorities fee + iVisa.com's service:
Standard Processing Time: it has an affordable price for an average waiting. This is the least expensive option.
Rush Processing Time: this option has a more expensive price but you wait for less than before.
Super Rush Processing Time: this alternative is recommended when you're in a rush because it's the most expensive, but it's also the fastest.
How can I obtain my document?
You should keep in mind that the official online process to get your ETIAS isn't hard but it might be tedious and time-consuming. But, with iVisa.com, you can save many minutes of your day by simply following this 3-step process:
First, answer the first questionnaire with your personal information and select the procedure time.
Second, verify your information and pay for the service.
Third, upload the requirements that were requested at the beginning of the process and send the form.
Click here to start your online application form.
How much time do I need to apply?
The best thing about iVisa.com's online form is that it has an effortless process and it's user-friendly, so it shouldn't take you more than 20 minutes to complete.
What benefits do I receive if I apply for the ETIAS?
Contrary to the common belief that applying for the ETIAS won't give you any benefit, you should know that it guarantees a lot of positive things on your trip. Some of these benefits are:
If you apply with iVisa.com, you can save a lot of time thanks to the top-notch platform that iVisa.com has created. By having this document on hand, you'll only need to offer your passport at the airport and nothing else.
There are other security databases like Interpol, SIS, and VIS that are linked to this document, so you won't have any issue when entering the airport and you'll also be safer because this works as an intelligent tracker of potential danger in the country.
This document was created to also mitigate illegal migration, so you won't find any trouble or danger when entering the airport.
The best thing about the ETIAS is that you'll be able to enjoy any Schengen zone country by simply having one of the ETIAS. However, we still recommend you to stay alert to our website for upcoming information about it.
Do I have to apply for an ETIAS if I'm just passing through?
If you're just passing through France to make a stopover, you still need to have your ETIAS on hand. Please remember that you could find issues at the airport if you don't have this document, and you could even lose your next flight. Keep this information on mind whenever planning a trip to any Schengen country.
Is it safe to use iVisa.com?
Yes, it's completely safe because iVisa.com designed a great security system to keep all the information you offer safe. All the details you see and all the information you provide on this website can't be leaked. You can read our reviews to get more details about it.
I have more questions, where can I read more information?
If you still have doubts about the ETIAS online process, then don't forget that you can contact our customer service team, and you can also take a look at iVisa.com's webpage for more information.