Canada is a country that doesn't need a visa for many destinations, including France. Besides, the language barrier decreases since French is the second official language in Canada, making France undoubtedly an excellent vacation destination. However, it's important to remember that you can apply for the ETIAS to avoid inconveniences at the airport, as this is a mandatory requirement for any foreigner when entering Schengen countries like France.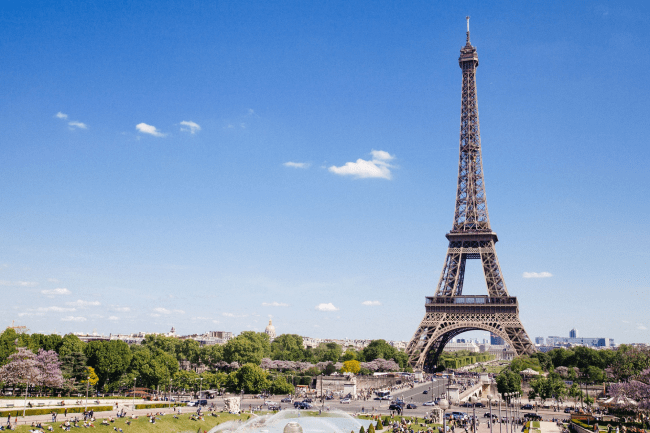 The official process to receive your ETIAS isn't hard, but it might be better to apply with iVisa.com. iVisa.com's online form is a lot easier and it can be a great help for you to receive your ETIAS as fast as possible. You'll have your document ready in 20 minutes or even less by using iVisa.com's online form.
To learn more details about the online process to receive your France ETIAS, then keep reading the information below.
Frequently Asked Questions (FAQs)
What is the ETIAS?
ETIAS means European Travel Information and Authorization System, and this is an official system that permits you to receive an electronic authorization created to safeguard Schengen Zone limits.
This document allows you to enter the ETIAS countries legally. ETIAS countries are all the Schengen Zone members (26 at the moment), so it means that you can enter any of these countries freely.
As a Canadian, you're a Schengen Visa-Free citizen, but you still have to apply for the ETIAS to enter these countries, and that includes France.
How many countries can apply for an ETIAS?
At least 60 countries can apply for the ETIAS by now. You should know that a lot of these countries are visa-free, but they still need the ETIAS to enter Schengen Zone members.
How can I check if I'm eligible for the ETIAS?
You can confirm this information by using iVisa.com's Checker Tool. When entering our website, just click on the drop-down menu and select your country of origin. Choose France or another Schengen country as the destination and wait for the results. In less than 2 seconds, you'll be able to know if you can apply for an ETIAS.
What documents are required to apply?
You only have to provide the following documents to apply online for your ETIAS:
A valid passport (it mustn't be expired).
Your current email address
Means of payment, including credit or debit card or Paypal account.
What are the prices and the processing times?
Unfortunately, we can't give you the exact price of this document yet because it's been recently launched and the price can change from person to person. However, we can still offer you general information about the procedure times with iVisa.com so you can have a better idea of them and be ready once the document is launched:
Standard Processing Option: this alternative is frequently requested because it's the most affordable with an average waiting.
Rush Processing Option: this option is a bit faster, but it has a higher price.
Super Rush Processing Option: this alternative is the most requested in case of emergency because it's the quickest, but it's the most expensive too.
Consider that we don't charge you anything without providing you all the payment details first and without receiving your valid authorization.
How can I apply for the ETIAS?
Applying with iVisa.com is quite simple because you only have to complete a 3-step process. Remember that you can apply with the official ETIAS website as well, but this process is usually a little more tedious and takes longer.
This is the process with iVisa.com:
The first step is to fill in the initial questionnaire with all your valid details and then select the procedure option.
The Second Step is to check your information and pay for the service.
The Third Step is to simply upload the documents and attach them to the online form. Once you're ready with it, just send your online form and your work is done!
Whenever you feel ready, simply click on this link.
How much time do I need to apply?
To complete all the steps in iVisa.com's online form you only require 20 minutes of your time. You could finish it even in less time depending on how fast you finish the steps, but we recommend you to take it easy.
Is there a difference between the Schengen Zone and the European Union?
Yes, it is, and it's an important factor to consider when applying for the ETIAS. Remember that the ETIAS is available for Schengen Zone members, but not for all the countries of the EU.
Schengen members are those who signed the Schengen Agreement. These countries don't have internal border controls, so it means that they offer free transit in their limits. There are 26 Schengen countries, and a big portion of them are part of the European Union (EU). However, some countries like Ireland, or even important nations like the ones in the UK, aren't part of the Schengen Zone but they're part of the EU.
The European Union is an economic and political group with 28 member states. It was created to offer peace on the continent, and that's why it has important aspects to learn about foreign policies and legal bounds. But, as you read before, some countries that belong to the EU aren't part of the Schengen Agreement. It also happens otherwise, some members of the Schengen Agreement aren't part of the EU like Iceland and Norway. These nations are still part of the ETIAS program.
Please note that the ETIAS program is available only for the Schengen Zone members.
Is it safe to use iVisa.com's service?
Yes, it's totally safe to apply with iVisa.com! You can receive your document as fast as possible thanks to an updated system. Our platform also has a top-notch security system that won't risk your private information. If you're unsure about it, you can take a look at our reviews.
Where can I get more information?
Do you still have doubts about this process? Then don't worry, we can assist you whenever you need it. If you want, you can contact our customer service team, or you can simply read more details on iVisa.com's website.
But if you're ready to plan your travel, then start your ETIAS online application here and get ready for France!