Citizens of Nauru with an intention to visit France in the near future should be thinking about the new immigration process call ETIAS. Maybe you are a movie passionate and you were interested to visit France during the Cannes Film Festival or you are interested in museums and the Louvre is on your top list, then make sure you get your ETIAS soon for your trip to France.
The European Union is requesting the new system ETIAS to all the countries that are exempt from visas to the Schengen area. Nauru is among the visa-free countries, therefore, Nauru citizens will need an ETIAS if they decide to travel to France, a country in the Schengen space.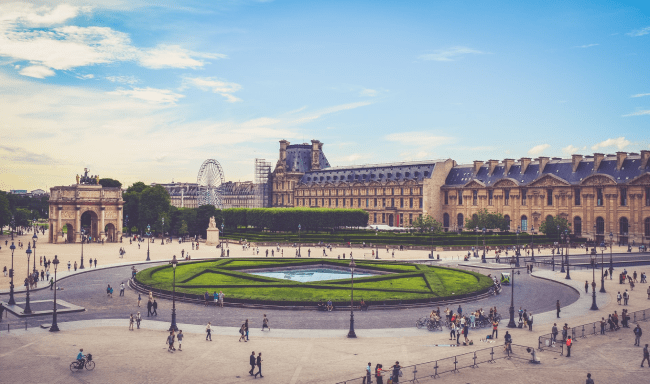 iVisa.com already knows everything about ETIAS. We have been working hard to bring you a fast, simple, and reliable service. Start your application now or you can continue reading our FAQs.
Frequently Asked Questions (FAQs)
What does ETIAS mean?
ETIAS means European Travel Information and Authorization System or in other words, an electronic system to give you full entry to the countries in the Schengen area. This new form will allow European immigration officials to gather further information about international visitors who currently don't need a visa to enter the countries in the Schengen agreement.
Is my country eligible for an ETIAS?
There are 62 states in the world that don't need a visa to enter the Schengen area. Nauru is part of this list of countries, then the citizens of Nauru will have to go through an ETIAS. If you want to continue checking eligibility for other countries go here and specify origin and destination countries so the system can tell you if you need an ETIAS.
Is ETIAS a visa?
No, ETIAS is not a visa. ETIAS is an authorization document to let you into France or any other country in the Schengen agreement, there are 26 countries in Europe in this agreement. As well, the process is not the same, for an ETIAS you will do an online form while getting a visa request more procedures like interviews, physical forms, among others.
Do I need to enter France first with the ETIAS?
This will depend on what you stated in your application. While completing your online form here, you will be asked about the first country you intend to visit. If your itinerary shows France as the first one, then complete your application with that information and you must enter France first. After France, you can continue your trip to other countries in the Schengen area for up to 90 days in a 180-day period in total.
Get in touch with our customer agents in case you want more detailed information about this rule.
How long is ETIAS valid?
3 consecutive years is the validity of ETIAS. Make sure you travel a lot to Europe during that time so the process is worth it!
What information do I need to provide?
The application will ask questions about names, passport numbers, parents' information which will be very standard. As well, you will be requested more detailed info about past trips, criminal records, and any background data necessary for the approval of your ETIAS. Please, check you also have the next things:
A passport's scan, with a clear view of your photo.
An email , very important as your final answers will arrive at your valid email.
Payment options, pay with credit/debit card or a Paypal account the small iVisa.com fee.
What steps do I need to follow for the ETIAS?
The European Union has made the ETIAS an easy process but with iVisa.com, we make it even easier, follow just 3 steps:
First, answer the questions in the online form.
Second, check your info and complete anything that is missing on the form. Get payment with a credit/debit card or Paypal.
Third, send the scan of your passport and any other documents required.
Make your ETIAS a reality today with iVisa.com.
Which are your processing times?
We are sure you expect us to work around the clock and we definitely do. Still, we give you three options for different budgets and waiting times.
Standard alternative, usual waiting time for the lowest fee.
Rush alternative, your requirement will be more rapidly done.
Super rush alternative, for the biggest budget, the less time.
Can I trust iVisa.com with the ETIAS?
You can trust iVisa.com not only with your ETIAS but with most travel documents you are currently requested. We specialized in these types of procedures for a long time and our experience can speak volumes about our ethical work. Check on the opinions of our customers to be certain you are choosing the best company in the market.
I have some questions, who can I contact?
We offer you a full team of customer agents ready to take your call or message. Remember that we are here to help you with anything and if you are already convinced you are in need of an ETIAS, then go here and apply with iVisa.com today!