So, you're going to Paris and you're looking forward to eating parmesan soup, steaks, and sorbets. Paris is a gourmet capital, and aside from the excellent French bistros and the many cafes that could keep you busy for days, there's much more to discover.
Read on to learn more about the best restaurants in Paris you should visit on your trip to France.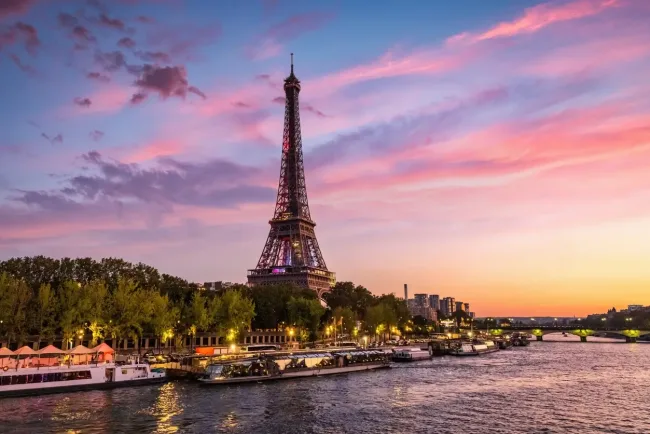 The top 15 best restaurants in Paris
1. L'Ambroisie - Another Michelin three-star restaurant, known for its traditional French dishes and beautiful views of Notre Dame.
If you've never had classic French food, you should reserve a table at L'Ambroisie. This restaurant serves delicious scaloppine, sea bass, and caviar. Don't leave without trying the delicious parfait, fruit cake, and chocolate cake.
This place has an exquisite wine bar, but you could also order champagne or bourbon. Among the most delicious drinks you can try are great frappes and excellent tea.
You'll undoubtedly like the pleasant dining room with tasteful decor. A three-star Michelin restaurant worth a special trip.
2. Septime - Offers contemporary French cuisine with a focus on seasonal ingredients.
Septime is one of the top restaurants on Rue de Charonne, which has many! Bertrand Grébaut's food celebrates the aesthetic appeal of good produce.
One of the most attractive aspects of this neo-industrial eatery is its reasonable prices: about €60 for five courses and €95 for seven. Since the modest restaurant opened ten years ago, chef Bertrand Grébaut's seasonal, innovative French dishes have attracted diners from around the world.
3. Taillevent - A Michelin three-star restaurant known for its classic French dishes.
Le Taillevent, a famous Parisian establishment, is the embodiment of superb contemporary French cooking. This historic venue is a quiet and intimate setting ideal for business lunches.
Their tasting menu includes a rack of lamb wrapped in pastry with green olives and chanterelles or duck foie gras. Finally, the desserts are delicious, especially the crêpes suzette.
4. Le Jules Verne - A Michelin one-star restaurant located on the Eiffel Tower with excellent views and contemporary French cuisine.
The Michelin-starred restaurant is located on the second level of the most famous monument in the world, the Eiffel Tower.
The first tempting dish served to guests is a simple cod with Kalamata olive powder, fried capers, and bouillabaisse consommé. Another notable main course is the roasted lamb with chanterelles, smoked eggplant, and foie gras.
5. Le Comptoir du Relais - A cozy bistro known for its traditional French cuisine and lively atmosphere.
Over the years, Le Comptoir has become somewhat of a classic. Yves Camdeborde, a pioneer of "bistronomy," runs the beautiful dining room, which is usually booked out six months in advance for evening events.
At lunchtime, there are top-notch brasserie favorites like crispy escargots, crusty bread, and a house terrine that you can eat as much of as you want. At dinner, Camdeborde boasts up to five courses of decadent haute cuisine. If you don't want to eat too much, you can enjoy delicious tapas at the L'Avant Comptoir bar.
6. Le Chateaubriand - Offers contemporary French cuisine and a trendy atmosphere.
Le Chateaubriand is a conventional French restaurant, but with a chef of extraordinary culinary talent.
Chef Patron Iaki Aizpitarte's cooking style is based on classic French haute cuisine, but he has developed his cooking approach in numerous directions, all of which are unmistakably contemporary.
The menu changes daily but aged meat, raw seafood, and a crazy dessert course of candied egg yolks are very popular.
7. L'Astrance - A Michelin three-star restaurant known for its modern French dishes and tasting menus.
This classic French bistro is one of the best restaurants in Paris with a casual atmosphere and reasonable prices.
The tasting menu changes regularly, but you can look forward to an interesting take on ravioli, where tiny pieces of avocado encase a filling of seasoned crabmeat and are garnished with salted almonds and a drizzle of almond oil.
8. L'Arpege - Known for its innovative, vegetarian-focused cuisine.
This gourmet restaurant is run by chef Alain Passard. Because it's all about vegetables, it stands out from the rest.
Nevertheless, the restaurant also caters to meat lovers, albeit in smaller quantities. Although the menu changes constantly, the restaurant is known for its seasonal ravioli trio with amber consommé and its bay-flavored vegetable sushi.
9. L'Atelier Saint-Germain - The Parisian outpost of chef Joel Robuchon, offers a variety of French dishes in a casual setting.
This trendy restaurant was founded by one of the world's most renowned chefs, Pierre-Yves Rochon.
This place offers elegant fine dining in a sophisticated yet relaxed setting. The foie gras is one of the best dishes you should try. It's always served with juicy, deliciously alcoholic cherries and is especially fresh.
10. La Table d'Eugene - Offers a variety of French dishes in a cozy, intimate setting.
This restaurant, named after the French writer Eugène Sue, is a must-see in the French capital. The wooden furniture is delightfully soft and adds a special flair.
When it comes to food, it's really hard to pass up dishes like the duck crumble, cod with chorizo, and seabream tartare that are on the menu. And the desserts are also of an excellent standard: rice pudding, lemon cake with meringue, sorbets, and the incomparable pearl surprise au chocolat are all fan favorites.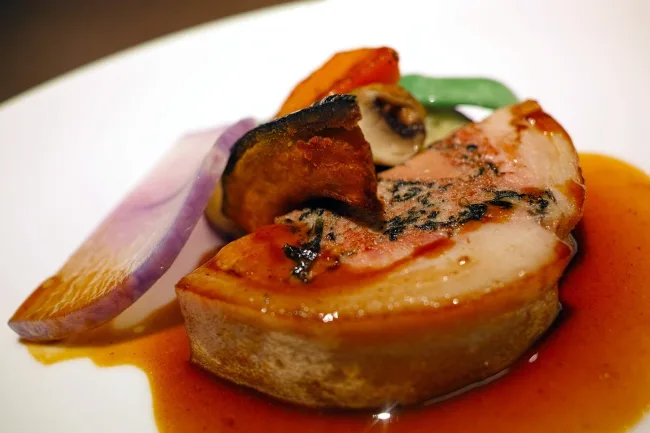 11. Le Bistrot Paul Bert - A classic Parisian bistro known for its traditional French cuisine and lively atmosphere.
The Paul Bert offers everything a traditional Parisian bistro should have. Visitors feel at home and enjoy the inviting atmosphere.
In addition to its famous opulent cheese trolley, friendly and professional service, and rich main courses such as duck with pears and steak frites, the restaurant's excellent wine cellar with an assortment of natural wines adds to its appeal.
12. Le Cinq - A Michelin three-star restaurant known for its haute cuisine and elegant atmosphere
Le Cinq by Christian Le Squer, a must-see in Paris, is the pinnacle of modern and refined French cuisine served with the rarest natural wines.
If you come here, be sure to try their signature dish- Spaghetti Timbale. In this extraordinary recipe, vertical strands of spaghetti form a small box-shaped shell with ham and ceps within and truffles on top.
13. Le Grand Vefour - A Michelin three-star restaurant located in the Palais Royal, known for its classic French dishes and historical setting.
This restaurant is a must if you are looking for modern, sensual, and daring cuisine. This three-Michelin-starred restaurant serves French cuisine and wine pairings in a sumptuous 1700s brasserie, with delectable desserts ranging from an artichoke crème brûlée to a chocolate "manjari" cube with clementine, lemon sorbet, and caramelized cashews.
14. Guy Savoy - A Michelin three-star restaurant known for its contemporary French dishes and exceptional service.
Renowned French chef Guy Savoy owns and operates this eatery, which offers a fantastic French menu suitable for everyone. You'll especially enjoy the ice cream sorbet and pomme puree. The expertly prepared dishes are very expensive but definitely worth the money.
15. Le Cinq - A Michelin three-star restaurant known for its haute cuisine and elegant atmosphere.
Le Cinq is a fantastic venue for very special occasions and always offers a distinctive and spectacular experience. You can choose between the 10-course tasting menu, which includes dishes such as a lightly smoked eel with brown bread and red wine sauce, or a meal á la carte.
Paris is brimming with upscale restaurants, whether you are craving beef bourguignon or steak au poivre. In addition to its delicious cuisine, Paris also stands out from the rest of Europe for its charming atmosphere, outstanding landmarks, magnificent architecture, and picturesque surroundings.
So, take the plunge and book that ticket. Just make sure you have all the necessary docs on hand, including your France Schengen visa. And if you need help, iVisa is here to assist you.
What are the travel requirements for France?
EU citizens only need an ID card to travel within the Schengen area, as borders between member states have been abolished.
Foreign nationals, on the other hand, must present a number of documents required by law, including a Visa, enough funds for the trip, a return ticket, and a valid email address.
If you need more tips on how to prepare for your trip, such as planning your budget or choosing which cities to visit, check out our France Travel Guide.