The islands that make up French Polynesia are perfect for an unforgettable honeymoon or a luxury family holiday. With countless resorts offering white sandy beaches, fresh cocktails and access to crystal waters, you're sure to fall in love with this sensational destination. You're sure to be missing blue skies and sunshine after all the requirements that have kept many of us indoors this summer, so wipe the cobwebs off your suitcase, dust off your flip flops and get packing for an enchanting trip to French Polynesia.
This country is actually made up of 118 islands which all have different names. The biggest and most populated island is named Tahiti, but locals often use this moniker to refer to the whole area. This diverse collection of miniature paradise islands also boats over 50 airports to enable visitors to arrive and leave around the clock.
iVisa.com is the top provider of visa and document services for travellers around the world. The team is waiting to help you get on your way. Read on to find out the answer to the question on everyone's mind: how can the citizens of the United States enter French Polynesia during Coronavirus?
Note: Since March 28th, 2022 the French Polynesia ETIS is no longer necessary to enter the country.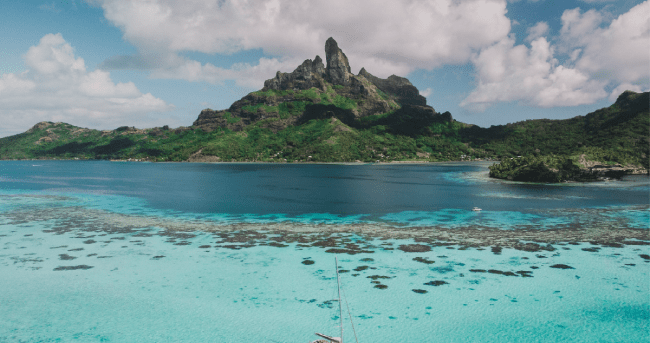 Frequently Asked Questions
How can the citizens of the United States enter French Polynesia?
Tourism is one of the cornerstones of the French Polynesian economy so the authorities were keen to get the border open again in much the same way that hotel and restaurant openers were delighted to see tourists filling the streets again after the recent Coronavirus-related exodus. Of course, it's imperative that businesses apply strict biohazard measures when welcoming guests through their doors. Similarly, citizens of the United States can enter French Polynesia by supplying a negative Coronavirus test result as well as filling in the sanitary entry form, which is available online.
How can citizens of the United States enter French Polynesia if they already have a negative test result?
If you have your flight booked, sanitary form completed and the negative Coronavirus test result safe in your hands then you're ready to go. As an American citizen, you don't need a tourist visa although we recommend that you register your visit with the embassy for safety reasons and to ensure your government knows your location. This is simple to do, and it takes just a few minutes to apply with iVisa.com by following these simple instructions.
Complete the questionnaire using your personal details. Take the opportunity now to decide which processing speed is best for your individual situation.
Check your answers again because we can't fix any typos once your application has been submitted. Pay for your processing charge using Paypal, credit or debit card.
Upload any documents like your passport scan and submit your application. You're done!
Can citizens of the United States enter French Polynesia with a positive Coronavirus test result?
If your test result is positive then unfortunately you will not be permitted entry to French Polynesia. It's important to bear in mind that you will be required to complete another Coronavirus test after 4 days in the country. You will be provided with this test on arrival in the airport. Read more about the importance of embassy registration too on the iVisa.com website.
Do I need a COVID vaccine or vaccination certificate to enter French Polynesia?
Yes, French Polynesia has been taking steps to restore travel within its borders. In order to enter French Polynesia for tourism purposes, you'll need to display your COVID vaccination certificate. If you are a COVID-19 vaccine certificate holder coming from an approved country, you won't need to follow a quarantine.
Accepted vaccines are Pfizer, Moderna, Janssen and Astrazeneca.
You are considered fully vaccinated:
7 days after your second Pfizer, Moderna and Astrazeneca dose
28 days after the Janssen vaccine
Is it obligatory to take a PCR test before entering the country?
COVID test prior to arrival: PCR within 72 hours or antigen test within 24 hours before boarding.
Do I have to quarantine upon arrival?
Quarantine requirements: There are no quarantine requirements in French Polynesia.
Can citizens of the United States pay with any currency?
Citizens of the United States can enter French Polynesia by completing a Coronavirus test and filling in the Electronic Travel Information System form. You can pay for your embassy registration with USD if you apply with iVisa.com. It's easy so get started today.
What if I'm just stopping off in French Polynesia?
Citizens of the United States can enter French Polynesia without the requirement of a visa, so stopping off won't be a problem. You can find out more about the paperwork necessary to visit countries around the world using the handy Visa Checker Tool on the iVisa.com website.
Is it safe to use iVisa.com?
We know that often our customers have suffered bad experiences with online booking websites in the past, so we work hard to ensure that each client comes away with a contented feeling and knowing that they received a quality service. Read their reviews for more details and for reassurance that your travel documents are safe with us.
Where can I read more information?
For a wealth of blog posts, the most recent travel updates and easy to understand guides and application forms, the iVisa.com website should be your first port of call.