Recently the Ministry of Foreign Affairs of Georgia announced that around 60 countries will need an e-Visa to enter the country. Egypt is one of the countries that must present an e-Visa.
This application is very simple thanks to iVisa.com, you can apply for the Egypt e-Visa online from the comfort of your own house.
Do you need more information about the Georgia Visa for citizens of Egypt? Just continue reading our FAQs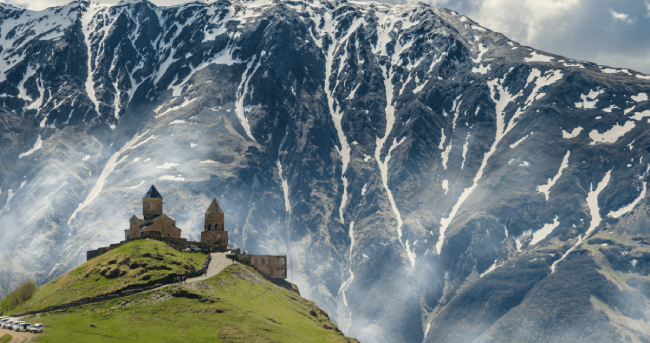 Frequently Asked Questions
What is a Georgia Visa for citizens of Egypt?
The Georgia Tourist eVisa is a short-term visa that allows citizens of 60 countries entry to its country. This is an online document, which means that you don't need to visit the Embassy or Consular Office. Remember you can always apply for your Georgia Visa for citizens of Egypt with iVisa.com.
What is the validity of the Georgia Visa for citizens of Egypt?
With the Georgia Tourist eVisa you will be able to enter the country multiple times. However, you are only allowed to stay a maximum of 30 or 90 days per entry depending on your nationality.
What documents do I need to get the Georgia Visa for citizens of Egypt?
When applying for the Georgia Tourist eVisa you need to scan the following documents.
A valid passport with at least six months of validation.
A passport-size photograph
An e-mail address so you can receive your electronic visa
The payment method: Credit or debit cards.
Travel Schedule
You must know that upon arrival, you may be asked for your purpose of travel, proof of accommodation, travel and health insurance, and financial proof.
How much does the processing time costs for the Georgia Visa for citizens of Egypt?
iVisa.com gives you three options for you to choose from. Remember, iVisa.com prices include the government fee.
Standard Processing:

8 Business Days

-

USD $79.49

Rush Processing:

6 Business Days

-

USD $121.49

Super Rush Processing:

5 Business Days

-

USD $168.49
What are the steps for applying for the Georgia Visa for citizens of Egypt?
You have to follow these simple steps:
1: Complete the online form with all your data, then select the processing alternative that fits you the best.
2: Check out that all your personal information is correct. Then select a payment method.
3: Finally, submit all the required documents for the application process.
Can iVisa.com be trusted with all my personal information?
iVisa.com can be trusted by all our users due to our high-quality data analysis and a group of experts, we can keep all personal information secure and confidential. When you need any travel document, iVisa.com will always be the best choice!
There is still a fear in me of applying with iVisa.com, who can I talk to?
If you have any doubts or concerns about our services or iVisa.com you can contact our customer service team, they will have the answers for you. Remember they are available 24/7!
iVisa.com Recommends
If you want to plan a trip to Georgia and still don't know what to visit. You should add to your plans the Kazbegi National Park. Here you will find the Kazbegi mountain also known as the Mkinvartsveri, surrounded by myths and religious tradition, this magical experience will fascinate you all day long. There is a story that according to Greek mythology, the Titan Prometheus was chained for all eternity as a punishment for teaching mankind how to make fire. He has supposedly been imprisoned in Betlemi or Bethlehem, a cave located 4,000 meters high. This cave, later on, was a habitat for orthodox monks, and they said that the cave contains a variety of sacred relics, including Abraham's tent and Christ's manger. Kazbegi is also a great place for adventure and sports tourism, due to the ice mountains and big hills, most tourists go there for ice climbing and mountaineering. Walking around through the roads you will find 1,000m high cliffs, medieval watchtowers, waterfalls, and wildlife. This makes this place alluring for everybody you have culture, history, adventure, and heritage. Add this destination to your trip and have the time of your life!