If you're from the Philippines, you'll need a tourist visa to visit Georgia. The good thing is that you can get this visa with an easier method: the eVisa system.
The online eVisa application is the fastest and easiest method, as there is no need to visit an embassy or another consular office. The eVisa application can be accessed at ivisa.com. A minimum of 5 days is required to process the application and the final decision on approval or refusal will be sent to the applicant's e-mail address.
If you want to learn more about this online process, we invite you to keep reading this blogpost.

Frequently asked questions (FAQs)
I'm from the Philippines, do I need a visa to visit Georgia?
Yes, you need a visa to travel to Georgia, but you can simply obtain an eVisa, which is the electronic version of the traditional visa. The Georgian eVisa is a lot easier to get than the consular visa.
How long can I stay in Georgia with an eVisa?
The document you receive will allow you to stay in Georgia for no more than 30 days Per Entry.
What is a Georgian eVisa?
The Georgian eVisa is an electronic document that allows you to enter the country with an automated link in your passport. It works quite similar to a consular visa, but with an electronic system.
What do I need to apply for a Georgia tourist eVisa online?
You do not need any complicated documentation to apply for a Georgia tourist eVisa online. For the application, you must provide:
Passport – you must get a valid passport to apply. Additionally, your passport must remain valid for at least 6 months from the flying date to Georgia, with at least two blank pages.
Photo – you must offer a recent photo with a white background.
Means of payment – credit/debit card or PayPal are accepted.
Details of your accommodation in Georgia.
Your travel dates.
Document to prove your purpose of travel.
Travel health insurance.
Proof of accommodation.
Document to prove sufficient financial means for the duration of your stay.
How long will it take for my application to be processed?
There are three available options when it comes to iVisa processing times, so you can choose the one that best suits you. Here are your options:
Standard processing – your Georgia tourist e-Visa arrives in

9 business days

.
Rush processing – your application is processed within just

7 business days

.
Super Rush processing – your travel document is ready within just

5 business days

.
How long is the Georgia tourist eVisa valid for?
The Georgia tourist eVisa is valid for 120 days after arrival. This is a Multiple Entry visa, and the maximum stay is 30 days Per Entry.
What is the total price for this eVisa?
The total price of your Georgia tourist eVisa is determined by the processing timeframe you select. That's why we will show you what prices you have to pay according to the processing time. They are as follows:
Standard processing – You get your eVisa in

9 business days

by paying

USD 40.50

Rush processing – You pay

USD 50.50

and you'll get your eVisa in

7 business days

.
Super Rush processing – This time, you'll only have to wait

5 business days

, but the price will be higher. You'll have to pay

USD 70.50

.
How much time do I need to apply online?
You'll only need between 20 and 30 minutes to complete the online form.
How can I apply?
The online form created by iVisa is quite simple. All you have to do is to follow these steps:
First, complete the initial questionnaire with your personal information and choose your processing time.

Second, review the information you provided in step one and make the payment.

Third and last, upload any additional document required and click on the submit button. After that, you're ready to wait for your eVisa.
Click on this link to start your online application form with iVisa.
What should I do after I finish the online form?
You only have to wait for your eVisa to arrive in PDF format via e-mail. After you finish your online form, iVisa will take care of the rest.
Keep in mind that once your eVisa is approved, it'll be linked to your passport, but it's recommended to print one copy just to avoid any inconvenience.
How many times can I enter Georgia?
You can enter this country multiple times because you get a Multiple Entry eVisa.
How can I prove that I have sufficient financial funds?
You can prove this requirement by presenting one of the following:
Bank statement from the past three months.

A reference from your employer (if you go for business purposes).

A document proving possession of a real estate.

A letter from a sponsor.
Is it safe to apply for this eVisa with iVisa?
Yes, defiantly! iVisa offers a guaranteed service thanks to its updated system. In fact, iVisa has been issuing eVisas for more than 6 years with no issue, and you can confirm its professionalism by reading these testimonials.
How does the Georgian eVisa look like?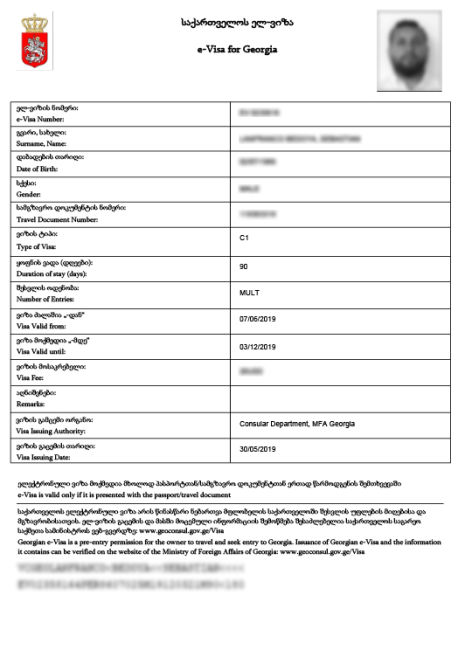 Is there any additional information for the Georgia tourist eVisa?
When your eVisa is approved, it can be printed and presented to immigration officers at your point of entry into Georgia. The citizens of the Philippines can apply from anywhere in the world, requiring only a mobile device with Internet connection and a credit/debit card for the application process. Visa extensions must be submitted to the Ministry of Foreign Affairs in Georgia, together with the relevant documentation and explanation of the purpose of the extension.
If you want to read more about this eVisa, you can check this page. You can also contact us to get personal attention.
Now it's time for you to relax and get ready for your trip to this small but beautiful country!