If citizens of Turkey wish to visit Germany, they will require a Schengen visa to access the country. iVisa.com is providing an online simple and fast service to process this document for you. Our service wants to save you energy, effort, and time so you can pay attention to your daily life details and situations.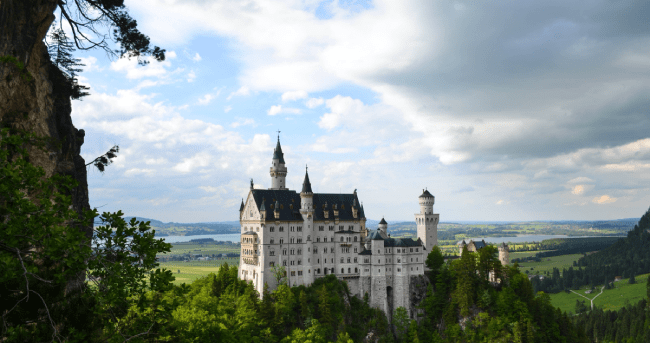 The Germany (Schengen) Visa - Citizens of Turkey visa can differ according to the number of entries you will have the right to do within the country and the zone: one-entry, double-entry, or multiple entries. It can differ for your journey's goal: visa for tourism, visa to receive medical assistance, visa to visit family, visa to attend a sport or cultural event, visa to attend business affairs.
How is the process to start procuring my document with iVisa.com?
Click here to access our form and finish it with all the relevant information.
Attach all documents that the application demands.
Decide your preferred processing speed.
Submit your form to be checked by our team of immigration experts. They will inform you of its status.
Wait for your Schengen visa to arrive in your email.
Print your document
Start your Schengen visa application
What are the benefits of requesting my visa in advance?
Requesting you Schengen in advance will help you to get this job done without effort and wasting time. iVisa.com will select the best moment to process your application. You will get your visa on time while you invest your time in other related matters, such as getting COVID-19 tested, buying souvenirs for your friends, etc.
The Germany (Schengen) Visa - Citizens of Turkey is one click away Begin now
Frequently Asked Questions
Does the Schengen visa have a distinct valid duration?
The consular officials will decide the valid duration for your Schengen visa based on your background. When you request this document for the first time from iVisa.com, there are higher chances you will obtain a single-entry or double-entry visa. If you will travel often and will follow the 90/180 rule, you may acquire a multiple-entry visa for 1, 3, or 5 years when you renew your visa.
Begin your application to acquire The Germany (Schengen) Visa - Citizens of Turkey
Is this 90/180 rule related to the time I can stay in Germany?
Yes. The time that the Schengen visa allows you to stay in Germany or the Schengen area follows this rule, indicating that in 180 days, you can remain a maximum time of 90 days.
Is there any travel ban in Germany due to COVID-19?
The German Government has not imposed any travel ban. However, there is a national lockdown, and just indispensable trips are permitted. Hotels cannot receive tourists, and the Government is not issuing tourist visas. Everyone who will access Germany must deliver a COVID-19 negative test result and a digital entry form at border control, among other health measures to keep in mind.
What variety of papers do I require to apply for the Germany Schengen visa?
The following documents for Germany (Schengen) Visa - Citizens of Turkey are required:
Certification note - A letter showcasing the end of your stay signed by the person who invites you.
Valid Passport - Your passport must have at least 180 days' valid duration after your expected country entrance. Attach a copy of this passport along with two empty sheets to be stamped.
Previous visas Add a copy of your prior visas if you are in the renewing process.
Passport Photos - Two photos with white background and passport-size. iVisa.com experts will check if they follow government standards.
Flight itinerary - Border authorities and embassy officials will request an itinerary of your trip. While still in the application process, we advise not purchasing your tickets until approval.
Bank Supports - to back up that you own adequate money reserves to go around the country, the zone, and can leave when the time comes.
Medical Health Insurance - You necessitate health international coverage for the time of your trip.
Hotel Reservation - add this if you will spend overnight time at a hotel
Payment method - Select your preferred one: Paypal, debit, or credit card.
Begin your application for Germany (Schengen) Visa - Citizens of Turkey.
How much does iVisa.com charge for this service?
iVisa.com charges are based on the processing speed you choose. Keep in mind, besides our service fee, you will have to pay a USD 90 fee to the Embassy.
Standard Processing Speed -

USD $33.49

to receive your visa in

30 days

Rush Processing Speed -

USD $59.99

to obtain your visa in

30 days

.
Super Rush Processing Speed:

USD $97.99

to get your visa in

30 days

.
Can I contact iVisa.com to clarify some doubts?
Indeed you can. Our Customer Care Specialists always have their door opens, 24/7. Chat with them here at any time on any day of the week.
Why should I rely on iVisa.com's services?
Because iVisa.com has been procuring travel documentation services for countless years processing millions of documents and serving more than thousands of clients. Review Here their experience with us.
iVisa.com Recommends
Go to Dresden! It was one of the cities in Germany that suffered the most terrible bombardments by the Allies that reduced its beautiful old town to ashes. After intensive years of reconstruction, the city recovered the old historic buildings with such precision that it regained its old nickname "Florence on the Elbe" and once again ranked among the most beautiful German cities. It is located less than 2 hours by train from Berlin and bus from Prague, Dresden can be visited perfectly in one day since most of the points of interest are concentrated in the old town such as the Frauenkirche church, the Zwinger Palace, and the mural Fürstenzug.
Dresden's most important monuments are quite concentrated in two areas of the city separated by the Elbe River: the Altstadt (Old Town) and the Neustadt (New Town). Most of the historic buildings and places of interest are, in fact, in the Altstadt, so if you want to visit Dresden in one day the best thing is that you start in this area and then cross the river to the new part of the city. Dresden's best-known landmark, located in Neumarkt, is the Frauenkirche (Church of Our Lady), a baroque-style Lutheran church that was destroyed during the bombing of World War II and rebuilt between 1994 and 2005 as a symbol of reconciliation.