Congratulations! We hear wedding bells ringing, which means you're also planning your honeymoon. We bet Greece is the perfect place for you!
The list of best honeymoon destinations is endless; however, a firm favorite over the years is Greece, and for a good reason. The abundance of sunshine, cultural attractions, world-class food, and over-the-top romantic views makes Greece a timeless honeymoon destination.
If you're ready to plan the ultimate Mediterranean honeymoon, this guide has everything you need to prepare for your trip.
The best time to visit Greece for a honeymoon
Greece is renowned for its beautiful weather, especially between May and October. However, there are some tips to ensure you aren't honeymooning during the peak tourist season!
Tips for planning a honeymoon during the peak tourist season in Greece
No one wants to honeymoon amid crowds of tourists, so we recommend avoiding Greece during July and August, the peak tourist season. Temperatures are also incredibly high during this time.
If you'd like to avoid the crowds and peak prices, plan to visit just before or after the high season and travel between June and September. This way, you can get the sunshine without fighting for a spot on the beach. Other great times to travel are early spring in April to May and fall in October.
Top romantic destinations in Greece for honeymooners
Wondering why Greece is one of the most unforgettable honeymoon destinations? Greece is a gateway for many adventurers crossing the border to other European countries and the many Greek islands nearby.
After all, since each Greek island is more romantic than the last, why settle for just one when you can explore several on the same trip?
Plan a Greek island-hopping honeymoon
Designed for newlyweds to hop across the many Greek Islands, Greece offers jaw-dropping scenery, private pools, mouthwatering cuisine, and the possibility of easy adventure. Here's an idea of the perfect Greek island-hopping honeymoon itinerary with restaurant and hotel recommendations:
Athens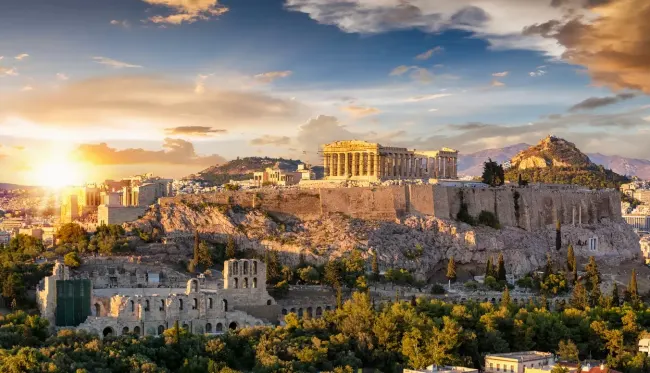 Start your Greek honeymoon in Athens, where most international flights land. Spend a day or two exploring the city before adventuring into the Aegean Sea to see the monumental Acropolis and Parthenon.
Santorini
Your next stop should be the famous honeymoon isle of Santorini. Explore the popular cliff-heavy Cycladic Island and watch the sunset over the caldera, which was created when a volcano erupted thousands of years ago.
Then wander through the villages of Oia, Thira, and Imerovigli, visit the ancient ruins, taste local wine, and sail the salty sea by catamaran. Wind down in the artisanal surroundings of Grace Santorini and dine at The Athenian House.
Los
Continue to Los, which is just a leisurely boat ride away. Known for its lively summer party scene, this is the perfect place to put on your dancing shoes and hit the town.
Take long, romantic walks along the golden sandy beach before staying at the five-star Liostasi Hotel. Remember to visit Serifos, another Cycladic island, and dine on Sifnos island, which is home to some of the most outstanding food in the Cycladic cluster. We recommend booking the Elies Resort on a private beach if you want to spend the night here.
Mykonos
Still in the mood for the party scene? It's time to visit Mykonos. The island has a reputation for debauchery and an Ibiza-style atmosphere. However, its large size means you can escape the hustle and bustle and stretch out peacefully on one of its sandy beaches.
We recommend staying at the trendy Belvedere Hotel, which boasts a Nobu restaurant. For something more romantic and less modern, opt for Mykonos Blu, where you have access to a bi-level infinity pool and a chance to book a romantic Champagne sunset sail or helicopter tour.
Naxos and the Lesser Cyclades
Ready to relax? Head to Pano Koufonisi. The private villas spread across the island are perfectly designed for honeymooners who crave alone time. The stunning views promise beautiful Instagrammable/Greek honeymoon memories.
Naxos and the Lesser Cyclades has gained attention among those in the know for its hidden swimming caves, crystal clear waters, and untouched beaches. We also highly recommend renting a car and exploring the off-the-beaten-path island of Eden.
The most romantic accommodations in Greece
Aside from the hotels we've already mentioned, many others pride themselves on being the ultimate romantic getaway for couples. Here are our top three most romantic hotels in Greece:
The Vasilicos, Santorini, is known for its private dining à deux and exuberant wines from the hotel's sister winery, Vassaltis Vineyards. The destination is the perfect romantic hideaway for couples, with roomy suites and a plunge pool with a view of the caldera.

Eros Keros, Koufonisia, is the best place to stay if you want to stargaze on the beach. This discreet retreat has four houses surrounded by stone walls and furnished with family heirlooms, handmade ceramics, and vintage textiles.

Verina Astra, Sifnos, is the ultimate low-key hotel. Far from the noise of modern life, the only sounds you'll hear are the hypnotic cicadas, goat bells, and ice cubes clinking while you sip rosé and dip into the stone-paved infinity pool.
The best honeymoon activities and excursions in Greece
As you plan your Greek honeymoon, remember to include a few activities to ensure you create many memorable moments to look back on fondly.
Greece has everything from private sunset cruises or catamaran rides to full-day excursions. We highly recommend snorkeling, scuba diving, and romantic dinners at one of the many ocean-side restaurants (make a reservation to avoid disappointments).
Combine relaxation and adventure on a honeymoon in Greece
For those who crave a little adventure, why not explore the countryside with hikes to high points where you can sit back and enjoy a picnic while watching the sunset? While you're at it, make sure you plan to watch the sunset over the Acropolis.
After a long day of exploring, book a couple's massage, so you can unwind and not burn out before your honeymoon in Greece is over.
Exploring ancient history and culture on a honeymoon in Greece
You can't visit Greece without indulging in the history and culture. Between lounging by the pool, tanning on the beach, and sailing around, remember to visit archaeological sites like Athens' Acropolis, Delphi's Temple of Apollo, and the Palace of Knossos on Crete.
The delicious food and wine scene in Greece and how to indulge on a honeymoon
Greece is renowned for its food and wine options. We highly recommend booking a vineyard tour and wine tasting during the afternoon or evening in Santorini.
It's the perfect chance to learn about Greece's 3,500-year wine-making history and the local viticulture that has secured Santorini's place as a World Heritage Site for wine production. There are three wine estates where you can taste organic wines: Nykteri, Assyrtiko, and Vinsanto.
Drinking on an empty stomach is a bad idea, so remember to indulge in the divine food Greece offers. Taking a cooking class together is the perfect honeymoon activity for embracing Greek cuisine fully.
Learn to cook traditional foods with local experts and enjoy a romantic meal with your creations after – ideal for foodies!
Honeymooning on a budget in Greece
For those on a budget, Greece offers many budget-friendly honeymoon options depending on the areas you choose to visit.
Stops on the main islands promise great deals on Greece honeymoon packages and all-inclusive hotels at highly competitive prices. Cities like Athens are also cost-effective if you stick to land adventures and avoid the pricier ocean-based activities.
How to save on a Greek Honeymoon
You do not need to go into debt to have a memorable honeymoon in Greece. There are a few ways you can save some money!
Firstly, avoid traveling during peak season as everything from flights to hotel rates increases during busy periods. Plus, it's easier to secure reservations for popular restaurants and activities.
Next, when you check in at your hotel, inform your hotel concierge that you're visiting for your honeymoon. Many places may be willing to upgrade you or provide extra perks for free.
Lastly, consider traveling to lesser-known destinations like Tinos, Samos, Ikaria, and more. Though off the beaten path, they tend to offer lower prices and a unique experience.
Do you need a Visa to travel to Greece?
Ready to go to Greece for your honeymoon but wondering if you need a visa to travel to Greece? We have the answer for you. Residents of the following countries will need to apply for the Greece Schengen Visa:
| Afghanistan | Algeria | Angola | Armenia | Azerbaijan |
| --- | --- | --- | --- | --- |
| Bahrain | Bangladesh | Belarus | Belize | Benin |
| Bhutan | Bolivia | Botswana | Burkina Faso | Burma/Myanmar |
| Burundi | Cambodia | Cameroon | Cape Verde | Central African Republic |
| Chad | China | Comoros | Congo | Côte d'Ivoire |
| Cuba | Djibouti | Dominican Republic | Ecuador | Democratic Republic of Congo |
| Egypt | Equatorial Guinea | Eritrea | Ethiopia | Fiji |
| Gabon | Gambia | Ghana | Guinea | Guinea-Bissau |
| Guyana | Haiti | India | Indonesia | Iran |
| Iraq | Jamaica | Jordan | Kazakhstan | Kenya |
| Kuwait | Kyrgyzstan | Laos | Lebanon | Lesotho |
| Liberia | Libya | Madagascar | Malawi | Maldives |
| Mali | Mauritania | Mongolia | Morocco | Mozambique |
| Namibia | Nauru | Nepal | Niger | Nigeria |
| North Korea | Oman | Pakistan | Papua New Guinea | Philippines |
| Qatar | Russia | Rwanda | Sao Tome and Principe | Saudi Arabia |
| Senegal | Sierra Leone | Somalia | South Africa | South Sudan |
| Sri Lanka | Sudan | Suriname | Swaziland | Syria |
| Tajikistan | Tanzania | Thailand | Togo | Tunisia |
| Türkiye | Turkmenistan | Uganda | Ukraine | Uzbekistan |
| Vietnam | Yemen | Zambia | Zimbabwe | |
You have enough on your plate with the upcoming wedding. So, save yourself the stress and let iVisa help you apply for a Greek Schengen Visa!