Before getting to Grenada, every traveler, no matter the nationality, should book a government-approved hotel for a minimum of 7 days for self-quarantine. On day 5, a PCR covid test will be performed it will cost $410 EC Eastern Caribbean dollar. Results are usually received in one or two days. If you test negative, you will be allowed to leave this accommodation. However, this visitor is supposed to continue the Grenada covid quarantine for another seven days to complete 14 Grenada covid quarantine days. Once the Grenada covid quarantine is over, covid monitoring should continue with the help of the tracking app.
More information about the Grenada covid quarantine current situation can be found in the Frequently Asked Questions section beneath.
Please be aware that a Health Declaration also known as Travel Authorization is mandatory for entry into Grenada.
You may apply now through iVisa.com in the following link.
Note: Since April 4th, 2022 the Grenada Travel Authorization is no longer necessary to enter the country.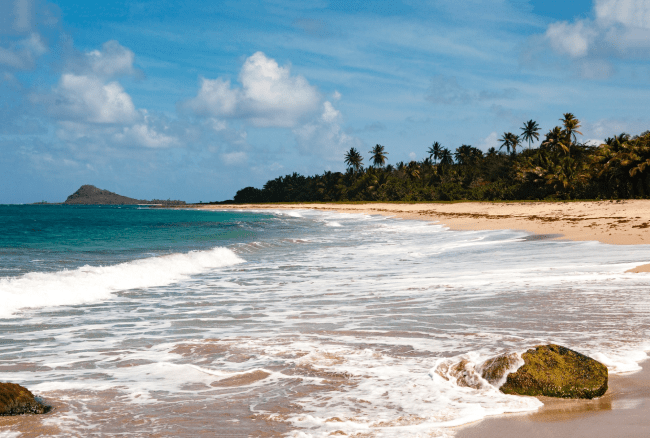 How can I obtain my Health Declaration with iVisa.com?
First: Fill the Health Declaration online application form in iVisa.com's website with your personal and travel info.
Second: Payment. There are three (3) processing speeds to choose from get more details below. Pay either with a credit/debit card or a PayPal account.
Third: Upload documents. Like your valid passport and picture.
Forth: Our specialized team sends your Health Declaration to your email.
Last step Print or show an electronic copy to Health Screeners at the airport.
Frequently Asked Questions
Are there any required health documents to enter Grenada?
Yes. The Pure Safe Travel Certificate. This is a health declaration (also called "travel authorization") that you must complete to show to immigration personnel at Grenada's airport.
Do I need a COVID vaccine or vaccination certificate to enter Grenada?
No, you don't need a COVID-19 vaccine to enter this country. Since information may change quickly, we advise you to follow up on the latest Saint Lucia travel updates and/or contact your local embassy.
How long can I stay in Grenada with the Health Declaration?
You may stay 15 days after arrival on a Single Entry.
Should I bring proof of a negative PCR (covid) test results at the airport in Grenada?
COVID test requirements: There are no testing requirements.
Request your health declaration.
Do I need to self-quarantine upon arrival?
Quarantine requirements: There are no quarantine requirements.
Is there a covid tracing app?
Yes. It is called the "Ronatrac Mobile App". You must download it and register an account before the trip. Currently available for Android users only.
Which are iVisa.com's processing times and rates?
Standard Processing Time:

USD $25.49

-

24 hours

.
Rush Processing Time

USD $45.99

-

4 hours

.
Super Rush Processing Time

USD $77.99

-

30 minutes

.
How faithful are iVisa.com's online services?
iVisa.com follows rigorous safety protocols to process all your travel documentation 100% online.
Who do I contact in case I have additional inquiries?
Please contact the support team which is available 24/7 to answer all your questions regarding any travel procedure you need help with. Ask for help.
iVisa.com Recommends
SEVEN SISTERS WATERFALLS
Seven Sisters are a chain of waterfalls that extend up to 2.1 kilometers. This rainforest destination is for adventurers who love hiking, river bathing, and bird watching, so prepare to get your shoes dirty with mud and just follow the marked trail. A tour guide is recommended if you want to reach the third waterfall. But if you just want to swim in the waterfall's natural pool you may go by yourself, it will take about 20 minutes to get to the first two waterfalls. There's an entrance fee of $2 USD per person.
GRAND ETANG LAKE
Nearby the Seven Sisters Waterfalls you will find the Grand Etang National Park. On this forest reserve, you'll get to see an extinct volcano crater lake filled with natural water, the Grand Etang Lake. It is located at 530 meters above sea level, it's 20 feet deep and covers 36 acres in area. Some people say that there's a mermaid that lives in its depths who seduces men to its watery grave. Grand Etang Lake appears on the base of the Coat of arms of Grenada.