If you have a trip to Iceland in mind, then you should know that from now on it'll be necessary to apply for a Pre-Registration Form first. This is important because it emerged as a measure to control the entry of tourists while COVID-19 remains. In addition to this document, you also need to take a COVID-19 test as soon as you arrive at the airport.
You may be wondering when you can get the COVID-19 test, and that's why we inform you that it's possible to obtain the Iceland COVID-19 Test On Arrival, as long as you agree to pay for it and also offer the Iceland Pre-Registration Form. Therefore, we are ready to help you with this process by offering you useful information in the information written below.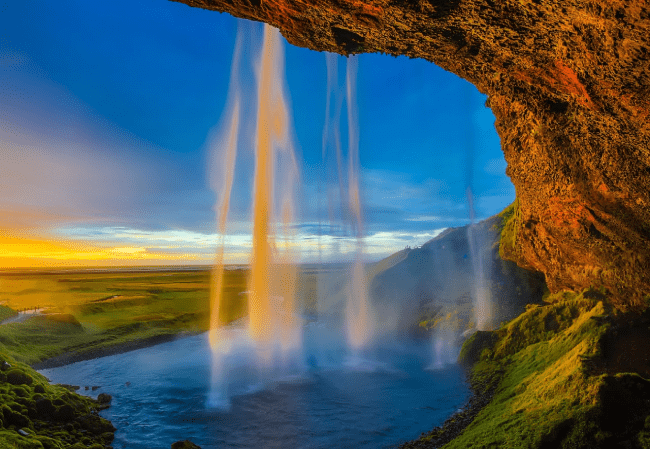 We also inform you that you can obtain your Pre-Registration Form with iVisa.com so that you can be ready in a few minutes. This way, you don't have to stress about doing everything under pressure.
You should also remember that the quarantine duration is 14 days, but once you arrive in the country, you'll be able to get a COVID-19 test and it might be something beneficial to shorten the number of days in your quarantine. You can also avoid the COVID-19 process at the airport if you already took your test just a couple of days before, but in that case, you'll be obligated to follow the 14 days without exception.
We recommend you to apply for the Iceland Pre-Registration Form with iVisa.com and to take the test upon arrival. Keep reading below for more details.
Frequently Asked Questions
What is an Iceland Pre-Registration Form?
Every foreign citizen must apply for the Iceland Pre-Registration Form before traveling to this country. This is an automated electronic form that the Icelandic authorities constructed to admit tourists into the country during the COVID-19 pandemic. With the electronic document, the Immigration officers at the airport can check all the important information about travelers health so they can avoid the risk of contagion.
The Iceland Pre-Registration Form contains contact information, type of transport, travel dates, and other useful details like addresses during your stay in the country.
You can apply for it with iVisa.com.
Who can enter Iceland?
Fully vaccinated travelers, plus EEA citizens, and the following third-country citizens can travel to Iceland for tourism purposes upon presentation of a negative COVID-19 test result: Bahrain, Chile, Colombia, Hong Kong, Indonesia, Kuwait, Macao, New Zealand, Peru, Qatar, Rwanda, Saudi Arabia, South Korea, Taiwan, United Arab Emirates, Uruguay
Do I need a COVID vaccine or vaccination certificate to enter Iceland?
Yes, Iceland has been taking steps to restore travel within its borders. If you are coming from a high-risk country, in order to enter Iceland, you'll need to display your COVID vaccine passport or vaccination certificate.
Accepted vaccines are Pfizer/BioNTech, AstraZeneca, Janssen, Moderna, Vero Cell and Sinopharm. You are considered vaccinated if all doses of a vaccine against SARS-Cov-2 have been administered for at least two weeks before traveling.
Which countries are considered high risk in Iceland?
High risk zones: Botswana, Eswatini, Lesotho, Mozambique, Namibia, Zimbabwe and South Africa
Do I need a COVID-19 test result to visit Iceland?
COVID test prior to arrival: PCR or antigen within 72 hours (fully vaccinated travelers) or PCR within 72 hours (unvaccinated travelers)
COVID test exemptions: Children born in 2005 or later
Do I have to remain in quarantine?
Quarantine requirements: 5 days for unvaccinated travelers
What are the Iceland COVID-19 Requirements?
You can get your Iceland Pre-Registration Form with iVisa.com, but the COVID-19 test will be on your side. We can tell you that you won't need many things for the test, just your passport. In the case of the Pre-Registration form, you need a shortlist of documents if you use iVisa.com's application form. These are:
One scanned copy of your passport to provide your personal details to the authorities.
A valid email address to receive the document and other useful information.
A Paypal or your debit/credit card number to pay for the fees.
What is the price of the Iceland Pre-Registration Form?
With iVisa.com, you don't have to worry about an expensive price for your document. In fact, if you apply for your Pre-Registration Form, you'll be able to choose one of 3 processing options according to your budget and your needs. In other words, these options are based on how fast you want your document. If you want it asap, then you'll have to pay more. These are the options:
Standard Processing: With this option you just have to wait

1 Business Day

for the Pre-Registration form and pay

USD 20.00

.
Rush Processing: This option is a bit faster, so you'll receive your document in

8 hours

if you pay

USD 35.00

.
Super Rush Processing: This is the fastest processing option. The document is ready in

4 hours

for a price of

USD 60.00

.
Don't forget that the Pre-Registration Form has a different price than the COVID-19 test.
How much does the Icelandic COVID-19 test cost?
After you provide the Iceland Pre-Registration Form at the airport, you'll be required to pay for the COVID-19 test because it's a mandatory requirement. Therefore, keep in mind that the price for a single PCR test is ISK 9 000 (around USD 64.00). Nevertheless, ISK 11 000 is the price if you pay for the document on arrival.
Keep in mind that the the 2nd test is free of charge once you're into the country. Also, you should always contact the authorities if you have any doubts about this test.
How can I apply with iVisa.com?
Using iVisa.com's online form isn't difficult at all because it only ask you to complete these steps:
Firstly, answer the questionnaire with your personal details and choose the best processing time for you.
Secondly, check the information you gave in step one and verify that it's correct before proceeding with the payment.
Thirdly, upload the documents required and attach them to the online form before clicking on 'submit'.
Are you ready to start your online form? Click on this link to begin the process.
If you have questions or doubts about the form, contact iVisa.com's customer service to receive personal attention.
Should I get a COVID-19 Test and a Pre-Registration form for my kids?
Take into account that If there are children under the age of 5 in your family, and you'll travel with them, then they won't need to apply for the Pre-Registration Form, and they won't have to get tested either.
Is it safe to use iVisa.com?
Keep in mind that iVisa.com designed a modern and secure software that won't allow any unauthorized access to the database we have. It means that your information won't be put in danger. You can always check these reviews if you want to be sure.
Where can I receive more info?
If you want to learn more details about the Iceland Pre-Registration then we invite you to contact us via chat online. Also, you can check iVisa.com's blog if you want to receive more travel tips, especially now with the COVID-19 pandemic around. Safe travels!