Iceland is a country blessed with some of the most extraordinary sites and views of the world. Here you can enjoy watching whales in the waters or gaze at the aurora borealis after a swim in a hot spring. There are so many adventures to embark upon when visiting Iceland.
If you are a traveler and have been wanting to explore the beauty of Iceland, it is never too late. The coronavirus epidemic has put a lot of our activities on hold, but, with the arrival of the COVID 19 vaccine, things are beginning to look better. To enter Iceland, you will need the usual mandatory documents like a valid passport and Visa, in addition, you will also need the Iceland digital COVID certificate. This is a health declaration that has now become an essential travel document in Iceland.
You do not have to worry about getting your own Iceland digital COVID certificate. You can begin the application process after you click here and you can start adding all the required details from the comfort of your home. iVisa.com assists you with a hassle-free process of application and acquisition of this health declaration so you can worry just about your trip and nothing else!
You can visit iVisa.com to start applying for your Iceland digital COVID certificate today
Note: Since February 25th, 2022, the Iceland Pre-Registration Form is no longer necessary to enter the country.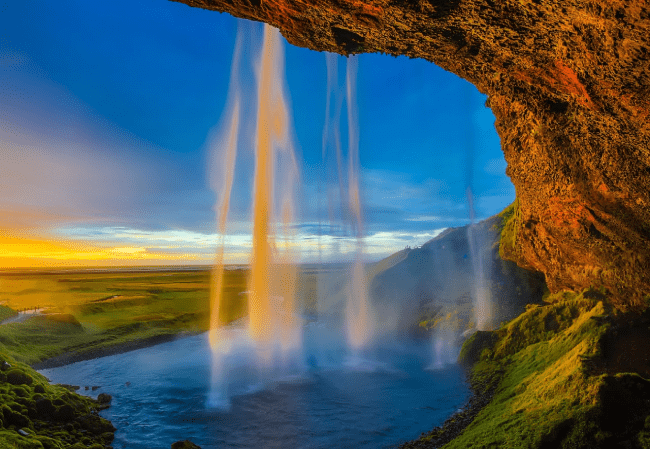 Frequently Asked Questions
If you have any questions about your Visa application process or other documentation for your visit to Iceland, kindly go through the following frequently asked questions. If you have any more queries, you must visit iVisa.com to know more.
Alternatively, you can click here to read more about the Iceland digital COVID certificate .
What is the Iceland digital COVID certificate?
This is an official document that informs the government of Iceland that you have been vaccinated by the COVID 19 vaccine. This ensures the safety of the residents of Iceland and can help you get any medical assistance related to COVID.
You can apply here for the Iceland digital COVID certificate .
Do I need a COVID vaccine or vaccination certificate to enter Iceland?
Yes, Iceland has been taking steps to restore travel within its borders. If you are coming from a high-risk country, in order to enter Iceland, you'll need to display your COVID vaccine passport or vaccination certificate.
Accepted vaccines are Pfizer/BioNTech, AstraZeneca, Janssen, Moderna, Vero Cell and Sinopharm. You are considered vaccinated if all doses of a vaccine against SARS-Cov-2 have been administered for at least two weeks before traveling.
Who can enter Iceland?
Fully vaccinated travelers, plus EEA citizens, and the following third-country citizens can travel to Iceland for tourism purposes upon presentation of a negative COVID-19 test result: Bahrain, Chile, Colombia, Hong Kong, Indonesia, Kuwait, Macao, New Zealand, Peru, Qatar, Rwanda, Saudi Arabia, South Korea, Taiwan, United Arab Emirates, Uruguay
Which countries are considered high risk in Iceland?
High risk zones: Botswana, Eswatini, Lesotho, Mozambique, Namibia, Zimbabwe and South Africa
Do I need a COVID-19 test result to visit Iceland?
COVID test requirements: There are no testing requirements.
Is it mandatory to quarantine?
Quarantine requirements: There are no quarantine requirements.
What is the application process for the Iceland digital COVID certificate?
The application process can be done swiftly through the iVisa.com website. To get your Iceland digital COVID certificate , you only have to go through the following steps:
Begin by filling the application form on iVisa.com.
Pick a processing time and cost as per your budget constraints.
Upload the documents required as per the website.
You must have a PayPal account or a valid debit or credit card to pay your processing fees.
Start the application process today
What is the processing cost and time?
At iVisa.com, you can choose from a wide range of budget options keeping in mind your monetary and schedule constraints:
Standard processing: This is the cheapest option. This will ensure your documentation is done well in time and you can save some money for your travel expenses.
Rush processing: This option is slightly costlier than standard processing fees however, with the help of this option you will be able to get the documents very quickly.
Super Rush processing: This is an ideal option for you if you need your travel documentation immediately. With this option, your Visa and health certificates will be prepared in a very short time.
Why should I trust iVisa.com?
iVisa.com has been in the business of travel and international documentation for a very long time. Our team of experts have been helping people prepare for their business trips and vacation stays and hence, they are aware of the constantly changing travel guidelines across the world. You can completely trust iVisa.com as we would ensure that your trip to Iceland is completed without any trouble.
I still have questions regarding my documentation, whom do I ask?
First-time visitors of Iceland and international travelers may have many more questions regarding their travel documentation. Once you have read all the FAQs, you can write to us via email or get in touch with our customer support team, who will get back to you with all the information.
iVisa.com Recommends
Husavik is one of the most popularly visited places in Iceland because of the exciting whale watching facility in the region. Here, surrounded by the green hills is the Whale Museum, which you can visit. Vestrahorn Mountain is another welcome site because of its close proximity to lagoon and black sand beaches. Once you have visited these sites, you can take a rejuvenating break and visit one of the many Geysers of Iceland.
Some of the most popular geysers are the Great Geyser located in the Haukadalur Valley and the Strokkur Geyser. Landmannalaugar is also a widely loved site because of its multicolored mountain tops and lakes, the site is truly sublime. You can also visit the white-colored Church at Hallgrimskirkja, found near the statue of Leifer Eriksson. Lastly, you must visit Dyrholaey, located on the coastline of Iceland. The coastline is surrounded by ice-capped mountains, rock formations, and the sea, making it a truly thrilling view that you will cherish for a long time.
Start applying for your trip to Iceland today!