Looking to get to Ireland? Confused about the rules and procedures one must follow when travelling during coronavirus pandemic?
iVisa.com can help you get there, easy and fuss-free - check out iVisa.com's COVID-19 Passenger Locator Form that is designed to make the entire process simple and effective, keeping you and your loved ones protected at all times.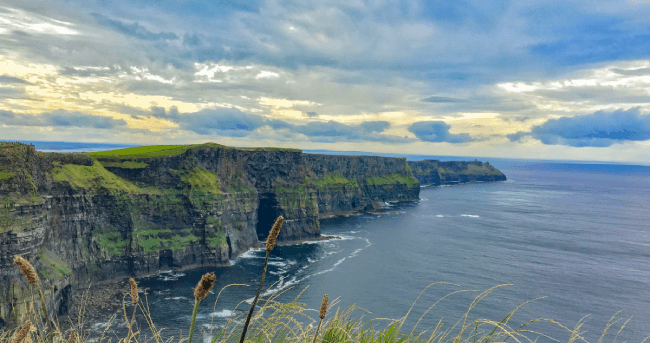 This year has been difficult and has definitely altered the way the travel industry works. We see no reason to further complicate your trip to Ireland. Keep reading the FAQs we've compiled to help you understand how this online form works and what you need to get started.
FREQUENTLY ASKED QUESTIONS (FAQs)
WHO NEEDS TO FILL OUT THE FORM TO TRAVEL TO IRELAND?
It is a legal requirement for all persons travelling to Ireland to fill this form, except:
Passengers leaving the state from their port or airport of arrival without otherwise exiting the port or airport
Holders of a Certificate for International Transport Workers, or drivers of a heavy goods vehicle
Aircraft or ship crews
Foreign diplomats
So unless you're one of the above, get your passport out and be prepared to receive your COVID-19 Passenger Locator Form in less than 15 minutes!
Do I need a COVID vaccine or vaccination certificate to enter Ireland?
No, you don't. COVID vaccination certificates are not mandatory to enter Ireland. Now if you are a Covid vaccine certificate holder, you won't need to present a negative PCR test nor to follow a quarantine.
Approved vaccines are Pfizer, AstraZeneca, Moderna, Janssen.
You are fully vaccinated:
7 days after the second Pfizer-BioNTech dose
15 days after the second AstraZeneca dose
14 days after the Janssen vaccine
14 days after the second Moderna, Sinovac, or Sinopharm dose
Do I need a negative COVID-19 test result to enter Ireland?
COVID test prior to arrival: Unvaccinated travelers only.
COVID test requirements: PCR within 72 hours.
COVID test exemptions: Children under 12.
Irish, EU and UK citizens who have been in Botswana, Eswatini, Lesotho, Mozambique, Namibia, South Africa, Zimbabwe within 14 days: PCR within 72 hours of arrival and PCR tests on day 2 and day 8.
Do I have to remain in quarantine?
Quarantine requirements: There are no quarantine requirements in Ireland.
Irish, EU and UK citizens who have been in Botswana, Eswatini, Lesotho, Mozambique, Namibia, South Africa, Zimbabwe within 14 days: 14 day quarantine to end early with negative results in days 2 and 8 PCR tests.
WHAT IS THE IRELAND COVID-19 PASSENGER LOCATOR FORM?
It is an online form which will be used to temporarily store your contact and travel information in order to track people who have suspected or confirmed cases of coronavirus through a process called contact tracing. This is important as it allows the authorities to keep the case count in check and thus keep the public safe. Take a look at iVisa.com's COVID-19 Passenger Locator Form now to see how easy it is to do this!
HOW MUCH WILL IT COST?
At iVisa.com, we understand your different needs and have created a price that matches the duration of the process you choose. Take a look at our range of options:
Try our Standard Option if you have more than

24 hours

to plan. This will cost you

USD 20.00

.
Only have around

8 hours

? No worries, our Rush Option will come in handy, and just for the price of

USD 35.00

.
Running extremely low on time? Pick the Super Rush Option so we can deliver it to you in

4 hours

, at only

USD 60.00

!
You are our priority, and we're always ready to help. Reach out to us if you have any questions and get equipped for your trip to Ireland now!
WHAT HAPPENS ONCE YOU REACH IRELAND?
As a citizen of the UK, you are travelling from a location that is not included on Ireland's COVID-19 Green List. This means you must maintain restricted movement for 14 days once you enter the State.
You will be asked to show the online COVID-19 Passenger Locator Form once you arrive.
WHAT DO I NEED TO KNOW ABOUT RESTRICTED MOVEMENT?
On entering Ireland, in order to ensure that you have not contracted the virus or put other people at risk, you will have to follow these precautionary measures:
Stay indoors and avoid contact with other people and social situations as much as possible
In any unavoidable social or outdoor situations, make sure you maintain 2 metres distance from other people
Avoid public spaces and transport as much as possible.
Ensure that you have the downloaded form with you as the penalty for not filling the form before entry can include a fine of up to €2,500 or imprisonment for up to 6 months. Not sure how to go about getting this obviously very important document? Contact our friendly customer service team and they'll help you with anything you need!
HOW DO I REACH OUT IF I HAVE MORE QUESTIONS?
We're available 24x7 to answer any and all questions you may have! Just click here and reach out to one of our dedicated customer agents.
Now that you're clear on how to go ahead, apply now and get your COVID-19 Passenger Locator Form in just a few clicks!