Italy is a country that needs no introduction. Over the years, Italy has become the hub for a wide variety of tourist activities- ranging from shopping, the best culinary experiences, and some of the world's most exquisite historical sites. If you have been having second thoughts for your dream vacation under the Tuscan Sun, you must plan your trip today.
The coronavirus pandemic had put a pause on several travel plans. However, with the arrival of the vaccine for COVID 19, the world has begun to slowly go back to how it was before. You can begin planning your trip to Italy once again, however, now you will also need the Italy digital COVID certificate. Apart from the usual Visa and passport, health declarations are now becoming the norm as well.
Getting your very own Italy digital COVID certificate is not a problem. The application process is very easy. All you have to do is visit iVisa.com by clicking here and before you know it, your travel documentation process will begin!
You must visit iVisa.com to start applying for your Italy digital COVID certificate today
Note: Since May 1st, 2022, the Italy Self Declaration Form is no longer necessary to enter the country.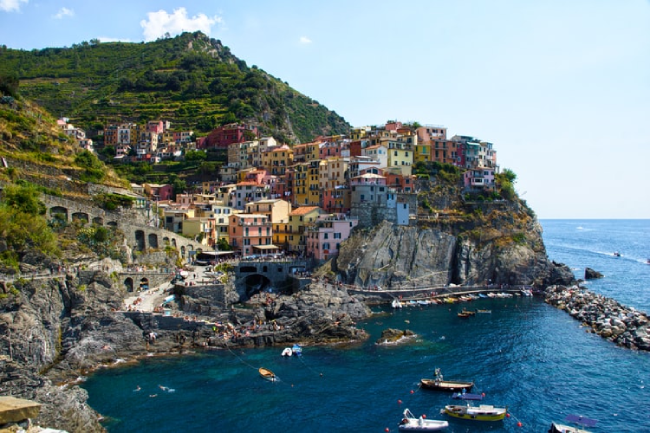 Frequently Asked Questions
Many travelers have a lot of questions when planning a trip abroad. We have put together some of the most frequently asked questions for your convenience. However, if you still have any more queries, visit iVisa.com to know more.
Click here to read more about the Italy digital COVID certificate .
What is the Italy digital COVID certificate?
This is a mandatory travel document for all travelers to Italy. This health documentation shall help the Italian government know more about your vaccination details. It will also consist of information regarding your health that shall help the officials in preventing the spread of the deadly coronavirus.
You can apply here for the Italy digital COVID certificate .
Do I need a COVID vaccine or vaccination certificate to enter Italy?
No, you don't. As of today, COVID vaccination passports or certificates are not mandatory to enter Italy. Since information may change quickly, we advise you to follow up on the latest Italy travel updates and/or contact your local embassy.
Do I need a negative COVID-19 test result to enter Italy?
COVID test prior to arrival: Pre-departure tests are no longer required.
Do I need to quarantine when I arrive in Italy?
Quarantine requirements: There are no quarantine requirements.
What is the application process for the Italy digital COVID certificate?
At iVisa.com all travel documentation processes can be completed very quickly. In order to obtain your own Italy digital COVID certificate , you only have to go through the following steps:
Start filling the application form on iVisa.com.
Choose a processing time and the subsequent processing fees as per your requirements.
Scan and upload the necessary documents.
You need a PayPal account or a valid debit or credit card to pay your processing fees.
Start the application process today
What is the processing cost and time?
At iVisa.com, you can pick from several options as per your travel budget and travel schedule:
Standard processing: This is the most inexpensive choice out of all. This will ensure your documentation is done early and will also help you save money for your travel.
Rush processing: This is an option for those of you who planned your trip with only a few days to spare. Visa applications and travel documentation can be a dicey process and choosing this option will be worth the investment as the documents will be ready risk-free.
Super Rush processing: This is an expensive, albeit unique offer for all emergency travel documentation. You will receive your travel documentation immediately, in just a few business days.
Why should I trust iVisa.com?
iVisa.com is a popular choice for all travelers. Our team of experts ensures that the information you have provided is accurate. They will make sure that all your travel documentation is prepared in time. This is a reliable and credible place to begin your travel preparations anywhere in the world.
I still have questions regarding my documentation, whom do I ask?
If you have any questions regarding your trip to Italy, you must go through our frequently asked questions. In case you still have more queries, you should get in touch with us via our email and our customer support team will respond to you immediately. You can also visit our website to read more information.
iVisa.com Recommends
When in Italy, you must begin your trip with a relaxing stay in the Tuscan Hill Towns. Here you can find the San Gimignano, an important relic from medieval times alongside Voltera and Arezzo. These sites are testaments of many great civilizations that have lived here. You must then head to the Il Duomo of Milan, where the legendary Last Supper resides.
The Quadrilatero is one of the most popular shopping destinations in the world when in Milan you must definitely pay a visit. You can take a day-long break and head to the quiet of Lake Como. Here you can stay in the many villas like the Bellagio and enjoy a few quiet evenings in the Italian countryside. You can extend your adventures to the Amalfi coast and Capri. Once you are done with these excursions, you must visit the iconic destinations of Rome, Venice, and Florence. When there, you can enjoy the Roman relics such as the Colosseum and the Pantheon. In Florence, you can visit the beautiful Cathedral of Santa Maria del Fiore.
iVisa.com wishes you a rejuvenating trip to Italy!