Italy has many delights in store for every type of traveler so its no wonder you are planning a trip there! Of course, with the current climate the first thing you are probably asking yourself about are the Italy Vaccine Requirements. COVID rules and regulations are constantly changing, but one thing is certain, you need an Italian Health Declaration to be able to enter the country.
Let us at iVisa.com direct you. You can simply click the links on this page to go straight to our easy, 3 step, application form and have your Italian Health Declaration ready in as fast as 30 minutes.
Keep reading below for more information on how to apply.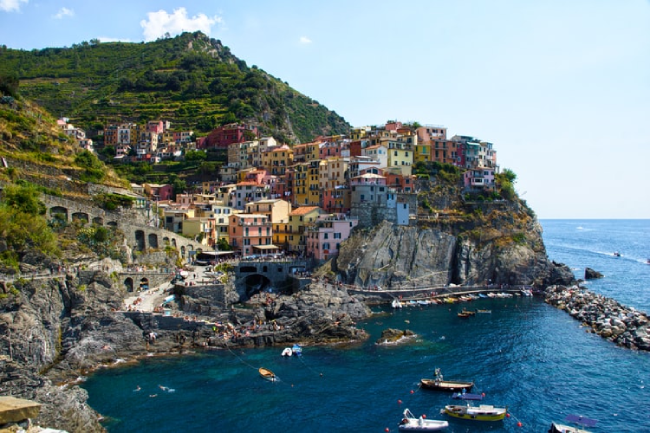 How to apply for a travel document online
Enter iVisa.com's page.
Write the information required in the online form and select processing speed.
Verify all the information you provided to ensure it is 100% correct, and select a processing speed.
Get ready to pay for your fees and attach the items necessary to process the request.
Wait for your travel document by email!
Frequently Asked Questions
Is the vaccine required to travel into Italy?
No, you don't. As of today, COVID vaccination passports or certificates are not mandatory to enter Italy. Since information may change quickly, we advise you to follow up on the latest Italy travel updates and/or contact your local embassy.
Do I need a negative COVID-19 test result to enter Italy?
COVID test prior to arrival: Pre-departure tests are no longer required.
Do I need to quarantine when I arrive in Italy?
Quarantine requirements: There are no quarantine requirements.
Is iVisa.com able to assist me with an entry for my Italy trip?
Does a duck quack? This is exactly what we are here for! We have an amazing Visa Checker tool on the iVisa.com website. You can use it to find out whether you need a tourist e-Visa to enter Italy and learn about any additional entry requirements.
iVisa.com can help you apply for your health declaration in three easy steps:
Complete the online application form making sure to double-check your answers for accuracy. This is important as a mistake will cause you to have to repeat the process.
Select your needed processing time and pay the fee required.
Upload any required documents then submit. That's all!
iVisa.com makes it as simple for you as we possibly can.
How quickly can I get documents using iVisa.com?
iVisa.com provides three different processing speeds/options to allow you to get the Italy declaration form in the time that you need. The available processing options are:
Standard:

USD $24.99

-

24 hours

.
Rush processing:

USD $45.49

-

4 hours

.
Super Rush processing:

USD $76.99

-

30 minutes

.
What documentation is needed for my iVisa.com application?
When you apply for an Italy Form with iVisa.com, you'll only need the following:
Passport, the personal information page (that's the page with your picture and personal info on it)
A credit or debit card to pay the processing fee. We even allow PayPal for processing fees.
An email address, as we will communicate with you electronically after submission.
Can I rely on iVisa's team to keep me updated when I need to know the answer to my query about Italy Vaccine Requirements?
You can trust us to provide you with the most up-to-date information about travel planning. Our writers are constantly researching to keep this information fresh! Feel free to reach out to our team and ask them directly about Italy Vaccine Requirements
Is it safe to use iVisa.com online?
The creators at iVisa.com use our platform as well so the safety matters to us as consumers, not just creators! When you are on our website there is no need to be concerned about safety. Confirm this by viewing our customer reviews. These are unsolicited and unedited!
I have more questions?
If there are additional questions then visit our iVisa.com website to read more informative blogs on this topic. You can use the chat feature for instant assistance or send us an email for more details.
Do I need a vaccine to travel to Italy as a part of the Italy Vaccine Requirements, no? Can iVisa.com help get you there? Absolutely!
iVisa.com recommends
Mentions of the word pizza can be found all the way back to the 10th century AD, but pizza in its modern form – with a tomato base – was developed in Naples in the late 18th century. What better place in the world than to learn how to make pizza? Join a pizza-making workshop in Naples and learn from an Italian chef all about the secret ingredients and recipes. But Italy is more than a pizza. This European country has a long Mediterranean coastline, in addition to having a considerable influence on Western culture and cuisine. Its capital, Rome, is home to the Vatican, ancient ruins, and iconic works of art. Other important cities are Florence, with Renaissance masterpieces such as Michelangelo's "David" and Brunelleschi's Dome; Venice, the city of canals; and Milan, the Italian capital of fashion.
Do not lose your trip to Italy for trifles like travel documents, let us help you!