A trip to the Ivory Coast involves more than planning what to visit and at which hotel sleep. Since there are only a few countries whose citizens are exempt from getting a visa, you may need one to cross the border. Lucky for you, you can apply for one online. Using the services rendered by iVisa.com will make the whole process a lot easier, and you can do it from the comfort of your own home!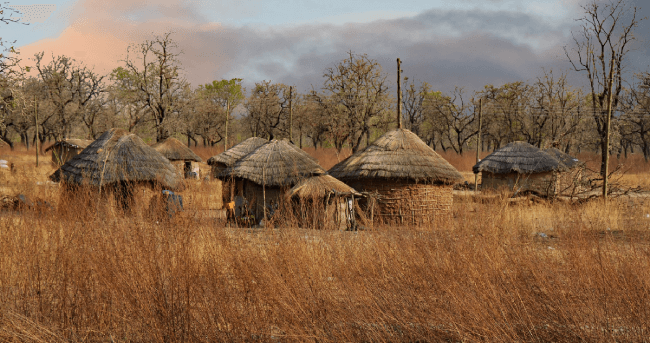 In the list of questions below, you'll see how to get an Ivory Coast visa online and more.
Frequently Asked Questions
What's an Ivory Coast eVisa?
This is a formal document approved by the Ivory Coast Government that allows you to go into the country in a particular quantity of time. It works similar to a Paper Visa, but it's easier to obtain. You don't have to visit the embassy to get an eVisa because it's not necessary to get a stamp in the passport.
By having your Ivory Coast eVisa you can remain inside the country for 90 days in Total. At the same time, this document expires 90 days after arrival. Plus, you should know that this eVisa offers Multiple Entry.
Can I get an Ivory Coast visa online?
Yes, you can get an Ivory Coast visa online by using iVisa.com. But before applying, you should check first if you're eligible for the online document. To know that, you can use our homepage and check the drag-down menu in the center of the screen. That menu is easy to use, as you only have to choose your country of origin and leave Ivory Coast as the destination.
Once you do that, you'll be able to see if you can apply for an Ivory Coast eVisa. In case you need a Paper Visa, we'd also let you know.
What should I get to complete the online process?
There are a lot of advantages when using iVisa.com! One of them is that the requirements' listing is accessible and brief.
These are the things you have to consider before using our online form:
All citizens who apply online require a valid passport: it needs to be valid for another 6 months from the date of arrival from the Ivory Coast, along with a blank page. Have a look at your passport to make sure it meets those guidelines.
You need an email address: iVisa.com will send the document via email, which is why you must have a valid address. Don't forget to print several copies.
Don't forget about the payment: when you apply online, you have to make the payment through the application process. Fortunately, iVisa.com accepts many methods of payment. It's possible to use a debit or credit card, but in case you've got an account on Paypal, you can use it too.
Bear in mind to bring the Yellow Fever vaccination certificate: until you depart for Ivory Coast, you need to provide the certificate of the vaccination.
What is the price of the Ivory Coast eVisa?
Before offering you the sum of your eVisa, remember it's going to rely on two things: the visa type and the processing time. In iVisa.com we provide you three processing options with different prices. The fastest you want to have your eVisa the more you'll have to pay:
Standard processing time: this processing option lasts

7 days

and it has a total price of

USD 119.00

.
Rush processing time: this processing time lasts

5 days

and you have to pay

USD 149.00

this time.
Super Rush processing time: you only wait

3 days

with this processing option and you pay

USD 184.00

.
How can I get an Ivory Coast visa online?
Once you get the documents required, you have to fill in the application form. This will require approximately 20 minutes of your day. Also, iVisa.com has a great support service that's prepared for you if you want any help.
There are three steps you need to complete.
The first one is simply to write down some basic details like full name, email address, and so on. In this step, you also have to select your processing time. Remember that it has to be one of the mentioned above.

The next step is to proceed with the payment and also review the information in step one. In terms of revision, ensure that is 100% correct and double-check the spelling. You can't make any corrections once your application is processed. Remember that if you make a mistake, your visa gets invalid.

The final step includes document upload. Based upon the purpose of the trip, iVisa.com will let you know what documents you have to upload. Some applicants might need to upload more documents than others. You don't have to worry about this part, as we will inform you about it by email.
After you complete these steps, you can submit your application and then wait for your pre-approval letter to arrive through email in PDF format.
How does the Ivory Coast eVisa look like?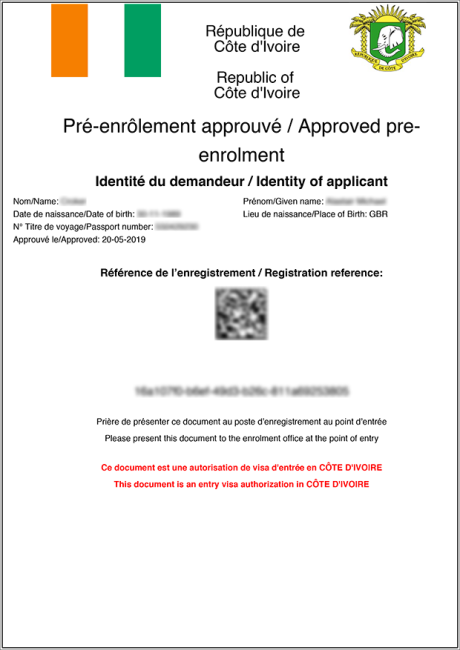 How can I know if my eVisa is approved?
As soon as you finish the entire procedure with your application form we will notify you via email as soon as the Ivory Coast Government approves your eVisa.
How safe is iVisa.com?
iVisa.com counts with a team that's highly rated thanks to its professional work and also iVisa.com's modern platform. This means that you can feel 100% confident when you apply for an Ivory Coast eVisa.
I'm still having doubts, where can I read more information?
If you're still having doubts about this eVisa or other questions about Ivory Coast, then you can have a look at this page or simply contact one of our customer service representatives at this link.
Obtaining an Ivory Coast visa is a straightforward procedure. In case you need extra support, you can contact us now and plan your journey!