Indian citizens qualify for an Ivory Coast e-visa, which means that all Indian nationals can apply online for their visa instead of paying a visit to the nearest embassy. If you use iVisa's services, your effort will be close to non-existent, and we will show you how in this blog post.
Frequently Asked Questions (FAQs)
If I'm from India, do I need a Visa for Ivory Coast?
Yes, you do need an e-Visa if you want to enter this African country.
What is an Ivory Coast e-Visa?
This is an official document authorized by the Ivory Coast Government that permits you to enter the country in a certain amount of time.
How long can I stay in Ivory Coast if I'm from India?
With your Ivory Coast e-Visa you can stay 30 days Total.
What are the requirements for Indian Citizens?
The benefits of applying online with iVisa are many. However, one of the best things is that the list of requirements is short and accessible. You need to provide some documents and some information so that iVisa can expedite the process. Here is what you need:
Passport Personal Details Scan

Return Ticket

Proof of Accommodation
Please also keep in mind the following instructions:
All Indian citizens who apply online need a valid passport. It has to be valid for at least another 6 months from the date of arrival in the Ivory Coast, and a blank page is required. Take a look at your passport to ensure it meets these guidelines.

You need an e-mail address – iVisa will send you the pre-approval letter via e-mail, which is why you must have a valid address. Do not forget to print a few copies before your departure.

Remember the means of payment – when you apply online, you need to make the payment during the application process. Fortunately, iVisa provides several methods of payment. You can use a credit or debit card, but if you have an account on Paypal, Alipay, or WeChat, you can use one of them as well.

Remember the Yellow Fever vaccination certificate – before you leave for Ivory Coast, you need to have your vaccine against the Yellow Fever. A certification that confirms the immunization is required.
When does this e-Visa expire?
If you're from India, your Ivory Coast e-Visa expires 90 days after arrival.
What are the processing times and fees for my Ivory Coast e-Visa?
Before giving you the actual amount of your visa, keep in mind that it will depend on two things: processing time and visa type. In iVisa we offer you three processing times made according to your needs:
Standard processing time – if you apply for this choice, your Ivory Coast e-visa should arrive via e-mail in no more than 7 days. This is the least expensive processing time we can offer you. You only have to pay USD 119.00.

Rush processing time – this option will shorten your visa arrival to just 5 days and you will be charged USD 149.00.

Super Rush processing time – This is the best option if you have an emergency. Your application will be processed within 3 days. But as you might guess, the price is higher, you'll be charged USD 184.00.
HOW MUCH TIME DO I NEED TO APPLY FOR THIS E-VISA?
In case you decide to apply for an Ivory Coast visa online then you'll only need 10 or 20 minutes.
HOW IS THE APPLICATION FORM FOR INDIAN CITIZENS?
After you put together all of the above, you are required to fill in the application form. However, that takes about 20 minutes of your time, and iVisa has an excellent support service that's ready for you if you need some help.
There are three steps you need to complete.
The first one asks you to fill in your general information such as name, address, e-mail, date of birth, passport info, and a few details regarding your trip. You must also select a processing time at this point, a step that determines the cost of your visa. The Standard processing time is the slowest and cheapest, while the Super Rush option is the most expensive but the fastest.

The second step asks you to make the payment and revise step number one. As for the revision, you need to double-check your spelling and make sure that the information you provide is 100% accurate. You cannot make any corrections after your application reaches processing. In case of an error, your visa is invalid.

The last step consists of documents upload. Depending on your circumstances, iVisa will let you know exactly what documents you need to upload. Some applicants need more documents than others. However, rest assured that you will be notified about what you are required to provide.
After all three steps are complete, you can submit your application and wait for your pre-approval letter to arrive via e-mail in PDF format in the timeframe you selected.
HOW MANY TIMES CAN I ENTER IVORY COAST WITH MY E-VISA?
Since you have Multiple Entry with your Indian passport, there's no limit to your entries, as long as you keep it according to the maximum amount of days allowed.
HOW DOES THE IVORY VISA FOR INDIANS LOOK LIKE?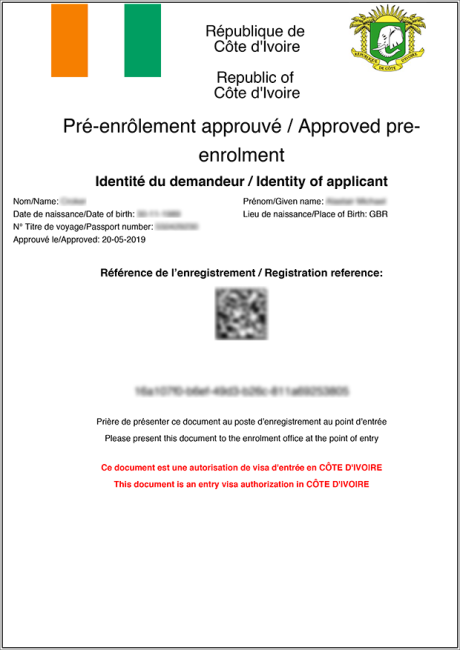 HOW DO I KNOW IF MY E-VISA IS APPROVED TO TRAVEL TO IVORY COAST?
Once you complete the whole process with your application form we'll inform you through an e-mail when the Ivory Coast Government approves your e-Visa and you're done with nothing left but your trip to this exotic country.
IS IT SAFE TO APPLY FOR MY IVORY COAST E-VISA WITH IVISA?
iVisa counts with a team that is highly rated thanks to its maximum security with personal data. This means that you can feel 100% sure when applying to your Ivory Coast e-Visa. You can trust us to always protect you.
I'M STILL HAVING SOME DOUBTS, WHERE CAN I READ MORE ABOUT THIS IVORY COAST E-VISA?
If you still have doubts about this e-Visa or other topics related to Ivory Coast, you can take a look at this page or just contact one of our customer service agents in this link.
Getting an Ivory Coast visa for Indian citizens is an effortless process. However, if you find yourself in need of help or extra assistance, you should know that iVisa provides a special support service 24/7. You can contact us today and plan your trip!