All French travelers can enter Jersey easily because they don't need a visa. However, due to the recent COVID-19 pandemic, they must apply for the Jersey Health Declaration first. This document is not a visa but works as special permission to enter the island. Therefore, if anyone is wondering right now "How Can Citizens of France Enter Jersey During Coronavirus?", then the answer is simply: by getting the Jersey Health Declaration.
Note: Since February 7th, 2022, the Jersey Traveler Registration Form is no longer necessary to enter the country.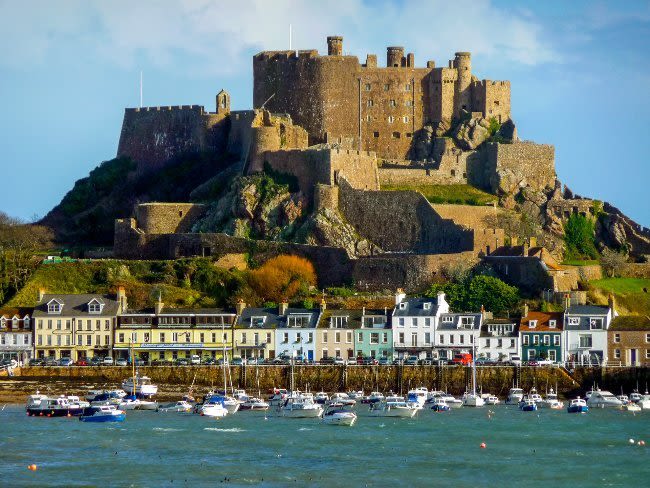 Applying for this document is not complicated thanks to iVisa.com. With our user-friendly, safe platform, French citizens can apply for the Jersey Health Declaration within a few minutes.
Learn more about this document in the information below.
Frequently Asked Questions
What is the Jersey Health Declaration?
If you are asking yourself: How Can Citizens of France Enter Jersey During Coronavirus? then you've come to the right place. The answer is simple: you can enter this island with your French passport if you have a Jersey Traveler Registration Form.
The Jersey Health Declaration, also known as Jersey Traveler Registration Form, is an electronic travel document that allows you to enter Jersey while the COVID-19 pandemic is ongoing. This document is mandatory to detail your health status to the authorities and therefore mitigate the impact of the COVID-19 on the island.
Do I need a COVID vaccine or vaccination certificate to enter Jersey?
No, you don't. As of today, COVID vaccination passports or certificates are not mandatory to enter Jersey.
Approved vaccines are Pfizer, AstraZeneca, Moderna, and Janssen. You are considered vaccinated if all doses of a vaccine against SARS-Cov-2 have been administered for at least two weeks before traveling.
Since information may change quickly, we advise you to follow up on the latest India travel updates and/or contact your local embassy.
Is it mandatory to present a negative COVID-19 PCR test result if I'm traveling to Jersey?
COVID test requirements: There are no testing requirements.
Do I need to self-isolate when I arrive in Jersey?
Quarantine requirements: There are no quarantine requirements.
How long can I stay in Jersey with a Health Declaration?
This document is valid until you finish your travels (most of the time, the authorities allow an entry of 180 days, but it depends on personal circumstances). It is valid for single entry only.
What are the documents required to apply?
With your French passport, you won't need many items to apply for the health declaration to enter Jersey, only the following:
Your valid passport
A negative pre-departure COVID-19 test.
A valid email address to receive further instructions on how to fill in the form and what to expect at the airport.
A valid payment method (debit card or credit card). If you use a credit card, you will have to upload a selfie holding the physical credit card used for the transaction to our online form.
On our homepage, you can always check How Can Citizens of France Enter Jersey During Coronavirus?.
What are the processing times and prices?
The price changes depending on the urgency you have with the document. If you want to have it ready as soon as possible, pay the highest price. These are our fees:
Standard Processing Time:

24 hours

-

USD $14.99

Rush Processing Time:

8 hours

-

USD $26.99

Super Rush Processing Time:

4 hours

-

USD $47.99
How can I apply for a Jersey Health Declaration?
Applying for the Jersey Health Declaration does not require much effort. You only have to complete this 3-step process to get your document in your hands:
Step One: Fill out iVisa.com's online form with your private details and select a processing time.
Step Two: Review the information to avoid mistakes and pay the processing fee.
Step Three: Add any documentation required, including the PCR test, and click on 'submit' once you are ready.
Now just wait for your document! It will be delivered via email inbox.
Do you want to know more about How Can Citizens of France Enter Jersey During Coronavirus? Check our website.
Can I get this document for free?
Yes, this health declaration form is normally available for free. Nevertheless, applying for it with our services and having it ready before your flight is a great idea to save yourself the extra waiting time in the immigration queues.
Why is it safe to use iVisa.com?
It is safe to use our services because we never risk your private details and we always work with dedication so that you can have your document ready within the agreed timeframe. We are transparent about what we offer, which is why you can feel safe when using our forms, or you can even take a look at our reviews if you have concerns.
Where do I find more information?
If you are still wondering "How Can Citizens of France Enter Jersey During Coronavirus?", then contact our customer service agents for more guided information about the health declaration. They are available at all times.
iVisa.com Recommends
Jersey is in a splendid location and has a sheltered position in the Bay of St. Malo, meaning that a temperate climate and a warm environment will be a must. In comparison to the other British Isles, Jersey has an year-round warm climate, with stunning sunsets and breezy nights.
Jersey is a British Crown Dependency, so it is defended and represented by the UK government. However, it is also a self-governing place with its own financial and legal systems. Keep in mind that Jersey is only part of the British Isles, not part of England or any other country that belongs to the UK.
In this small-yet-charming isle, you can enjoy many activities including surfing, diving, and kayak, or you can always relax on any of its fascinating beaches like Plémont, Grève de Lecq, Bonne Nuit, Beauport, Portelet Bay, and St. Aubin's Bay.
As you can see, this British Isle has numerous activities to offer, and you should not lose the opportunity to visit it if you are ready to enjoy your well-deserved vacation. Get ready for your adventure by applying for your Jersey Health Declaration now!