Would you like to learn more about the beautiful country of Kazakhstan? With iVisa, it is easy to discover this destination full of cultural, natural, and historical attractions. Read more about what the visa and COVID-19 entry requirements are before boarding a flight from Pakistan to Kazakhstan.
Kazakhstan's landscape is beautiful, and it has few towns and cities. This makes it a great place for outdoor exploration. However, Pakistan citizens must make sure to apply for the correct Kazakhstan Visa and make sure they are up-to-date about other required documents, such as the Health Entry Pass.
Continue reading about the Kazakhstan visa application for Pakistani nationals, the Health Pass, and other COVID-19 restrictions in Kazakhstan.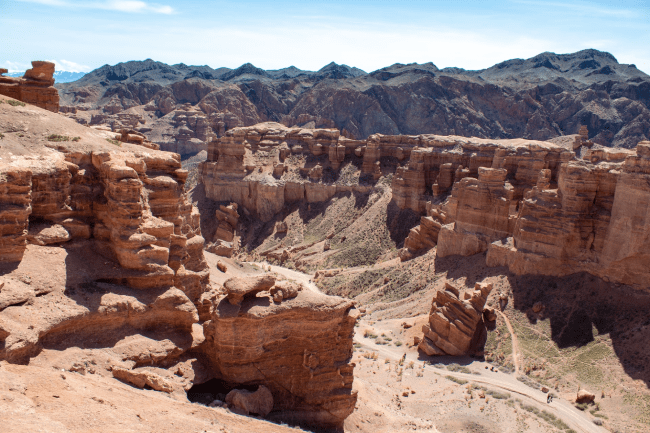 Do Pakistani citizens need a Kazakhstan Tourist Visa?
Yes, Pakistan nationals are required to have valid visa to visit Kazakhstan. Over 100 countries, including the UAE, can obtain the Kazakhstan Visa for tourism, business, or medical treatment.
You have your Kazakhstan Tourist Visa processed by contacting your nearest Kazakhstan embassy or consulate. This also applies to other Kazakhstan Visa types. Unfortunately, online visa applications for the Kazakhstan eVisa are currently not yet available for applicants from Pakistan.
COVID-19 restrictions requirements for Kazakhstan
According to the Ministry of foreign affairs, you do not need to show a proof of vaccination to enter the country. It is also no longer required to do a COVID-19 test before departure and quarantine is not necessary.
The only requirement visitors from Pakistan have to meet is obtaining the Kazakhstan Health Entry Pass before arrival in the country. Find all information about this pass below.
Entry procedures may, however, change at short notice. Before traveling to Kazakhstan, we recommend that you check the Health Ministry's website for the most current information.
Everything you need to know about the Kazakhstan Health Entry Pass
The Health Entry Pass is a visa support document that every traveler must complete within 72 hours before departure. This form allows the government of Kazakhstan to keep track of visitors into the country, to monitor the spread of COVID-19 and contact you if there are any emergencies. When you arrive in the country, border officials will ask you to show your completed form with a QR code.
You may only enter the Republic of Kazakhstan once as this pass is a single-entry document. Each time you return to Kazakhstan, you must fill out a new application form, which may be important to know for business people regularly returning to the country.
Please note that the entry pass does not replace a Kazakhstan Tourist Visa. You will still have to apply for a proper visa through the embassy as a Pakistan national.
All requirements to obtain the Kazakhstan Health Entry Pass from Pakistan
Kazakhstan Health Entry Pass applications can be submitted online using iVisa. The following information needs to be submitted:
Valid passport: You must provide your basic information, such as your name, date of birth, and passport number.
Travel information: To obtain the pass, you will also need to submit travel details, such as your flight number and accommodation info.
Email address: Your approved pass with a QR code will be sent to your email address once it has been processed.
Payment: You can pay the processing visa fee securely online with a credit or debit card.
A confirmation email with a QR code will be sent once all information is received and processed. Upon arrival in Kazakhstan, this QR must be presented at the airport for check-in and upon arrival.
Costs of the Kazakhstan Entry Health Pass
In order to process this travel document, you have three options. Budget and departure date determine the cost:
Standard Processing Time: Takes

24 hours

for a fee of

USD $33.49

.
Rush Processing Time: Takes

8 hours

for a fee of

USD $58.99

.
Super Rush Processing Time: Takes

4 hours

for a fee of

USD $94.99

.
Other requirements for your trip to Kazakhstan
Please note that it is not mandatory anymore for Pakistan nationals visiting Kazakhstan to register at the Internal Affairs office within 72 hours after arrival in the country.
Instead, the visitor's host (for example, employer or accommodation) must notify the Internal Affairs about any foreign residents visiting or staying with them by registering them upon arrival.
More questions about traveling to Kazakhstan?
If you have any questions about the Kazakhstan visa requirements or Health Entry Pass residents from Pakistan, don't hesitate to contact the iVisa customer service team online or by email at [email protected]. Our visa experts are available 24/7.