Kuwait, located at the top of the Persian Gulf, has a charm for everyone who visits it. A mixture of desert landscapes and beautiful beaches.
Its capital Kuwait City is famous for its modern architecture and ancient mosques, where the present and the past intertwine, giving the city a unique appeal. Visitors to Kuwait spend most of their time in the capital, strolling along the Corniche, which connects beaches, parks, and many attractions. Learn more about its history and culture by visiting museums and art galleries.
Kuwait City is known as the 'Hollywood of the Gulf' for its great love of cinema and traditional performing arts.
We cannot assist you with the visa application process at the moment, as they are not issuing e-visas to South African citizens. But our iVisa team is at your disposal to answer any questions or doubts you may have about your tourist visa to Kuwait.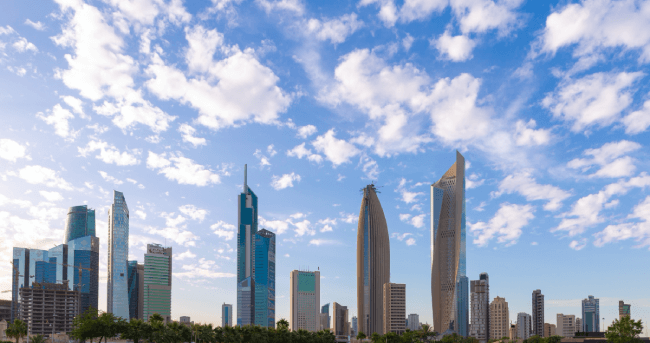 Do citizens of South Africa need a visa to enter Kuwait?
Yes, South African citizens need to apply for a tourist visa to enter Kuwait; they must apply in person at the Embassy of the State of Kuwait in South Africa or through Kuwait Overseas Missions. Online Kuwait visa application is currently unavailable for South African citizens.
For more information, please contact the Kuwait Embassy in your country.
Are South African citizens eligible for a visa to Kuwait, and how long can they stay in the country?
Kuwait grants different types of visas to South African citizens, but the most requested are:
Tourist visa: This visa is granted for tourist travel or to visit a friend or relative; this visa does not allow you to study or work in the country. It is valid for 90 days. You must have travel medical insurance.

Business visa: This visa is granted for business travel; this visa allows you to develop business relations in the country and attend congresses and conferences. This visa does not allow you to work in the country. You must have travel medical insurance. It is valid for 90 days.

Transit visa: This visa allows you to make an air connection. It is valid for 24 hours and does not allow you to leave the airport. Before applying for this visa, you must have the visa of the country you are visiting and airline tickets indicating your destination country. Without these documents, you cannot enter Kuwait.
What are the Kuwait visa requirements and documents required for a tourist visa for South African citizens?
To apply for your Kuwait tourist visa, you must go to the Kuwait Embassy in your country with the following documents:
Visa application form: Complete the visa application form with all the required data and verify that the answers are accurate.

Passport: A passport valid for 6 months or more when you travel to Kuwait; it must have 2 blank pages for visa stamping. If you have previous visas in old passports, you must present the old passports with the new one.

Photos: 2 passport-size photos no more than 3 months old, they must be in color with a white background, showing full face to shoulders.

Bank statements: The bank statements for the last 3 months show a continuous flow of income and that you have enough money to support yourself during your stay in the country.

Minors: If you are traveling with your children, you must present the original birth certificate of each minor child. If a minor is not traveling with both parents, they must present a notarized letter from the non-traveling parent.

Airline ticket: Confirmation of the flight itinerary with departure and arrival dates to South Africa.

Hotel reservation: Confirmed reservation at the hotel where you are staying, or a letter of invitation indicating your host's name and address if you are staying with a friend or relative.

Travel Itinerary: Copy of the travel itinerary indicating the duration of your trip.

Visa processing fee: Confirmed payment of the visa application fee.
How long does it take to process the Kuwait tourist visa?
The delivery of the Kuwait tourist visa takes between 3 and 5 working days, depending on the visa application details.
COVID-19 Restrictions for entry into Kuwait
Kuwait has lifted COVID-19 restrictions on entry into Kuwait. No PCR test and no vaccination certificate are required.
Important things to know before traveling to Kuwait
Electricity: Three-pronged British-style plugs are used, and electricity is 240 volts.

Language: The official language is Arabic, but people also speak English, a compulsory language in secondary schools.

Money: The official currency is the Kuwait Dinar (KWD). Credit cards are accepted in most places, and many ATMs are open 24 hours a day.

Tipping: You can tip 10% in restaurants and hotels, although some bills already include a 15% service charge. Cab drivers on long trips and hotel porters are usually tipped.

Health: It is always recommended to travel with travel medical insurance because medicine and medical treatment are very expensive. And if you have insurance with higher coverage, it also protects you in case of canceled flights or lost luggage.
Where can I contact you?
If you have questions or doubts, our experienced customer service team can assist you 24 hours a day, 7 days a week. You can also email us at [email protected], where we can help you with anything you need.