For the citizens of Kiribati, which is home to a dazzling array of coral, environmental appreciation is vital, and that also includes taking care of themselves. Self-love through vacationing is a sure-fire tried and tested way to relax and unwind. That's why traveling to Latvia is an excellent option. In this eastern European country, you can find well-preserved nature parks, beaches, and architecture as their most important treasure. And now iVisa.com can help you get there!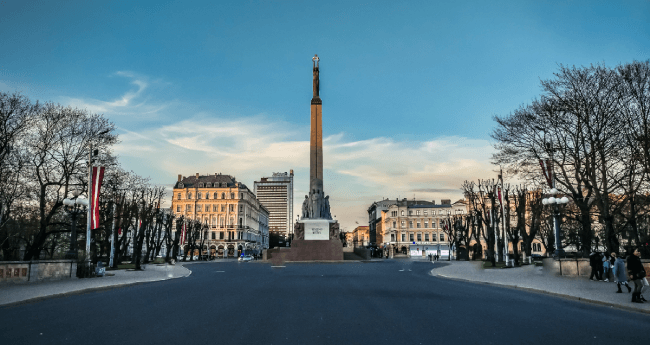 From 2022, citizens of Kiribati will have to request an authorization document called the ETIAS to enter Latvia for tourist or business reasons. This digital permission will be easy to apply for, as everything is completed online. Read this helpful FAQ section we've gathered to keep you fully informed about the Latvia ETIAS for citizens of Kiribati.
Frequently Asked Questions
What does ETIAS mean?
ETIAS is a border control system to be introduced by members of the Schengen Economic Area by 2022. The letters in this acronym are European Travel Information and Authorization System. This document will be mandatory for citizens arriving in Schengen area countries.
The main reason for this development is to improve border control and internal security. The results of investigations in the wake of recent terrorist activities in the region have revealed that the perpetrators often entered the country illegally, and were able to use cross-border connections to bring illegal weapons and explosives to the country with the intention of causing harm.
With the ETIAS authorization, visitors and residents can feel safe in the Schengen zone and put their faith in the ETIAS processes to identify potential threats.
Which countries am I allowed to travel to?
The ETIAS will be launched for visitors wishing to enter any of the nations that make up the Schengen Economic Area, some to mention are Austria, Belgium, Luxembourg, Netherlands, Germany, France, Spain, Portugal, Sweden, Finland, Denmark, Lithuania, Latvia, Estonia, Poland, Slovakia, Hungary, Slovenia, Italy, Greece, Czech Republic, Malta, Iceland, Liechtenstein, Norway, Switzerland. Other countries may also be added to this list, so as to stay up-to-date on the iVisa.com ETIAS page.
If you're planning to visit a country that isn't on the list above, but is still in Europe, such as Ireland, it's important to check the requirements before you leave. As Ireland is not a Schengen member, visitors must apply for a different authorization. We have created the handy Visa Checker tool for readers like you, who can find all the information they need at the click of a button.
How can I apply for a Latvian ETIAS?
Applying for the Latvia ETIAS for citizens of Kiribati is faster than you can imagine, thanks to the team at iVisa.com. We can assure you that it is not so easy on the official government website, where you will be competing with millions of other global travelers to load pages and send scans. The simple process at iVisa.com can be finished in less than 20 minutes and only three steps.
Read the questions and answer honestly. You'll need to give details about your name, address, criminal record, and medical records. Then choose the processing speed that best suits your needs.
We suggest that you read your answers again to make sure they are all perfectly fine and then pay with a credit or debit card. You can pay through PayPal if you prefer.
Scan and upload the documents that are necessary for your application, such as your passport information page. Click Submit and the ETIAS results will be delivered soon.
Does the ETIAS come at a cost?
Although the final price has not yet been revealed by the Schengen authorities, they have assured visitors that it will be a minimal burden thanks to the easy processing possibilities offered by digital applications. It should be priced around 7 euros, but we will update the citizens of Kiribati on the official figure as soon as it is known. iVisa.com charges a small fee to process your ETIAS efficiently and professionally. You can choose one of these options to get your Latvia ETIAS for citizens of Kiribati:
Standard processing option: This is the best option for travelers who have plenty of time.
Rush Processing Option: The choice for travelers who don't have as much time to spare.
Super Rush Processing Option: The option for travelers with no time to spare who need to travel now.
Can I travel with my underage children?
Children must also apply for an ETIAS authorization using their own passport number. An adult can complete the form on their behalf and indicate that they are providing their details. Talk to a team member on the customer service page for more information regarding traveling with children.
Is it safe to use iVisa.com?
You can count iVisa.com to make sure you always arrive with the right paperwork in your hands. The team has processed hundreds of applications and has experience in completing all kinds of visa processes and formalities. Your sensitive personal information is stored in the most secure databases and all passwords and firewalls are updated regularly to ensure that data protection is maintained at the highest level. Click on our customer feedback page to learn more about customer experiences.
Where can I read more information?
If you are looking for more details about ETIAS or any of the issues raised in this article, we invite you to check out the iVisa.com website for more informative blogs and articles, time-saving tools, and travel tips. You can also talk to a team member through the 24-hour chat feature.