Latvian restaurants are always full of tourists, who walk through the doors in search of the rich traditional gastronomy that is available in quaint bistros throughout the country. Typical food eaten in this region includes fish, lots of potatoes, sauerkraut, and lots of berries.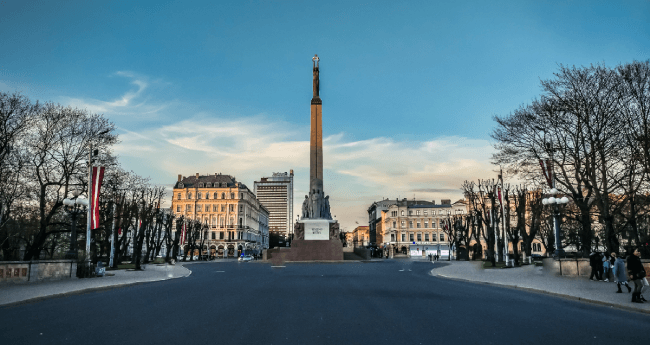 Soon, it will be essential to apply for the Latvia ETIAS for Citizens of the Marshall Islands in order to enter the Latvian border. If you've ever been before, you'll know that it's worth it, especially for the well-preserved natural parks and the beautiful architecture represented in cities, so be sure to read the answers to these questions assembled below for your convenience. Take our advice to guarantee that you are confident about taking the next steps to apply for the ETIAS with iVisa.com.
Frequently Asked Questions
Is the Latvia ETIAS for citizens of Marshall Islands the same as a visa?
The ETIAS is not a visa, rather it is a visa waiver for citizens of countries that do not require a visa to make short trips to Europe for business and tourism purposes. The Latvia ETIAS will be mandatory for citizens of countries currently entering Latvia without a visa, as part of new controls that aim to prevent human traffickers from smuggling illegal immigrants in the region, as well as reducing the amount of visitors who exceed their time permit in the territory.
Is the iVisa.com application easy to use?
The iVisa.com platform has been designed to be user friendly and simple to navigate, which means that the application process is very straightforward when applying for authorization through iVisa.com. You don't have to be an I.T professional or a child prodigy to quickly sail through the ETIAS application.
We will be happy to guide you through the three easy steps that will allow you to obtain the Latvia ETIAS for Citizens of Marshall Islands in the time it takes you to sip down your favorite drink. So turn on your internet connection, because a computer or electronic device is all you need.
Take the time to fill out the form and complete all the sections that are relevant to you. Think about which processing option is best considering your travel dates.

Make sure everything has been entered correctly. We are unable to change any typographical errors once the form has been submitted, so take the opportunity to verify and then pay for your processing service with a credit or debit card, or a Paypal account.

Upload any documents, photographs, or evidence that supports your request and then submit the form for approval. Once you're ready, you just have to sit back and enjoy the rest of your drink while the results are returned to your email inbox.
Can I obtain an ETIAS authorization if my trip is scheduled at the last minute?
The iVisa.com website should be your first stop for travel documents when your time is short. Because you can take advantage of the Super Rush processing option for last-minute rush paperwork. Choose from the following three delivery speeds for your Latvia ETIAS for citizens of the Marshall Islands:
Standard option: Low-cost option with a longer processing time.
Rush Option: The option with the highest cost combined with a faster processing speed.
Super Rush Option: Fastest speed at the highest cost for emergencies.
When can citizens of the Marshall Islands apply for the ETIAS?
By the end of 2022, the ETIAS is expected to be fully implemented. The process has been delayed as of 2021 due to development delays, however travelers should expect to see more updates on this process in the future. Remember to visit the relevant sections at iVisa.com for the latest information and more on Latvia ETIAS for citizens of Marshall Islands.
Do I have to apply for a new ETIAS every time I want to travel to Latvia?
You will be pleased to know that once you have been approved for your Latvian ETIAS for Marshall Islands Citizens , you do not need to apply for another ETIAS every time you plan to visit. An approved ETIAS will cover all visits to the member countries of the ETIAS space within the duration of the validity of the ETIAS authorization, regardless of the point of entry or exit of travelers.
However, please note that it is essential that travelers mention the country they are arriving in in their application, that is, if Latvia is the first Schengen country you will reach on a tour of the area, then you must apply for a Latvian ETIAS. For example, if France was your arrival destination, you would need to apply for a French ETIAS first.
Is iVisa safe to use?
Due to the confidential theme of iVisa.com's business, the company places customer privacy and data protection at the top of its priorities. The encryption and password protection firewalls that protect iVisa.com's customer data are second to none, so you never have to lose a night's sleep wondering if iVisa.com is safe to use. Read some of the customer reviews for testimonials from our valued customers.
Where can I read more information?
To speak with a friendly and helpful team member, you can reach them using the chat feature, which is available day and night on the iVisa.com website. You can also email the team, detailing the nature of your inquiry, and someone will contact you quickly with a personal response.