Latvia is a baltic nation rich in natural beauty and it's famous for its medieval past. Visit Aglona Basilica, which is the major Roman Catholic shrine of Latvia built in the late Baroque style. It is perfect for those who love architecture and Rococo-style adornments. Travel to Latvia and review the entry regulations established by the European Union.
iVisa.com can support you with the ETIAS process and you just need to relax and trust in our simple, fast, and reliable product. Sometimes too much paperwork becomes an obstacle but at this time you can receive your Latvia ETIAS through a safe and simple online process.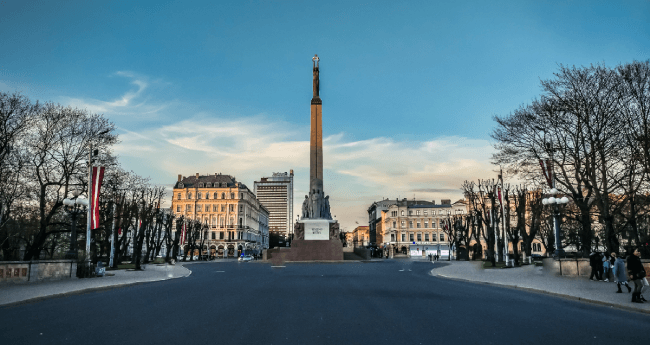 We recommend you to read this article to apply for your Latvia ETIAS online this way you will know all the information about your next travel adventure!
Let's see how to apply for the Latvia ETIAS for Citizens of Singapore!
Frequently Asked Questions
What kind of documents do I need to apply for a Latvia ETIAS?
With iVisa.com it is not necessary to collect a lot of documents to apply for your ETIAS, this process is simple and reliable, so we recommend you to use iVisa.com's service to obtain your document.
You just need the following list::
Passport.
Passport photograph. You can avail of iVisa.com's Passport Photos' service for this step, if necessary.
Email Address Our team will communicate with you about the Latvia ETIAS to Citizens of Singapore using email.
Supporting documents Some nationalities need a supporting document. If you want to know if you need any extra documents, please check our application page and insert your nationality. For instance, you can include: Dates, flight numbers, hotel reservations, proof of accommodation.
Proof of financial means, like debit/credit card or/and Paypal profile to proceed with the payments.
Ready to get your ETIAS with iVisa.com? Then start here!.
What are the processing options and prices for the Latvia ETIAS for Citizens of Singapore?
According to your needs, we can provide you three different alternatives available and each one has a different processing time. just select the best option for you
The three alternatives are:
Standard Processing Option: this is the standard option that allows you to get your document the most affordable way possible.
Rush Processing Option: you can obtain your Latvia ETIAS for Citizens of Singapore very fast with this alternative, but the price is a bit more expensive than before.
Super Rush Processing Option: If you want to get your visa made as soon as possible then select this one. The price may be high but the service is worth it.
The Latvia ETIAS for citizens of Singapore is possible with iVisa.com.
How do I process my ETIAS with iVisa.com?
You can make sure your application process goes smoothly by using the iVisa.com website. It is a friendly system, with this simple method you only need 20 minutes to obtain your ETIAS. Remember to provide us an available email address to send you your ETIAS document.
These are the steps to follow with iVisa.com:
First, fill out your application form here. Then, choose the processing time that is most helpful for your travel needs.
Second, please double-check the information you've sent by verifying it's correct. Now, you can complete the online payment through Paypal or with your valid credit or debit card.
Third, upload your passport scan or any other documents if it's required. To wrap up, please deliver the online form by hitting the "submit" button. you'll just need to wait for your Latvia ETIAS for Citizens of Singapore.
Should you have any questions or doubts, our message centers are ready to help you 24/7, so you can fully enjoy your trip and forget about the worries and frustrations of applying for a Latvia ETIAS.
How do I know if my ETIAS document was approved?
Your ETIAS application will be processed in a short time. Citizens of Singapore must provide a valid email address because we will send you all details about your ETIAS document. Please remember that your ETIAS document is the key to enter the European Union.
What should I do in case I made a mistake in my application form for a Latvia ETIAS for Citizens of Singapore?
We are here to help you! Contact our customer support team and they will be happy to assist you. Remember that in case you make a mistake filling out the form, you will likely need to complete it again in a new application so be careful.
Is it safe to use iVisa.com's service?
iVisa.com is very safe due to the security measures used on the platforms and databases. In iVisa.com, we have an updated system that protects your information. You can read our reviews and their experiences. Travelers should be confident that iVisa.com will safely store all their information.
Our information is only used for an explicit purpose!.
can I get in touch with you if I have further questions?
In case you have any questions about the Latvia ETIAS for Citizens of Singapore after reading the information on this page, reach out with iVisa.com customer service agents or search for more information on iVisa.com's blog if you prefer to read about travel tips.