Latvia is a country located in the Balkans, and it has become a favorite destination for many in the last years. This country offers its visitors stunning landscapes to take the best selfies ever or you can also go shopping in its capital Riga. Latvia mixes the traditional and typical architecture of the modern ages with its contemporary atmosphere, making it an excellent country for a honeymoon. Despite not being the most prominent country, it receives over two and a half million visitors worldwide per year.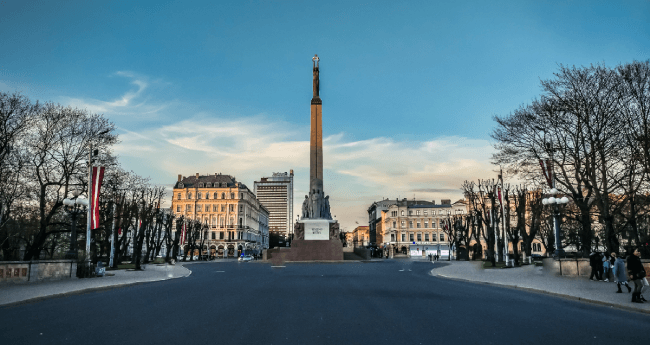 If you want to go to this country to spend time with your partner or to have fun with your friends, you should know the new travel restriction put in place by the European Union. From late 2022 onwards, tourists from sixty eligible countries, that now are exempted from a visa, will have to apply for an ETIAS to visit any country in the Schengen Zone, including Latvia. you can use iVisa.com you want to avoid any difficulty with the process.
As soon as this document is approved, it will hold validity for three years, and you will be able to stay in the Schengen Region for up to 90 days in 180 days. That means that it will have multiple entry benefits, so you won't have to worry about it.
If you are interested in learning more about the new Latvia ETIAS and how iVisa.com helps you save time and effort, we recommend you read this article where most of your questions will be answered.
Frequently Asked Questions
What is the Latvia ETIAS?
The ETIAS is an electronic travel authorization that will be implemented from late 2022 onwards by the European Union to strengthen the Schengen region's security, including Latvia. According to this new measurement, over sixty eligible countries will have to apply for the ETIAS to enter the zone.
iVisa.com understands how complicated and time-consuming these procedures can be, so we have designed a straightforward form to obtain it. That is why you should apply for an ETIAS with us.
How can I make sure that I have to apply for a Latvia ETIAS?
If you want to confirm that the Latvia ETIAS will be a requirement for you to enter, you should use the iVisa.com's visa checker for that. You can also find this tool on our homepage. Then you just need to make sure that your travel plan dates coincide with your Latvia ETIAS multiple entry benefits.
What are the required documents to apply for the ETIAS?
The official documentation may vary from traveler to traveler if you do it on your own. On the other side, if you use iVisa.com's service, you won't have to worry about anything else since all you will need is the following:
Your passport to use it as your ID.
Your email address since you will receive your Latvia ETIAS via email.
Your debit/credit card or Paypal account.
As you can see, you won't have to worry about anything else since iVisa.com will only need the essential documents, so you have peace of mind.
What are the processing times and fees for this document?
Since there is no official agreement on how much the ETIAS will cost, we can't assure you how much it would be. Fortunately, thinking of your budget and time, iVisa.com has prepared three different processing options for you to choose from. These are:
Standard Processing Option: It has the lowest price possible, and you receive your Latvia ETIAS in an average time.
Rush Processing Option: It costs a bit more, but you receive your Latvia ETIAS fast.
Super Rush Processing Option: You receive your Latvia ETIAS almost immediately, yet it is the most expensive option.
Did you make your decision already? Then click here and let iVisa.com be part of your achieved goals.
What are the steps that I should follow to obtain my Latvia ETIAS?
If you decided to use iVisa.com to obtain the ETIAS, then you should know that all steps have been shortened to make it easier to follow. You won't have to worry about those complicated things or skip some ambiguous questions since it is simple to fulfill. These are:
First, complete the application form here, and then choose the processing time you prefer the most.
Second, proceed with the payment method after checking that your information is correct.
Third, upload the required docs, and submit it.
As you can see, it won't take more than ten minutes to fill it. If you have any questions while doing this process, you can contact us, and our agents will help you asap.
What is the Latvia ETIAS multiple entry benefit all about?
Once you receive your authorized Latvia ETIAS, you'll be pleased to know that it allows you to enjoy multiple entries to Latvia and every other country in the Schengen Area. What could be better than a tour of the beautiful Baltic countries? The Latvia multiple entry benefit is just one of the benefits that this document offers.
Is it safe to use iVisa.com?
iVisa.com is very safe to use! Our platform counts with the best security that will protect your information from third parties. You will also have the opportunity to read our reviews, so you can verify that everything is alright.
Can I get in touch with you if I have further questions?
You can contact us whenever you want since our agents are always online to help you with your process. You can also send us an email to help@ivisa.com.
Let iVisa.com help you to achieve your goals.