If you are a citizen of the United States and want to spend a good vacation in Martinique, you should know that there is a health declaration that must be obtained in order to enter the country. This document is a must when it comes to learning How citizens of the United States can enter Martinique during Coronavirus. Here In iVisa.com it is very easy to obtain, just by filling out a short form and waiting a couple of days for it to arrive via email.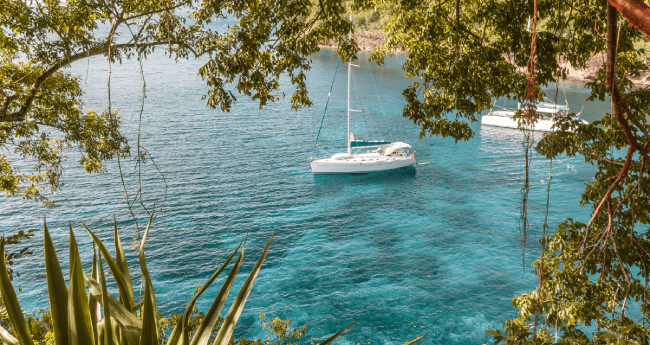 When you go to Martinique, you will first need to decide on where you need to stay during your visit. This will depend upon which part of the island you would like to visit, however, you will find there are plenty of options. It is possible to choose between a luxury hotel or a bed and breakfast, and even a rental car if you would like. No matter where you choose to stay, you're certain to enjoy the hospitality of the natives and the delicious cuisine of French cuisine.
In order to enjoy everything that Martinique offers, here you will find everything you need to plan your trip. Remember that in the time of the Coronavirus, governments have established How citizens of the United States can enter Martinique during Coronavirus; requirements that at iVisa.com we will explain how to obtain it very easily and safely.
How citizens of United States can enter Martinique during Coronavirus?
Fill out Martinique Attestation Form with all the information.
Select the processing time according to your requirements and pay it with a credit card or PayPal account.
Our experts will process your application, and you will receive your requested document in your email inbox.
Present your Passport along with the Martinique Attestation Form when you arrive at the airport.
Apply in Advance
How citizens of the United States can enter Martinique during Coronavirus can be done in our platform. Visa.com has the option to apply in advance; Travelers can submit their applications even months before their trip begins. The information will be in our database and will be processed when the time is ideal so you don't have to rush.
Frequently Asked Questions
Do I need a COVID vaccine or vaccination certificate to enter Martinique?
Yes, Martinique has been taking steps to restore travel within its borders. In order to enter Martinique, travelers aged 12 and older need to display their COVID vaccine passport or vaccination certificate to travel for tourism purposes.
Approved vaccines are Pfizer, Moderna, AstraZeneca, and Johnson & Johnson.
You are considered vaccinated:
One week after the second shot for two-shot vaccines (Pfizer, Moderna, AstraZeneca);
Four weeks after the shot for one-shot vaccines (Johnson & Johnson);
One week after the shot for vaccines administered to people who have already had COVID-19 (only one dose is necessary).
Do I need to take the COVID-19 PCR Test before traveling to Martinique?
COVID test prior to arrival: PCR within 72 hours or antigen within 48 hours.
COVID test exemptions: Children under 12 and fully vaccinated travelers coming from Guadeloupe, Saint-Martin, Saint-Barthélemy, Guyana.
Do I have to quarantine in Martinique?
Quarantine requirements: There are no quarantine requirements.
What is the Martinique Attestation form?
The Martinique Certificate is a travel control record that collects information about you, your contact information, as well as your status prior to your excursion. Be sure to receive your documents in advance to avoid any inconvenience. Remember you can get to know How citizens of the United States can enter Martinique during Coronavirus here in iVisa.com
Apply for the Martinique Attestation form
What are the processing times and fees?
This option will depend on your priorities and requirements. you will find three options that will fit perfectly.
Standard Processing Time:

24 hours

-

USD 20.00

the slowest but most accessible option.
Rush Processing Time:

8 hours

-

USD 35.00

. In some ways, it is more expensive than the standard, but you will be saving time.
Super Rush Processing Time:

4 hours

-

USD 60.00

. The most expensive solution that offers travelers the confidence of getting the product instantly.
Is it safe to use iVisa.com to get my Martinique Attestation form?
One of the key reasons why travelers prefer iVisa.com services is the safety of our procedures. Every single day, travelers from throughout the world rate our solutions with superior feedback. Feel free to have a look at the customer comments page.
Where could I find more information?
To Know more about How citizens of the United States can enter Martinique during Coronavirus, trust on us. iVisa.com customer service agents are available 24/7 to answer all your questions and support you in your process. Do not hesitate to contact them if you need it.
iVisa.com Recommends
Besides explaining How citizens of the United States can enter Martinique during Coronavirus here in iVisa.com we recommend great things to do in Martinique, keep reading!.
Martinique music festivals draw audiences from all over the world including citizens from the USA. For travelers who are interested in experiencing a true awareness of culture, this is the ideal plan to take. The best time to visit is between May and June. The weather is usually very pleasant during those months, especially during summer.
Music festivals have been held each year, attracting hundreds of visitors to the region. The primary Martinique music festival takes place in Saint Martin on the Caribbean island. The main musical attractions include the Caribbean first "Bikini Tune" which is performed by female choirs and bands. Other popular festivals comprise "Langue de la lune", a masked dance functionality, and "Apres la Guerre". Other musical activities include"danse macabre","le Ris du lac","le premier gazelle" and"le voyage".
If you are interested in having a wonderful time surrounded by culture, many travelers who love good food and spectacular beaches, Martinique is the ideal place to enjoy the sun, sea, and good music. In iVisa.com we solve all your doubts about How citizens of the United States can enter Martinique during Coronavirus