Get Your Nepal International Traveler Arrival Form for COVID-19 Now!
Learn More: International Traveller Arrival Form
Last updated: July 2022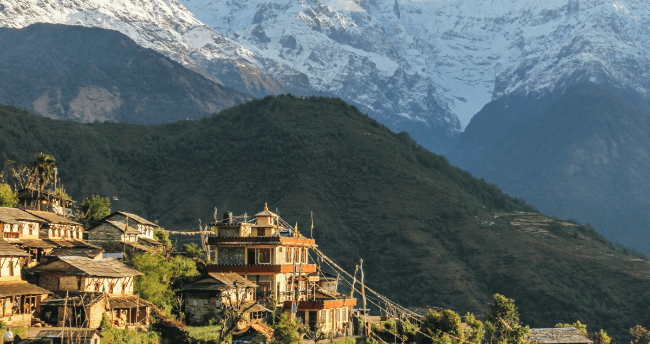 The Nepal International Traveler Arrival Form is a mandatory travel document travelers need to fill out before they visit this South Asian nation. During the pandemic, most countries implemented entry requirements and tourist restrictions as a measure to control the coronavirus' spread to keep travelers and citizens safe. The Nepal Arrival Form is a simple protocol that helps to track the passengers and control the disease.
According to the Nepalese government, both Nepali citizens and foreign travelers arriving must show their passport and the declaration to the immigration officer when arriving at Tribhuvan International Airport.
"Can I travel to Nepal during COVID-19?" and "Do I need to be vaccinated to visit Nepal?" are common questions these days. This page explains the Nepal entry requirements in terms of COVID-19 vaccines, tests, restrictions, health protocols, and quarantine. Also, you'll find out all the details about the form and how to complete it online using iVisa.com.
The Nepal International Traveler Arrival Form: What is it and how can I get one?
The arrival form is part of the mandatory travel documents needed upon entry in Nepal. It was designed to inform the Nepalese government of the traveler's health conditions, with the intent to help local authorities prevent and track possible cases of the Coronavirus. All visitors must apply before entering the country, including Nepali citizens.
When you fill out the Arrival Form, you must provide information about your health status, flight details, passport number, and intended stay in the country. It's important that you already have a confirmed airline ticket before submitting the form.
Please note that this form is not a tourist visa. To check if you need a visa, use our convenient Visa Checker.
Who needs this document to enter Nepal?
As the form is part of the mandatory travel documents required for visiting Nepal, all travelers must apply for it, including nationals returning to their home country. The iVisa.com experts will verify your declaration so that all is complete to show to the immigration officer on arrival together with your valid passport.
How long is the Arrival Form valid?
The International Traveler Arrival Form is valid for 30 days after arrival and can only be used for a Single Entry into the country.
What are the requirements and documents needed to apply?
There are just a few requirements to complete the arrival form. Make sure that you have the following information and your passport on hand during the application process:
Scan of your valid passport.
Valid email address for receiving your travel document.
A payment method to pay for the service fee, such as a credit or debit card.
Do I need this document if I'm transiting through Nepal?
If you're transiting at the airport, you are not required to complete this document. However, if you're leaving the airport transit area, make sure to have this document on hand, together with your passport, to present to immigration authorities when entering Nepal.
How to apply for the Nepal Arrival Form online?
In just a few steps, you can get your arrival form online! Go to the application page to fill out your information. It takes less than 10 minutes to submit. Our experts will verify and process the document for you while you have time to plan the rest of your trip. Follow these simple steps to fill out the online form:
Step 1: Start the iVisa.com application process and fill out basic information about yourself, such as your name, telephone number, passport details, and some information about your flight and health status.
Step 2: Select the preferred processing option and choose the payment method you will use for the service.
Step 3: Double-check all information on the online form and submit. Your application will be reviewed by our experts.
Travelers arriving in the country will have to show this document to immigration. Remember that this is mandatory to get an approved entry.
Once the online application is completed, the traveler will receive a barcode which must be presented to immigration on arrival. We advise you to print it and save an electronic copy on a mobile device to present to immigration staff when you arrive at Tribhuvan International Airport.
Costs and processing times
The easiest way to get your document is by applying on iVisa.com. You can have your form ready in less than 24 hours. Submit the information online, and we do the work, so you can plan your trip and relax. We offer three options for online application, depending on how fast you would like to receive your document:
Standard processing: This is a budget-friendly option and takes just

24 hours

, for a fee of

USD $23.99

.
Rush processing: For an extra fee, a total of

USD $43.99

, you'll get your document in just

4 hours

.
Super Rush processing: This is the fastest option for travelers in urgent need of their document. For a fee of

USD $73.99

you'll receive it in

2 hours

.
Do children and young people also need to complete the Health Declaration Form?
Yes, it's a mandatory document for all travelers, regardless of age. They have to present the form at the airport, along with their valid passport and tourist visa (if applicable). For children or people with the inability to fill out the form on their own, it is the responsibility of a parent or legal guardian to complete it for them.
COVID-19's restrictions and entry requirements for Nepal
This South Asian country reopened for international travel on 24 September 2021. However, there are still several entry requirements and restrictions to travel to Nepal.
All travelers must complete the Nepal International Traveler Arrival Form and provide their personal information. It's part of the public health measures to help the authorities to prevent and track possible cases of the coronavirus.
Find the most up-to-date information about the most important things to know about the COVID-19 rules in the country below. Read more about the restrictions, COVID test, vaccines, and quarantine policies.
What are the testing requirements in Nepal?
There are currently various COVID-19 test requirements. If you're unvaccinated, you must present a negative PCR test result before entering the country. The test must be performed within 72 hours before departure.
Only unvaccinated travelers aged 5 and older are required to show a negative COVID-19 test result. Children under 5 years old and fully vaccinated travelers are exempt from having to show a test result.
Do I need a COVID-19 vaccine to travel?
No, you can enter the country no matter what your vaccine status is. COVID-19 vaccination passports are not mandatory. If you're fully vaccinated, you won't need to show a pre-departure negative PCR test result.
Since information may change quickly, we advise you to follow up on the latest Nepalese travel updates with your local embassy.
Do I have to quarantine after arrival?
There are currently no quarantine requirements after arrival.
Other requirements
Trekkers and mountaineers must have insurance with cover of at least USD 5,000 for medical treatment of COVID-19 symptoms.
What else should I know before traveling?
Nepal is well-known for attracting numerous tourists from all over the world. The scenic beauty and mild climate makes the perfect backdrop for visitors to explore popular tourist destinations. If you're planning international travel to Nepal, here are some interesting facts. We hope this will help you to prepare for the journey ahead.
What to see and do in Nepal
Nepal is a beautiful country abounding with natural wonders. Furthermore, the region is home to some of the most remarkable historical and cultural attractions in South Asia, including temples and monuments, speaking volumes about the rich history and culture found there.
The Kathmandu Valley is home to three ancient cities: Kathmandu, Patan, and Bhaktapur. These cities were all independent states once, ruled by the Malla kings from the 12th to the 18th centuries. Combined, they boast seven(!) UNESCO World Heritage Sites. It offers many amazing monuments, beautiful sculptures, religious temples and ancient artworks.
While some people are very interested in visiting Nepal because of the different mountain ranges in the Himalayas for climbing and trekking, others might go for the spectacular white water rafting. For many tourists, Nepal is the ideal location for an adrenaline rush and life-changing experiences. The itinerary of the traveler is entirely up to themselves, as there are many places to visit and experience beauty. Get your tickets to Nepal today and have a wonderful experience.
Important etiquette, local customs, and cultural norms in Nepal
Some do's and don'ts for your trip, to ensure a friendly welcome and smooth travel in Nepal:
The Nepali greeting, namastê ("I salute the god within you"), is given by holding your palms held together as if praying. It is one of the most polite Nepalese customs that's used as saying "how do you do?" rather than "hi!", to show respect.

Gestures for "yes" and "no" can be confusing to foreigners. To indicate that you agree with something, tilt your head slightly to one side and then the other side. To tell a seller "no", for example, hold one hand up in front of you, palm forwards, and shake your wrist subtly, like you're adjusting your bracelet. Shaking your head as in Western culture looks too much like "yes".

To point at something, use your chin rather than your finger.
Who can I speak to if I have more questions?
If you have any questions about traveling to Nepal, the iVisa.com customer support team is available to help you out. You can contact them at any time online or via email at [email protected].
Required Documents to Apply
Important Instructions
Travelers are required to complete a health declaration form before departure to Nepal. Once the form is completed the traveler will receive a barcode which must be saved or printed so it may be presented to immigration on arrival.

All travelers must present proof of a hotel booking confirmation.

Only unvaccinated travelers aged 5 and older are required to show a negative COVID-19 test result.

Travelers who are trekkers and mountaineers must possess insurance of at least USD $5,000 against COVID-19.
Testimonials
Our customers have great stories about us