Floriade is called the biggest garden festival in Europe, and it's not for less when it is held in one country famous for its tulips. It is held every 10 years, and it is an excellent opportunity to appreciate horticultural expositions, particularly in a world where concrete is more common.
This festival is listed as an A1 category celebration by the International Association of Horticultural Producers. Hence it is officially recognized by the Bureau International des Expositions. Due to its enormous fame, it attracts tourists from different countries around the world, and you can easily be one of them! However, to visit the Netherlands during Floriade, you must know the Floriade entry fee as well as the required travel documentation.
You will probably have to apply for a Netherlands Health Declaration and also a visa depending on your passport's country. At iVisa.com, we can help you obtain the health declaration within a few minutes so that you don't have to do the tedious process yourself!
Continue reading to see how much the Floriade entry fee is and how to apply for the Health Declaration.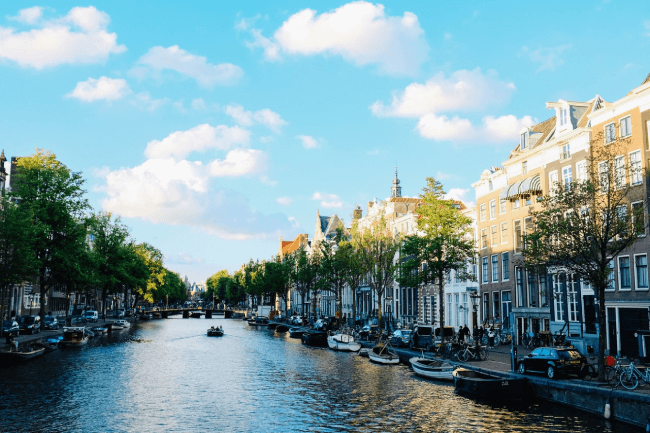 What you need to know about Floriade
What is Floriade?
Floriade is an international garden festival held every 10 years in the Netherlands. Experts from different countries reunite here to show green solutions to make our cities and also villages more sustainable and pleasant. Over 400 national and international participants go to this event to showcase their green solutions.
You can enjoy this event with your family, or by yourself, as it offers different activities and experiences. You can relax in flowering gardens, or see modern gadgets all around.
Learn more about the Floriade entry fee by reading the lines below.
When is Floriade?
Floriade happens once every 10 years in the Netherlands. The next event will start on April 14, 2022. It will be held at Floriade Park, so be ready to plan your trip for that day and enjoy an unforgettable experience.
How much is the Floriade entry fee?
Entrance tickets are valid for a day's visit to Floriade from April 14 to October 9, 2022. These tickets include a single ride in the cable car. As for the price, the range is between € 29 to € 35 depending on the day you want to visit Floriade. The entry is free for minors under 3 years old.
Traveling to Floriade
To visit the Netherlands and enjoy Floriade, you must first ensure the required travel documentation. You will probably need a Health Declaration before entering the Netherlands. Still, you may also need a paper visa, depending on your nationality.
At iVisa.com, we can help you get the Netherlands Health Declaration in a few easy steps, and therefore save you some time and effort.
U.S. travelers may require a negative COVID-19 test result to enter the U.S. again. If you're a U.S. citizen, you can make testing easier by getting a eMed self-testing COVID-19 kit online before coming back to the U.S. This testing kit is small, light, and easy to take, so you can take it with you when coming back to the U.S. You can self-test within 24 hours before your flight back to the US and get the results within 15 minutes.
Frequently Asked Questions
Here we will answer some of the most commonly asked questions related to the Health Declaration and the Floriade entry fee.
What is the Netherlands Health Declaration?
The Health Declaration is a travel document you must complete to visit the Netherlands. This document allows government officials to manage the risks associated with the Coronavirus pandemic much better.
This document is valid for 15 days and offers a single entry.
Get more information about the Floriade entry fee below.
What are the current COVID-19 restrictions to travel to the Netherlands?
Since this information changes quite often, we suggest you enter the Netherlands Health Declaration product page to get all the newest info on the vaccine, PCR test, and quarantine conditions for travel to the Netherlands.
How to apply for the Health Declaration with iVisa.com
The process is very simple to fulfill using our platform, as you will only have to complete an online request form and supply basic information about yourself. You must also have these items ready:
Your current passport
Digital copy of your passport information page
Your current email address
Credit or debit card to pay for the fees
In addition to knowing the Floriade entry fee, you should also know the prices for the health declaration, so read the information below.
Cost/processing times?
The prices will vary depending on the processing option you select. We offer these options:
Standard Processing Time: -

24 hours

-

USD $25.49

Rush Processing Time: -

8 hours

-

USD $45.99

Super Rush Processing Time: -

4 hours

-

USD $77.99
To learn more about the Floriade entry fee, read below.
How safe is iVisa.com?
Using iVisa.com is very safe! Especially with our modern system that guarantees the privacy of the information you offer. Nobody (except for the corresponding authorities) will have admission to your information. You can always refer to our customer reviews page if you have questions.
See other information about the Floriade entry fee below.
Where can I get more information?
If you still want to know more about the Floriade entry fee or learn more about this big event, continue exploring iVisa.com, or simply contact our customer service agents to obtain faster attention.
iVisa.com Recommends
However you decide to visit the Netherlands, you're assured a great time in one of the pleasantest and most liberal cultures in Europe. You only have to be sure of planning your travel itinerary. For that, it can be helpful to consider these recommendations:
Rijksmuseum: The spectacular Rijksmuseum in Amsterdam's Museumplein (Museum Square) has numerous rare art and antiquities since 1809. Not surprisingly, its vast collection amounts to nearly seven million works of art, so be sure of visiting once you arrive in the Netherlands.
Anne Frank House: Also located in Amsterdam, it is a mandatory place as it is where this remarkable girl wrote her popular diary. Although she died just two months before the war ended, her legacy still lives on.
The Windmills of Kinderdijk: The well-preserved 18th-century windmills will surely attract you once you visit Kinderdijk. It is one of the UNESCO World Heritage Sites, and it's not surprising since the 19 Kinderdijk windmills, built between 1722 and 1761, are the most extensive surviving concentration of windmills in the country.
Get ready to visit this fantastic country, and do not forget to buy your tickets for Floriade as soon as they are available!