New Zealand's policy suffered some changes in 2019, and by that we mean that its government decided to launch the Electronic Travel Authorization. Since then, this document has been an obligatory requirement for certain countries. Only visa-exempt nationalities can apply for a New Zealand ETA before departure, except for Australian.
This is a Multiple Entry authorization that is valid for 2 years after issued since the date of issue, and it allows you to stay in New Zealand for no more than 90 days Per Entry.
But how much does the New Zealand ETA cost? We will answer this and other questions for you in this post.

Frequently Asked Questions
What is a New Zealand ETA?
The New Zealand ETA is an official document that gives you proper authorization to enter the country if you're from a visa-exempt territory.
How do I know if I can apply for this ETA?
You can check this information by using iVisa's Checker here. Write your nationality on the menu and also write New Zealand as the destination. You'll be redirected to the application page, or immediately informed if you have to apply for another type of document.
What are the requirements for the New Zealand ETA?
The list of requirements is quite short since it's only available for visa-exempt countries. These are the documents needed:
A current passport that is valid for at least six months from the planned date of arrival
Arrival and departure dates
Credit / Debit Card or PayPal Account
Valid e-mail Address
What is the cost of the New Zealand ETA?
The New Zealand ETA costs USD 32.00. This does not include the processing fee which can vary depending on how quickly you want the ETA processed. Standard processing for the New Zealand ETA is USD 57.00 which includes all the fees. There are also rush and super rush processing options available. Here are the details:
Standard processing – you receive your New Zealand ETA within

24 hours

, and you are charged

USD 57.00

Rush processing – your application is processed within

4 hours

, but the cost is a bit higher. You must pay

USD 77.00

Super Rush processing – you must wait just

30 minutes

for your application to be processed. As you can imagine, this is the most expensive option. You are charged

USD 97.00

.
As you can see, the prices listed above seem pretty reasonable. At the same time, keep in mind that the service fees charged by iVisa are already included. You will be happy to learn that iVisa does not practice hidden charges or surcharges. The amount that is displayed on your screen at the moment of your application will be the same as the one that appears on your bank or credit card statement. Also, consider that the prices we showed are the ones made for American citizens, this can vary a little according to your nationality.
What you must also know is that the cost of a New Zealand ETA remains the same in all three cases. Only the service fee is higher with each processing time. As you can imagine, our effort is more significant when you want your travel document as soon as possible than when you choose the standard option.
As far as the means of payment is concerned, you have no reason to worry. iVisa is known to be pretty flexible when it comes to that. Of course, you can pay using a credit or a debit card, but you are free to use PayPal as well. Whichever you find most convenient at the time of your application.
How can I apply for the New Zealand ETA?
If you want to receive your ETA, you can easily apply online at iVisa. It's an effortless process that you can finish quickly. It shouldn't take you more than 20 minutes.
This application process has three steps:
The first step is to fill in your general information. You also have to select the processing time from the options mentioned before.

In the second step you have to check all your information. Regarding the moment when you are asked to cover the cost of your New Zealand ETA, you are asked to make the payment in this part of the process. This is the same step that requires you to carefully review the information you provide in your application form. As soon as your payment details check out, your application is sent for processing.

The last step is finally to upload son extra documents just if necessary and submit the application form.
What should I do after I finish the application form?
After you finish your application form, you will receive your ETA by email in a PDF document. This document is issued by the New Zealand Government.
What do I have to present upon arrival in New Zealand?
Once you arrive in New Zealand, you need to present your passport along with your New Zealand eTA reference number.
How long can I stay in New Zealand with this ETA?
It will vary according to your nationality since this is not the same for everyone. However, as an average, we can say that the amount of days you're able to stay in New Zealand is 90 days Per Entry.
Does receiving a Tourist eTA guarantee me entry into New Zealand?
Possession of a New Zealand Tourist ETA does not provide an automatic right of entry for the holder into the Country.
The Immigration Officer at the port of entry can simply refuse entry to any person if he considers that such a person is unable to fulfill the immigration requirements.
How does the New Zealand ETA look like?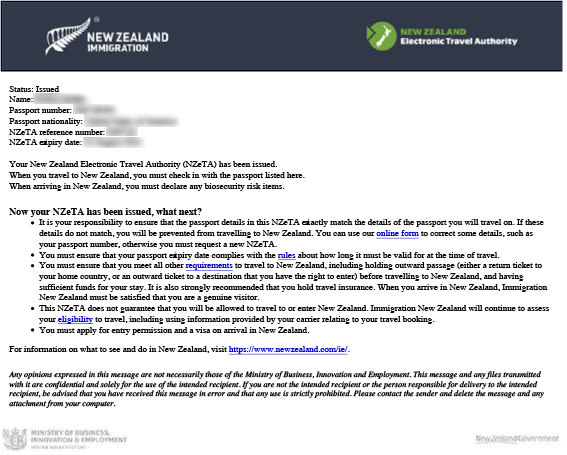 Is it safe to apply with iVisa?
Yes, you can trust our service. We work hard every day to bring you just the best processes to get a fast and trustful document on your hands, including an ETA. We can guarantee that we do not put at risk your personal data.
Where can I read more about it?
We really hope that you find these fees offered by iVisa fair and affordable. Truth be told, it is a lot cheaper than the traditional alternative. Also, if you have further questions about the New Zealand ETA and its cost, please do not hesitate to contact iVisa's customer support. The service can be reached via online chat or phone 24/7, and it is entirely free of charge.
You can also read more about the New Zealand ETA here, so don't lose the chance to be informed about this destination.