NOTE: CURRENTLY, WE HAVE NOT IMPLEMENTED THIS ELECTRONIC VISA, HOWEVER, STAY TUNED BECAUSE WE'LL PROVIDE IT VERY SOON!
Indian citizens who wish to travel to New Zealand are required to apply for a visa. The easiest way to do that is to apply online. However, you cannot get the New Zealand ETA yet, so you must go to an embassy to get your visa. Nevertheless, we encourage you to read this article to learn more about the upcoming ETA because iVisa will launch this product very soon.

Frequently Asked Questions / FAQs
I'm from India, is it necessary that I acquire a visa to travel to New Zealand?
Indian visitors must have a Consular Tourist Visa by now, but they'll be required to apply for a New Zealand ETA soon. Indian citizens can holiday in New Zealand for up to 9 months on a visitor visa. The easiest way to request a visitor visa is online. In case you hold a passport from the UK, or another country under the visa-waiver agreement, you don't need to get a visa to holiday in New Zealand.
Nowadays, we do not provide this kind of eVisa. Nonetheless, you can always check if you qualify for an eVisa here. All you need to do is pick your nationality and the country you will visit and the information will unfold in seconds.
How long can I remain in New Zealand if I'm from India?
This will depend on the type of document you get. To give you an idea, most of the travelers that visit New Zealand can stay there 90 days Per Entry with an ETA.
What are the requirements?
As you can imagine, you need to meet some requirements to be able to apply. However, iVisa asks you to make just a small effort. You need to provide some documents and some information, but all the items on the list are accessible. Here is what you need:
Passport – if you decide to apply online, you need to get a valid passport. Just assure that the document is valid for 3 more months from your arrival date in New Zealand.

Photograph – the image needs to comply with all the criteria for a passport photo.

Payment alternatives – we ask that you pay for your application with a credit/debit card or PayPal.

Email address – you'll receive your ETA by email. Once you get it, print it out.

Means of sustenance – it's necessary that you have this document or even you can have a bank account statement to prove that you can support yourself during your stay in New Zealand.

Return flight ticket – when you arrive at the airport, you will have to show a return airline ticket to your national origin or another destination if you're in transit. If you don't have any of them, you must prove that you have money to purchase one.

Proof of good character – if you have been convicted of a felony or served some time in prison, you need to disclose that information.
Can you tell me the processing times and costs?
iVisa have different processing time options for everyone's needs. They are as follows:
Standard procedure – to get your New Zealand ETA in 24 hours, and you need to pay USD 57.00.

Rush procedure – your approved ETA will be in 4 hours and the payment is USD 77.00.

Super Rush procedure – opting for this processing, you electronic authorization will be delivery in 30 minutes. The amount to pay is USD 97.00.
These fees listed above are made only for Indian citizens. In addition to that, the service fees are already covered.
How much time do I need to apply?
You only need a few minutes to complete the online form.
How can I apply?
When you notice that you have everything you need, you can complete the application form. It should not take you long, and if you need assistance, iVisa provides customer support 24/7. The service is free.
Fill out the three simple steps:
The first one requires you to fill in your general data such as name, date of birth, address, e-mail, and passport info. The information about your journey is also needed. Also, you need to pick a processing time and it will determine the price of your New Zealand visa.

Step number two is about the payment. Also, you have to proofread your form. For the revision, you need to be very careful when you check your application. The information should be 100% accurate, and there is no room for mistakes. An error can render your visa invalid. Double-check your spelling before submitting the form.

The last step requires you to upload some documents. If you need some additional documents than the ones mentioned above, iVisa notifies you. After you are done, just submit your application and wait for the visa to arrive via e-mail in the timeframe you selected during step one.
Do I must have a New Zealand e-Visa for my Children too?
Yes, you do. Every person who intends to enter New Zealand needs a visa.
How long is the New Zealand Tourist ETA valid for?
Once this document is launched, you'll be able to use it for 2 years after issued.
How does this ETA look like?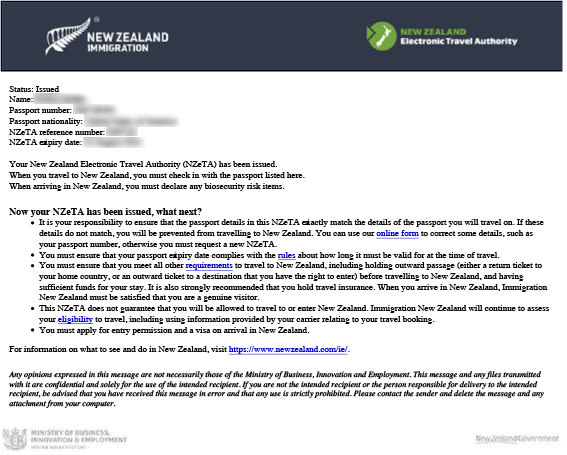 Where can I read more?
If you have more questions about the New Zealand ETA, contact iVisa's customer support.
Read more about the New Zealand ETA on this page.
Surely, New Zealand is a perfect country for Indian visitors. And there is a lot of information and great accommodations to book like the ones we showed you before. So, don't wait any longer and visit beautiful places in New Zealand. Have a nice trip!
IMPORTANT: WE CURRENTLY DON'T PROVIDE THIS E-VISA, BUT STAY TUNED BECAUSE WE'LL GIVE IT VERY SOON!