When you apply for a New Zealand visa, you need to make sure that you meet all the requirements. One of those requirements involves visual identification. In other words, you need to provide one or several pictures of yourself. The number of photos depends on your manner of applying. For example, if you apply at an embassy, you need two passport-sized photos. However, when you apply online you need just one. The reason is quite obvious.

Frequently Asked Questions (FAQs)
What is an ETA?
The New Zealand Tourist eTa (NZ Electronic Travel Authority) is an electronic visa waiver that grants the right to enter multiple times to New Zealand. There is no need to make an appointment or present original documents to the Embassy or Consular Office.
What are the documents required to apply?
To apply online, these are the documents required:
Passport – when applying online, you need to have a valid passport. However, you need to make sure that the document is valid for at least another 3 months from your date of departure from New Zealand.

Digital photo – the picture needs to be as recent as possible and meet all the other guidelines for a passport photo.

Means of payment – iVisa requires that you make the payment during the application process. You can do that using a credit or a debit card, but you can also pay using PayPal.

E-mail address – iVisa will send you the visa via e-mail in PDF format. Do not forget to print a few copies so that you have a spare or two.
What is the size of the photograph when you apply in the Embassy?
As far as the New Zealand visa photograph size, just like in the paragraph above, it depends on where you submit your application. When you go to the nearest embassy or consulate of New Zealand, you need to present two passport-sized photos of you. Typically, the passport-size photo measures 2 by 2 inches.
Of course, you will not be taking those pictures yourself. You are going to use a professional, and he or she knows exactly what you need. All you need to do is disclose the purpose of the photo. The rest is out of your hands.
And when you apply online with iVisa?
On the other hand, when you apply online for a New Zealand visa, since the process is entirely online, you need to be able to provide a digital photo of yourself. The size does not matter since the visa will appear on a computer. It is not in physical format. As long as the picture meets all the other guidelines, the size is irrelevant.
Obtaining a proper digital photo of you can be done in one of two ways. You can either go to a professional to have your picture taken and then you scan it at home, or you can capture a picture of yourself at home and upload it on your computer. Just keep in mind that the photo needs to meet some guidelines, so taking a selfie is not enough. Here are some of the guidelines that interest you:
Background– the photo needs to be taken against an entirely white background. Different colors may lead to rejection. Patterns are not accepted either

Facial expression – the only face gesture accepted for a visa picture is a neutral expression. Your mouth needs to be closed, and you cannot squint or frown.

Head position – your face should look directly at the camera. You cannot rotate or tilt it.

Lighting – the face must be illuminated by the camera's flash. Shadows or red eyes are to be avoided.

Glasses – you should take your glasses off when you have your picture taken. You cannot risk any glare.

Headwear – the only situation in which headwear is accepted is when the person who has his or her picture taken wears something on his/her head for religious purposes. Even so, the face must be visible from the tip of the chin to the top of the forehead.
As long as you follow the rules listed above, you should be able to submit a photo you have taken yourself at home. If you do not trust your photographing skills, we recommend that you have your photo taken by a professional. That way, you know you submit the right thing.
What are the other photo requirements for my online application?
The passport photo should meet the following requirements:
Format – JPEG/PDF.

The height and width of the photo must be equal.

Photo should present Full face, front view, eyes open.

Center head within frame and present full head from the top of hair to bottom of the chin.

Background should be plain light-colored or white background.

No shadows on the face or on the background.

Without borders.
Correct photo example: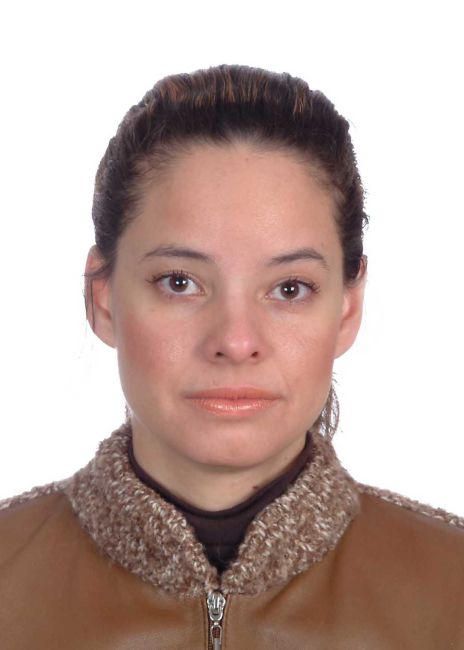 How can I apply online with iVisa?
It has only three steps:
The first step will ask you to fill in your general information. You also need to choose the processing time from the options mentioned above.

The second step will ask you to revise step one and make the payment.

The last step consists of a questionnaire and a photo upload. It is at this point when you need to upload your passport scan. Other documents may be required as well, but it depends on personal circumstances.
Click here to start. After you are done, you submit your form and wait for your visa to arrive. In case you need assistance to fill your application, iVisa has a fantastic support service that you can call 24/7.
Is it safe to use iVisa to get my eVisa?
Many people think that online information leaks and that their personal info is at risk of getting into the wrong hands. However, that is not the case with our services. We provide maximum safety for your personal data, confidentiality, and we invest a lot in the security of our database. Your personal information could not be safer. You can check what hundreds of happy customers say about us here.
I have more unresolved questions, where can I find more info?
For a faster resolution click here and start chatting with one of our customer service representatives. Alternatively, you can find more info and FAQs here.