IMPORTANT NOTE: in iVisa we're currently not allowed to offer you the e-Visa to New Zealand if you're from Nigeria, but we can help you with some valuable information to travel there. Thai citizens now do need a Consular Tourist Visa to travel to New Zealand.
One of the primary concerns you may have before applying for a visa includes whether or not you meet the requirements. While that is a valid concern, you do not have to worry too much when you apply online with iVisa. The New Zealand Visa requirements for Nigerian citizens are the same as for every other nationality, and iVisa does not ask anything that they do not need. All you have to do is provide some documents and some information so that iVisa can get the process started.
Learn more about this document with the information below.

Frequently Asked Questions (FAQs)
I'm from Nigeria, do I need a visa to enter New Zealand?
Yes, you need a visa to enter New Zealand. You can only apply for this document in an embassy, at least for now. In iVisa we will offer you the e-Visa for this country soon.
What is a New Zealand ETA?
It is the name of the special authorization that allows you to enter New Zealand properly.
How long can I stay in New Zealand if I'm from Nigeria?
You can stay in New Zealand for 90 days Per Entry
What requirements do I need to get a New Zealand visa?
The first thing you need to check is the passport. All applicants must have one. It does not matter that you apply online or at an embassy. But the passport requirement does not stop to just having one. It must also maintain its valid status for at least 3 months AFTER you plan to leave New Zealand. Just take a look at its expiry date and take it from there.
The second requirement involves a photograph of yourself. All applicants need to provide a photo for easy identification. The picture needs to meet some guidelines such as white background, no face gestures, and so on. Also, make sure that the photo is as recent as possible. When you apply for a New Zealand visa online, the picture needs to be digital, but that just makes things easier for you.
When you use iVisa as your visa service and you apply online, you need to make the payment during the application process. For that to be possible, you need to have an online means of payment. iVisa accepts credit or debit cards, but you can also use PayPal, WeChat, or Alipay, whichever you find most convenient.
A valid e-mail address is necessary as well. The beauty of the online application is that your visa arrives via email. An eVisa is linked to your passport automatically, but you need a copy of the document. Once it arrives in PDF format, print out several copies. You may lose one of them, in which case a spare may come in handy.
Once you arrive in New Zealand, you may be asked to present the following:
Return flight ticket – The immigration officer will ask you to present a return flight ticket along with the other requirements. They just want some proof that you plan to go back after your vacation. If you do not have one, you need to prove that you have the money to purchase a ticket.

Evidence of financial means – for the same reason mentioned above, you need to present some proof that you have the means to support yourself while you stay in New Zealand.

Proof of 'good character' – while this may seem like a strange requirement, you need to be of 'good character' to go to New Zealand. People with a criminal record go through special procedures (they apply for a visa even if they are from a visa waiver country,) and it is of the utmost importance that you disclose your criminal history should you have one.
The bottom line is that the New Zealand visa requirements for Nigerian citizens are the same as for everyone who wants to apply. We think there is nothing on that list that is difficult to get, and you should have an easy time going through the list. iVisa does not ask anything that is not absolutely necessary, but you need to make an effort.
How long is this ETA valid for?
If you're from Nigeria, your ETA is valid for 2 years after issued
What are the processing times and prices for the ETA?
The total price will vary according to the processing time you prefer. Here are your options:
Standard processing – You will get your New Zealand ETA in

24 hours

, and the price to pay is

USD 95.49

Rush processing – your New Zealand ETA will be ready in

4 hours

, but the total cost you have to pay is more expensive. It is

USD 154.99

Super Rush processing – with this option you only have to wait

30 minutes

for your application to be ready. As you can tell, this is the most expensive option. The total price is

USD 164.99

.
All the service fees by iVisa are included in these options. Remember that iVisa does not practice hidden charges or surcharges
How much time do I need to apply?
You'll need no more than 20 minutes to complete the online form.
How to apply?
The application form created by iVisa is short and easy to understand. Furthermore, if you need some help while completing it, iVisa has an excellent customer support. The service is available 24/7 and is free of charge.
There are three steps you need to complete:
In the first one you have to provide your personal information and also select your processing time. You need to fill in your name, address, and so on. As for processing time, it determines the cost of your New Zealand ETA, so make sure to choose the best one for you.

In step two you have to make the payment and also a small revision of your personal information. The revision is often underestimated, but you need to make sure that all the information you provide is 100% accurate and correct. Otherwise, your visa could be rejected.

Lastly, during step three you have to upload the documents iVisa asks of you. That should not be difficult since you get a list of everything you need to provide. After that, you just hit the submit button and wait for your ETA.
How many times can I enter New Zealand?
If you're from Nigeria, you'll receive a Multiple Entry e-Visa.
Do I need a New Zealand visa if I'm in the transit lounge?
There's a high chance that you need a New Zealand visa even if you're in the transit area. That's why we strongly recommend you contact the Embassy first in order to avoid any issue.
How does the New Zealand ETA look like?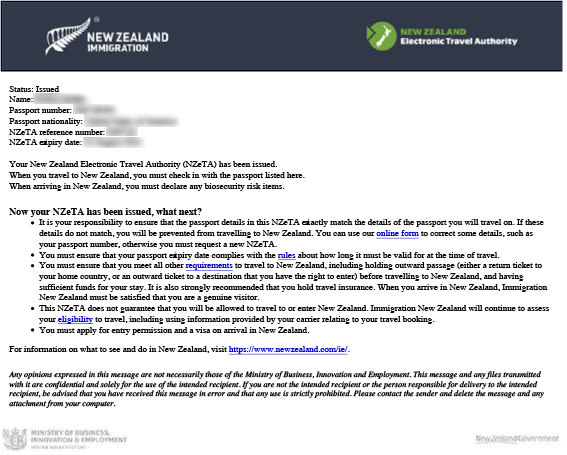 Where can I read more information?
If you still have doubts about the New Zealand ETA, then you'll be happy to know that we have two options to solve them. First, you can contact iVisa's customer service center via online chat or phone 24/7.
And second, you can also read more about the ETA on this page, so don't lose the chance to get more information about this exotic country.
IMPORTANT NOTE: in iVisa we're currently not allowed to offer you the e-Visa to New Zealand if you're from Nigeria, but we can help you with some valuable information to travel there. Thai citizens now do need a Consular Tourist Visa to travel to New Zealand.