IMPORTANT: iVisa is not providing the ETA to New Zealand yet, but we can help you with some useful information to travel there. Nicaraguan citizens must get a Consular Tourist Visa to travel to New Zealand by now.
Like any other nationality, the citizens of Nicaragua will be able to apply online for a New Zealand ETA shorly. Being a Nicaraguan national means that you are eligible for a forthcoming ETA if you're planning to travel to New Zealand.
Learn more about it with the information below.

Frequently Asked Questions / FAQs
I'm from Nicaragua, do I need to apply for a visa to travel to New Zealand?
Yes, you must obtain a Consular visa to visit New Zealand. Unluckily, we aren't offering an e-Visa at the moment, but we're working arduously to offer you this option soon. You can only apply for a consular visa momentarily.
How long can I stay in New Zealand?
If you're from Nicaragua, you can stay in New Zealand for 90 days Per Entry
What are the requirements?
The first thing to do is to make sure that you have all the requirements for a New Zealand ETA. That should not be difficult, and you may already have some of the items required. iVisa will ask for the following:
A valid passport – Nicaraguans who want to apply online must hold this item. Make sure that the passport is valid for at least 3 months from your departure date from New Zealand.

Digital passport photo – This photograph has to be the most recent possible and it should follow all the proper guidelines.

Payment alternatives – iVisa will ask you to pay the fees while filling in the application form. You can do that using a credit or a debit card, but you can also pay using PayPal.

Valid e-mail address – iVisa provides you the ETA via e-mail in PDF format. We strongly recommend you to print a few physical copies.

Means of sustenance – As soon as you arrive in New Zealand, you have to prove that you can provide for yourself during your visit. A bank account statement should be more than enough.

Return flight ticket – when you arrive at the airport, you may be requested to provide a return flight ticket to your country of origin (or another destination if you're in the International Transit Area). If you don't have this document, then you must prove that you have enough money to buy one.

Proof of good behaviour– if you have a criminal history, you also have to disclose it.
What are the processing times and fees?
How much you spend on your New Zealand ETA depends on how fast you want the processing to go. iVisa came up with three options so that you can choose one that suits your needs. They are as follows:
Standard processing time – you'll receive your New Zealand ETA in

24 hours

. You'll only pay

USD $94.74

Rush processing – You'll receive your document in

4 hours

, but you'll have to pay a bit more,

USD $136.74

being precise.
Super Rush processing – with this alternative you have to wait

30 minutes

for your application to be processed. As you can see, this is the most expensive option. You have to pay

USD $183.74

.
Remember that the fees charged by iVisa are already included in these prices. iVisa does not practice hidden charges or surcharges
How can I apply?
As soon as you notice that you have everything required for the application process, you can move forward and fill in the application. The online form is short and it should take you about 20 minutes to complete. However, if you have questions, you can contact iVisa's support service.
What you will notice is that the form consists of three steps:
During the first one, you are invited to give your personal information, as well as some details about your trip and your passport. It is at this point that you have to select a processing time for your application.

During the second step, you need to make the payment and look over your form to make sure that it does not contain mistakes.

Lastly, the third step requires you to upload the supporting documents of your application. When you finish, all you can do is submit your form and let iVisa do its job.
The bottom line is that obtaining a New Zealand ETA for the citizens of Nicaragua is an easy job when you use iVisa as your visa service.
Do I need a New Zealand ETA or Visa if I travel with my kids?
Yes, you must also apply to them. Don't forget that every foreign citizen who wants to enter New Zealand requires a Visa and that includes children.
How does the New Zealand ETA look like?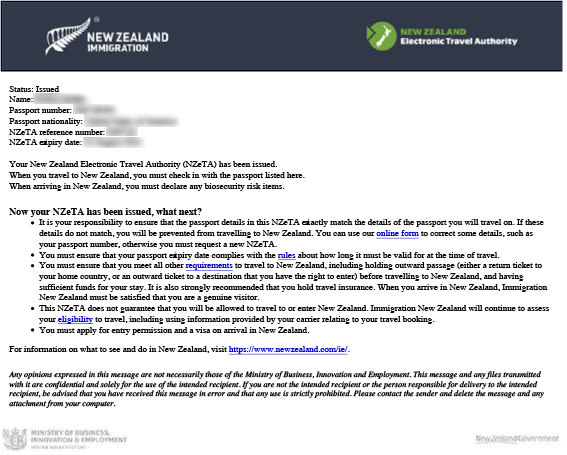 Where can I read more?
You can have more information of the New Zealand ETA by contacting iVisa's customer center. You can reach this service via online chat or phone 24/7.
You can also find more details about this document on this page, so don't lose the chance to be informed about New Zealand.
IMPORTANT: iVisa is not providing the ETA to New Zealand yet, but we can help you with some useful information to travel there. Nicaraguan citizens must get a Consular Tourist Visa to travel to New Zealand by now.