IMPORTANT NOTE: WE DO NOT OFFER THE NEW ZEALAND ETA YET, REMEMBER THAT THE VISITOR VISA IS NO LONGER AVAILABLE. HOWEVER, WE WILL LAUNCH THE UPCOMING NEW ZEALAND ETA VERY SOON
As a national of Vietnam, you qualify for an upcoming ETA if you wish to travel to New Zealand, which means that you'll be able to apply online for a New Zealand ETA.
Nonetheless, that's an upcoming option. You need to get a consular visa by now.
iVisa is ready to help you with the future process of getting an ETA, so we recommend you to keep reading this article to receive more valuable information about it.

Frequently Asked Questions (FAQs)
Vietnam nationals require a visa for New Zealand?
Yes, you need a visa to travel to New Zealand if you're Vietnamese. Remember that you can only obtain a Consular Tourist Visa momentarily, so you need to take a trip to the nearest embassy. Nevertheless, don't stress about it, you'll have the chance to apply for a New Zealand ETA soon.
As we declared before, iVisa is not providing the New Zealand ETA yet, but you can review your eligibility for other eVisas on this page.
After you enter the Visa Checker Tool, you need to choose your nationality and the country of destination in the drop-down menu. That's how you'll get the information quickly.
How many days can I remain in New Zealand with the ETA?
You can stay in the country for 90 days Per Entry.
What are the requirements for a New Zealand ETA?
The requirements for a New Zealand ETA if you're Vietnamese are the same as if you were from another nationality. You need to gather some documents and information so that iVisa can get the process started. Here is what you must provide:
Valid 3-months passport
Digital passport picture
A travel itinerary plan
Proof of accommodation
Employment list
Documentation that proves your bonds to your home country.
Proof of sustenance
Email address
Proper payment methods
Do you want to receive more information about these requirements? Then click here.
How much does the ETA cost and how long does it take to get it?
You'll be glad to know that the total price of a New Zealand ETA is affordable, but keep in mind that it can vary according to one single factor: the processing time. We are talking about the processing time option you choose during the application process. We offer three options so that you can go for the one that you find most convenient. They are as follows:
Standard processing (24 hours): USD $94.74.

Rush processing (4 hours): USD $136.74.

Super Rush processing (30 minutes): USD $183.74.
How can I submit my application form?
You only need to complete the application form that we have online. It should be an effortless task, but if you have questions, we provide customer support 24/7.
The form is divided into three stages:
Fill in the form with your personal information. You must also select a processing time for your application.

Review your application so that it does not contain any errors and proceed with the payment.

Upload the required documents that support your application. Then, hit the submit button and send your application form to us.
Needless to say, obtaining a New Zealand ETA for the citizens of Vietnam is almost effortless with iVisa. The ETA is valid for 2 years after issued and it gives you Multiple Entry.
Can you show me a sample of the ETA?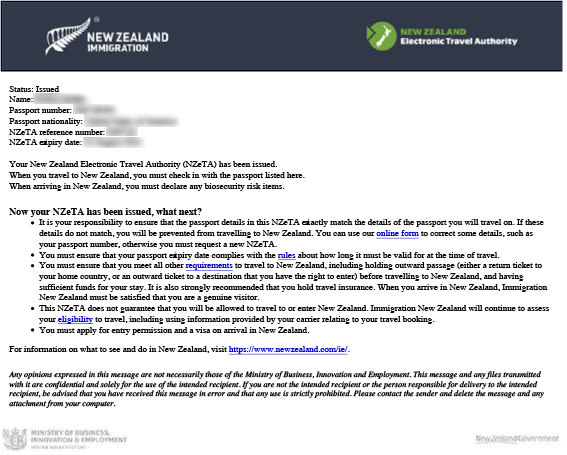 If my children want to travel with me to New Zealand, they require a visa too?
If you want to travel to New Zealand with children, then you'll require separate visas for them. Keep in mind that every foreign citizen has to apply for this document despite the age. That's why we firmly recommend you contact the embassy first so you can solve other questions you might have about this topic.
I want to get more info about the ETA, how can I contact you?
You can contact our team of customer service here. As a second alternative, you can read more about the New Zealand ETA as well using this link.
IMPORTANT NOTE: WE DO NOT OFFER THE NEW ZEALAND ETA YET, REMEMBER THAT THE VISITOR VISA IS NO LONGER AVAILABLE. HOWEVER, WE WILL LAUNCH THE UPCOMING NEW ZEALAND ETA VERY SOON