Covid vaccines have arrived to bring a solution to the coronavirus pandemic. We are sure you are tired of all the struggles of the pandemic. Therefore, you can now have the Vaccination Passport Norway after you get your covid vaccine. This health document will give you a smooth entry to most countries, like Norway. As a general recommendation, you should have hepatitis and rabies vaccines before your trip. Luckily, you have iVisa.com on your side to help you with the process.
The vaccination certificate is an official document that displays all your details about the covid vaccine you just got. Now you can freely travel without worrying about a pandemic as you know you are safer with the vaccine. Norway is the perfect destination to start exploring the world again.
Note: Since February 12th, 2022, the Norway Entry Registration Form is no longer necessary to enter the country.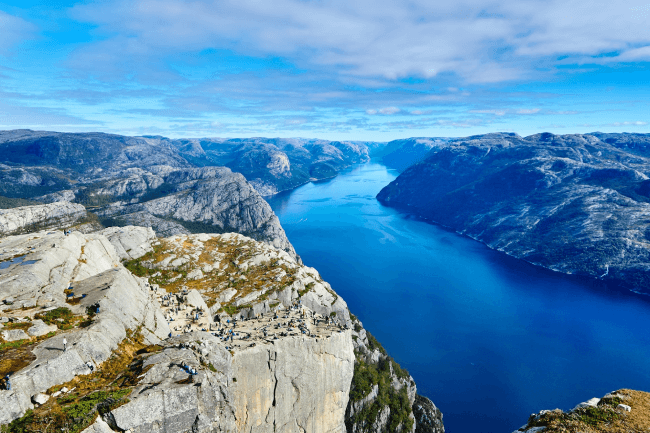 Frequently Asked Questions
Do I need a COVID vaccine or vaccination certificate to enter Norway?
No, you don't. As of today, COVID vaccination passports or certificates are not mandatory to enter Norway.
The following certificates can be used upon entry to Norway:

Norwegian COVID-19 certificate

The EU digital COVID certificate

UK NHS COVID-pass

Approved vaccines are Pfizer, Moderna, AstraZeneca, Janssen, Covishield, Sinovac, Nuvaxovid.
Since information may change quickly, we advise you to follow up on the latest Norway travel updates and/or contact your local embassy.
Do I need to take a COVID-19 test before traveling to Norway?
COVID test prior to arrival: PCR within 24 hours for travelers over the age of 18 without proof of vaccination/recovery only.

COVID test on arrival: All travelers arriving in Norway must take a test after arrival, regardless of their vaccination status.

COVID test exemptions: Children under 16
Do I have to quarantine once I arrive in Norway?
Quarantine requirements: There are no quarantine requirements.
What is the vaccination certificate, and what other required documents do I need to travel to Norway?
The Vaccination Passport Norway is a health document that gives you entry to Norway. It assures you have the covid vaccine. As soon as you get this vaccine, a door of travel opportunities opens. Also, you should get hepatitis and rabies vaccines to keep you safe.
Apart from this document, you will need the Norway Entry Registration. This mandatory document will register all your health and trip details for the Norway Government. iVisa.com has the right expertise to help you with the procedure.
Do children also need to complete the Norway Entry Registration?
No, the Norway Entry Registration is only a required for travelers over the age of 16 who are not fully vaccinated.
What will I need to start?
Complete the online form. Also, check the following items:
A valid passport
An email address to receive the travel documents.
A payment method. Choose between a credit/debit card or a Paypal account.
How much does this document cost, and when can I get it?
The Norway Entry Registration has three fees according to how quickly you need the travel documentation.
Standard processing time:

USD $25.49

-

USD $25.49

Rush processing time:

USD $45.99

-

USD $45.99

Super Rush processing time:

USD $77.99

-

USD $77.99
What are the steps to apply?
Complete the application form and select a processing time according to your travel needs.
Review your information. Pay with a credit/debit card or a Paypal account.
Upload any required documentation.
Is iVisa.com safe?
For sure! We have been working with travel requirements for years. We know we have reliable services that only bring successful results. We can assure your information is safe within our platform.
Explore the comments section and confirm we have what you need. The Vaccination Passport Norway is only a click away. Let us give you a hand with anything you need for your next trip.
Where can I find more information?
Get in touch with our customer service agents, who can solve your doubts about the Vaccination Passport Norway.
We can take all your questions day and night. Norway is waiting for you with an array of exciting activities.
Go to the application page now
iVisa.com Recommends
Norway is an incredible country with a great past. Explore Sognedjord, an amazing natural landscape that is only 204 kilometers from the village of Skjolden. Take a boat, fjord cruise, or a sightseeing tour to explore the marvelous natural wonders. Go to Bergen and check all your alternatives. Also, don't miss Naeroyfjord, an incredible stretch with cliff walls that are just 250 meters apart. Visit Fjærland, where you can find Europe's biggest glacier, Jostedalsbreen, and the Norwegian Glacier Museum.
Make your way to Pulpit Rock, located near Stavanger. Once you get to the top, indulge in the fabulous view of Lysefjord that is 600 meters above the water. Besides, you need to check the Norwegian Canning Museum and the Stavanger Cathedral. The 12th-century building has three architectural styles: Romanesque, Baroque, and Gothic. Explore Tromsø, a major base, where most Arctic expeditions have started since the 1800s. Since the 13th century, the city has focused on developing its fishing industry. If you're looking to check the northern lights, this site is perfect. Don't miss Polaria and the Polar Museum, as well. Check the Tromsø Arctic-Alpine Botanic Garden and explore the flowering plants.