The Turkey passport requirements for a photo are very exacting. For your passport renewal application or an application for a visa to move forward, you need photos that meet those standards. Review and follow the Quick Facts below and let iVisa Photos ensure that your photo is correct the first time.
Also, to avoid added expense and an unnecessary waste of time, visit iVisa.com website before traveling overseas to determine if you need a visa. They can process most visa applications online saving you time and money.
Photo Specs
Size: 6.0 cm by 5.0 cm.
Color: Color only. No black and white or added filters.
Head size and position: Head needs to measure 20-30mm. Squared off with camera.
Recency: Taken within the past six months and reflect current look.
Background: White and plain background.
Smile: Keep a neutral expression.
Eyes: Open and in full view. Nothing can block the eyes.
Glasses: Only if eyes are not hidden or obstructed from sight.
Headgear: Only worn for religious purposes.
Dimensions and size (pixels): None specified.
Attire, clothing, dress code: Avoid wearing white as it blends with background.
Beard: None specified.
Quantity needed in application: 1.
Turkey Passport Photo Size Requirements Guide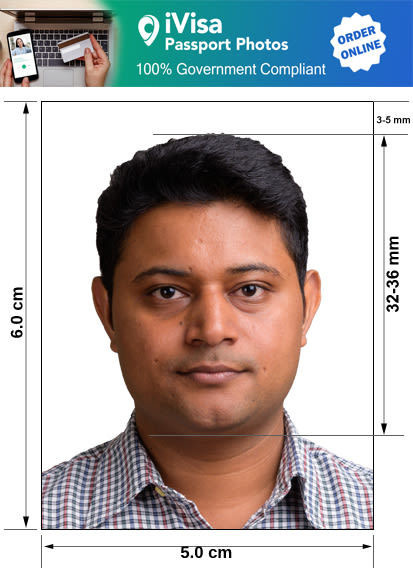 Turkey Passport Photo and Visa Photo Requirements, Rules, Guidelines, and specifications
These are only the start of what you need to know before taking your passport or visa photos. There are plenty more details to consider, all of which are designed to better your image and comply with government regulations. Here is a list of other specifications which should be included in preparation for photo taking:
There are a few country's which allow for black and white images, however, Turkey is not one of them. All photos submitted must be in true, natural color.
Your head should measure 20-30mm and have a 5mm gap from the top of the head and picture cut off.
All photos taken need to be recent. Old high school photos do not reflect your current look.
Hats or other distracting hair pieces are not acceptable. The only exception is for religious head pieces only. Ears and face must be fully visible when worn.
Glasses can be worn so long as the eyes are clearly visible. Thick rims, tinted lenses, glare or sunglasses are not allowed. Remove glasses if any other the mentioned details occur.
Digital alterations are absolutely NEVER acceptable. If you have red eye, the photo must be retaken. Have a scar or mole on your face? It cannot be photo shopped off.
Smiling distorts your face and makes it harder for facial recognition technology to identify you. Keep a neutral expression and mouth closed.
There should not be any shapes or patterns in the background. Keep it simple.
Clothing shouldn't be white as it will blend with the background. Uniforms such as military or law enforcement should not be worn. If you wear a religious uniform, this is acceptable.
Keep all shadows off your face and background. Lighting is crucial to the photo. If it's too dark or too light, it will be rejected, slowing down your application.
Beards can be worn if you usually wear one.
Rules and requirements for babies, infants, and newborns Passport and Visa photos
If you are planning to take the family abroad, each child or infant must have their own passport or visa. When getting ready to submit the applications, every kiddo also needs a separate photo. Avoid submitting older pictures, group photos or none at all. All regulations previously mentioned apply to children. There are a few additional rules and tips to assure proper photos. The following should assist you in these guidelines:
Keep all objects such as car seats, toys, people and anything else out of the shot.
Should you be holding your child, make sure hands are not visible.
Use a plain, white sheet or cloth to hide the background whether the infant is laying on the ground or in a car seat.
It may take a few tries but the child's face needs to be looking directly at the camera, squared off, eyes open and mouth closed.
Be sure lighting is even across the face and background.
Price and Cost
As you can probably guess from reading, there are many details revolving passport and visa photos. Another question to consider is where to get them done. iVisa Photos is excellent online choice if you are looking for simplicity and convenience. By using our services, you'll not only be saving time but you'll keep more money for vacation, as it should be. For a set of 2 photos, you can expect to pay 19.03 TRY. On the other hand, using a post office or other stores, you not only have to leave home or work, you pay way too much for the same prints. The same set of photos will cost around 50 TRY. Multiply that by how many family members need pictures and now you're taking away from the vacation fund.
How to get Turkey Passport Photos or Turkey Visa Photos Online?
Allow iVisa Photos to alleviate stress and keep more mullah in your pocket. Our easy to use site gives you total control of each step. Take a picture using our passport photo booth. If you're not happy with the image, simply retake it at no extra cost. When you submit the images to us, we guarantee 100% government compliance. Should you have any questions or concerns, our representatives are standing by. Never leave the comfort of home or work again as we also offer immediate download once the photo is compliant. We take care of the stress so you can vacay sooner!
References