When renewing a United States passport, your passport photo needs to meet the government's requirements in all aspects. The iVisa Digital Photo Service will save you time and money by ensuring that your photo is right the first time.
Simply review and follow the quick facts below and process the correct photo each time with iVisa Photos.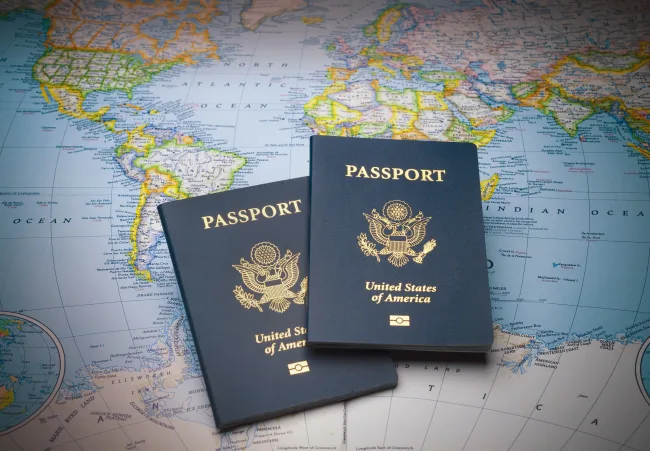 What are the required dimensions of a U.S. passport photo?
A United States passport must be of a certain size to adhere to international standards. Luckily, the U.S. passport follows international conventions. The size of the passport photo is 2 x 2 inches (ca. 5 cm).
Photo dimensions and specs
Here's a U.S. passport photo size requirements guide.
Size: 2 x 2 inches (ca. 5 cm).

Color: Photo must be in color, and not in black and white.

Head size and position: The head should take between 1 and 1 3/8 inches from the chin to the top of your head in the photo.

Recency: Cannot be older than the past six months.

Background: Solid white or a shade of white.

Smile: It's encouraged to use a neutral expression. However, you can go with a soft, natural smile if preferred.

Eyes: Open and visible.

Glasses: No glasses are allowed to be worn.

Headgear: No hats, beanies, or other head coverings are allowed unless it's for religious reasons.

Dimensions and size (pixels): 600 x 600 pixels minimum and 1200 x 1200 maximum.

Attire, clothing, dress code: No uniforms. Most other clothing is acceptable.

Beard: If you normally have a beard, keep it. If not, then don't grow one for the picture.

Quantity needed in application: Two per person and application. Don´t waste more time and get the right photo with iVisa Photos!
United States passport visa photo requirements: Rules, guidelines, and specifications
Here is a more in-depth idea of what you should and shouldn't do when taking a professional passport or visa photo.
How strict are passport photos?
All passport photos must strictly conform exactly to all guidelines specified by the State Department. Any deviation from these passport guidelines can result in your passport photo being rejected and your application being placed on hold.
Follow the passport photo requirements and best practices to avoid getting your passport application rejected or delayed.
What are the requirements of a U.S. work permit photo?
The requirements for a U.S. work permit photo are the same as the passport photo. The work permit photo must be 2 x 2 inches and have been taken in the last 6 months.
Get your U.S. work permit photo
How do I know if my passport photo is acceptable?
Your photo must meet all State Department guidelines outlined for passport photo requirements. Acceptable photos include adequate lighting, correct pixel dimensions, and correct photo measurements. If you follow the guide on this page, you'll have nothing to worry about.
And if you use our handy photo service, we make sure that your photos meet the requirements for all your visa and passport needs!
Get your government-compliant photos now
Can I take a passport photo with my phone?
Yes, a passport photo may be taken with your phone. You will need a well-lit area and white background. It will help if you have a friend that can take the photo. You will then upload the photo with the correct size and order prints online.
iVisa Photos is a full-service platform that can guide you through the entire process of taking the perfect passport photo.
Simply download our app to take your own photos with your phone!
How do I crop a photo to a U.S. passport size?
iVisa Photos can assist you in your photo cropping requirements. Simply select the document you need the photo for and how you would like to receive the photo. Upload and take your headshot, and our experts make sure it's perfect.
Extra U.S. passport or visa photo guidelines and tips
Be sure the lighting is correct as an underexposed or overexposed photo could be rejected.

A good rule of thumb is your nose should be the center of the photo.

Solid background only. No designs or colored background permitted.

Be cautious of wearing bulky scarves around the neck as they can decrease the visibility of the head.

If hearing aids are worn on a daily basis, they are allowed in the photo. Other devices such as wired or wireless headphones, Bluetooth, and any other device other than a hearing aid are not to be worn.

Printed pictures to be submitted with the passport application should be on glossy or matte paper.
Taking your own photo for a U.S. passport or visa application
If you are looking to take the photo yourself or scan an existing one, there are a few checklist items to be aware of:
Photos may not be digitally enhanced or altered.

You can use the government's free tools to help get the correct photo for submission.

Be sure to use a plain background and that your face covers about 55% of the photo with your face centered.

Use the correct pixel dimensions as stated earlier. Avoid the hassle and get your affordable U.S. visa photo with iVisa!