There are not many people who can apply for a Vatican City passport, but in case you are among them, the application process is not at all complicated. You need to put together some documentation and fill in a form. When you submit them, you must also enclose 2 passport photos, and iVisa Photos can help you obtain them without having to go to a professional photo studio.
Traveling abroad implies a visa in most cases, in which case we recommend that you check out our website. Depending on where you plan on going, you may be eligible for an electronic visa. iVisa can help you find that out, and if you do qualify for an eVisa, it can help with the online application process so that your effort is limited.
Photo specs
Required photo size: 45 mm in height and 35 mm in width
The submitted photos must be in color
Head position: straight
Recency: taken no more than 6 months ago
Background: white
Smile: no
Eyes: must be clearly visible
Blurred pictures will be rejected
Glasses: acceptable only if they do not obscure the eyes and there is no glare in the photo
Headwear: allowed for religious/cultural purposes
Resolution (pixels): at least 600 dpi
Dress code: the colors of your clothes must be in contrast with the background. Uniforms are allowed
Beard: permitted if it represents your everyday appearance
Number of photos necessary: 2
Vatican City Passport Photo Size Requirements Guide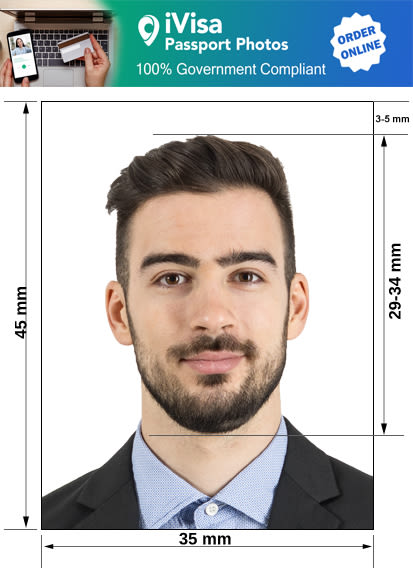 Vatican City Passport Photos and Visa Photo Requirements – Rules, Guidelines, and Specifications
When you take your picture for your Vatican City passport, you must be careful to follow a few simple rules. We suggest that you read them carefully so that you get it right from the first try. Here are the guidelines you have to take into account when you capture your own passport photo or visa photo:
Since the background of the photo has to be white, you must take your picture against a white wall. If by any chance, a white wall is not accessible to you, you can hang a white sheet on the wall and use it as a background. The whole point is for the background to not contain colors, patterns, or shadows.
It often happens for people to underestimate the need for adequate lighting, but that can lead to a photo rejection. Choose a frontal source to avoid appearing with shadows on your face. Also, make sure that the light is neither too bright nor too dark. It has to be balanced.
Right before you take your own passport photo or visa photo, position yourself with your head straight and your face forward. Do not tilt or rotate your head in any direction. Portrait-style images are not accepted because both sides of your face must be equally seeable.
In your passport photo or visa photo, you cannot appear smiling. In fact, no other facial expressions are permitted other than neutral. So, when you take your picture, relax your face for the best possible result.
Your eyes must be perfectly distinguishable. They should not be obscured by anything. If you usually wear prescription glasses, you should take them off for the photo session. That way, you can avoid flash reflection. Needless to say, sunglasses and eyeglasses with tinted lenses are not permitted, either.
Headwear is acceptable only for religious purposes. No other exceptions are made.
If your everyday appearance includes a beard, it is not mandatory for you to shave it off before you take your passport photo or visa photo. However, if you plan on making any changes related to your facial hair, you should do so before you take your picture. The point is that the photo must depict the way you currently look.
Rules and Requirements for Babies, Infants, and Newborn Passport and Visa Photos
Children are not known to apply for a Vatican City passport, so there are no special rules and guidelines for them in this particular case.
Price and Cost
When you decide to get your passport photos or visa photos online with iVisa Photos, not only will you spend less money, but you will not waste any time either. The online process is far more convenient than going to a photo studio from all points of view.
A Vatican City passport requires that you submit 2 pictures. When you obtain them with iVisa Photos, you pay only $5.99 for them. That is approximately 5.40 Euros. The exact amount depends on the exchange rate on the day you make the purchase.
How to get Vatican City Passport Photos or Vatican City Visa Photos Online
We covered the Vatican City passport photo requirements and the rules you have to follow when you take your picture. Now, we can move on to what to expect during the online process of getting your pictures.
First, you have to make sure that you have a decent camera. The resolution must be high enough so that the picture is clear. Most people use the camera from their phones or tablets.
Secondly, you have to find the appropriate environment in which you can take your photo. Remember the rules about background and lighting.
Then, all you have to do is to take your photograph following all the other rules we discussed earlier. Once you have a picture that you like, you have to submit it to iVisa Photos. You can do that via e-mail or directly on our website.
After receiving your photograph, iVisa Photos will process it to make sure that it is 100% government compliant. Once that is done, you will be provided with two choices:
1.You can download the processed photo to print it yourself. If you opt for this, make sure that you have photo-quality paper at hand.
2.You can give us your address, and we will make sure that the pictures reach you as soon as possible.
You should not experience any difficulties with any of this, but if you have questions, do not hesitate to contact iVisa Photos' customer support service.
References