Citizens of Ukraine who will travel to Portugal, will need to get an ETIAS before their departure. ETIAS stands for European Travel Information and Authorization System and it's a permit that travelers must process electronically when making their travel plans to Portugal and the Schengen area. iVisa.com has developed an online, secure, and fast service to acquire your Portugal ETIAS easily.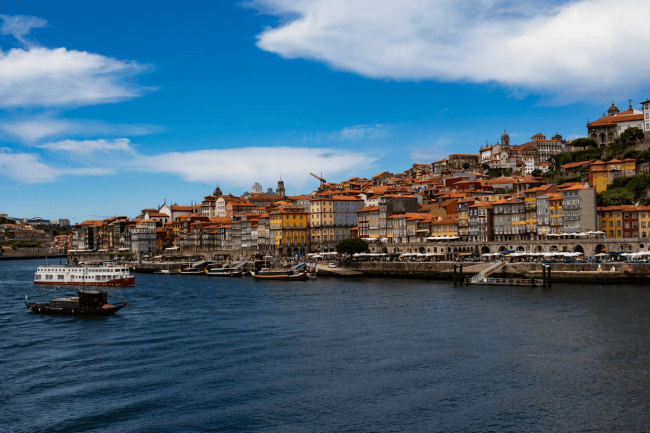 iVisa.com is always observing new travel procedures to offer you effective services to procure your documents error-free and efficiently. This is why we are letting you know what to consider before applying for the Portugal ETIAS for citizens of Ukraine. To do so, we will start by showcasing the steps to access our services.
What are the steps to access iVisa.com's service for the ETIAS procurement?
Finish filling out our application form with the data required.
Attach the documentation requested.
Choose a Processing Speed Choice.
Pick your favorite payment method: Paypal, debit, or credit card
Submit your complete form. Now, our team of experts will assess it
Get your ETIAS in an email depending on your selected processing speed.
Print your ETIAS.
Is it more convenient for me to apply in advance?
Of course, it is. If you order your ETIAS in advance, you will have more time for your other trip related matters, and you will also have time in case you need to correct your ETIAS application. If your journey is still weeks or months ahead, do not worry, we will ensure your document will be ready at the exact moment for your trip.
Frequently Asked Questions
What is the ETIAS validity duration?
This document has a three-year validity. After this time, you will need to do an ETIAS renewal. Keep in mind you will also require an ETIAS renewal in case your passport expires, and you get a new book.
How much time can I spend in Portugal with my ETIAS?
Although the ETIAS is valid for three years, you are only allowed to stay in Portugal for a maximum period of 90 days in a space of 180 days (The 90/180 rule). Consider that if you do not follow strictly this rule, you may have problems with your next ETIAS renewal.
See What to consider before applying for the Portugal ETIAS for citizens of Ukraine
How much are iVisa.com's charges to get my travel document?
At iVisa.com, we have experience procuring many travel documents. We take our time to analyze the documentation to offer you a high-quality service and to inform you on topics such as: what should you know about Portugal ETIAS for citizens of Canada. Despite this, our prices are cost-efficient:
Standard Processing Time: Pay our most affordable fare and get your document in a standard time
Rush Processing Time: Pay a higher fare to obtain your ETIAS faster.
Super Rush Processing time: Pay the highest fare to acquire your document at the fastest speed.
Is the ETIAS registration free?
No, the ETIAS registration costs 7 Euros. This charge will be included in iVisa.com's fee. We guarantee your ETIAS will be supplied at the right time and with no mistakes.
Do I need any extra documents to get my ETIAS?
The only details you require are:
A scanned copy of your main passport page.
A valid email address
Your chosen method of payment Debit, credit card, or Paypal
Get started with your application
What should I do in case I want further updates on what to consider before applying for the Portugal ETIAS for citizens of Ukraine?
For more information or further details about What to consider before applying for the Portugal ETIAS for citizens of Ukraine, you can get directly in touch with our Client Care Team. They are available to answer your doubts or concerns 24/7
Does iVisa.com provide a reliable service?
Yes, we do. We have assisted thousands of customers. Our services have exceeded their expectations (you can read about their experiences with us here while we have processed their travel documents (millions of them) efficiently and with no mistakes.
iVisa.com Recommends
Enjoy the different plans you can join in Algarve. The Algarve is a region located in the south of Portugal, in the district of Faro. With an area of 4,960 km² and almost 500,000 inhabitants, it is the most touristic region in Portugal, especially for the quality and beauty of its beaches, but also for the tourist opportunities found there: beach tourism, mountain tourism, and city tourism.
On one hand, the Sierra de Monchique stands out, where the Pico da Fóia is located, and the Formosa lake (or Ría Formosa), where a large 170 km² natural reserve is located and which constitutes the habitat of hundreds of species of birds. As for the Algarve coast, it is worth highlighting Praia Da Rocha (in English, the Stone Beach), which is the main beach in the city of Portimão. This beach became a tourist center in Portugal already in the 19th century when the tourists that came were mainly families with children. Nowadays, however, there are all kinds of visitors, from families to young people and even the elderly. It is also one of the top destinations for singles.