Russia is a beautiful country. The famous Red Square and St. Basil's Cathedral are some of the more well-known landmarks, but there are plenty of other unique attractions you can enjoy. Keep in mind most visitors need a visa to enter Russia. Getting one is not difficult. All you need to do is go to your local Russian embassy and apply for one. However, before you apply you will need to have an invitation letter. iVisa.com can make things easier for you by helping you get your invitation letter quickly. All you need to do is apply online and you can have your invitation letter in as little as 30 minutes.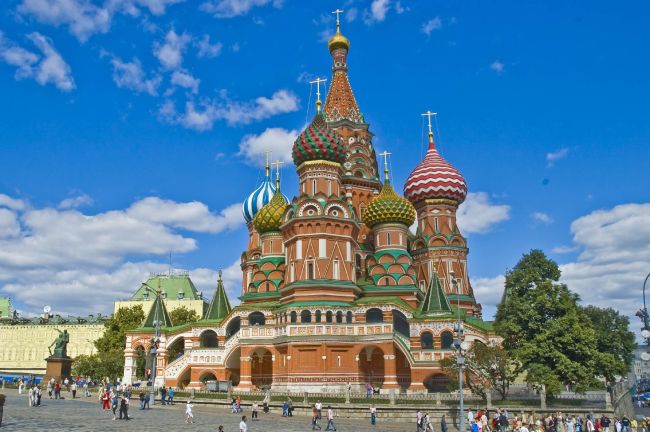 Frequently Asked Questions (FAQs)
Do I need a visa to visit Russia?
Depending on your nationality you will know if you need a visa or if your country is visa-exempt. Some nationalities can also apply for other types of visas for Russia. You can use our visa checker by clicking here. Just choose your nationality and Russia as your destination and you will be able to review the information. If you do need a visa to enter Russia, you will require an invitation letter before applying.
How long does it take to get a Russian visa??
A Russian visa can be processed in 9 days for standard processing. We also have rush and super rush pricing options available for a higher fee.
How do you go to Russia?
Russia will require a tourist or business invitation letter depending on your nationality. There is also a Kaliningrad eVisa and a Far East (Vladivostock) eVisa. Here is the full list of options:
Tourist Invitation Letter.

Business Invitation Letter.

Kaliningrad eVisa.

Far East (Vladivostok) eVisa.
Please note the information on this blog is about the Tourist Invitation Letter. You can review the information on the other types of visas here. Also, keep in mind that not all nationalities can apply to Kaliningrad and Far East eVisas.
If invitation letter cost is zero, why do I need to pay?
It is a difficult process to obtain an invitation letter and it is a necessary requirement to apply to a Russian visa. To obtain your invitation letter with iVisa.com, you will only need a few minutes of your time and we do the rest. Then, you will be able to obtain your invitation letter in as little as 30 minutes! That is why we charge you a small service fee.
What is a Tourist Invitation Letter?
It is a document stating that you are officially invited to Russia by a Russian travel company or a hotel that is accredited by the Ministry for Foreign Affairs of the Russian Federation. This document has two parts: A Voucher and a Confirmation of the Admission of a Foreign Tourist. It is necessary to present an Invitation Letter for you to apply for a Russian visa.
What are the documents required to apply?
To apply for an Invitation Letter with eVisa, you will need the following:
Valid passport (at least 6 months after arrival in Russia).

Credit/debit card.

Valid email address.

Arrival and departure date.

Accommodation information.
What are the processing times and prices?
For the processing time of your invitation letter, iVisa offers you three options, and you can choose depending on your needs:
Standard processing – your application is processed within 24 hours, and the price is USD $64.49 (service fees included).

Rush processing – you will receive your letter within 6 hours, and the total price of it is USD $116.49 (service fees included).

Super rush processing – this is the fastest option. You will get your Invitation Letter in only 30 minutes, and you will be charged USD $179.49 (service fees included).
Click here to start your application.
What is the difference between a Tourist Invitation Letter and a Russian Visa?
The Tourist Invitation Letter is a document that must be presented along with your visa application. It is not an actual visa, but a document that the Russian government requires for you to apply for an actual visa.
Does the Invitation letter guarantee that a visa will be issued?
No, it is merely a document that allows you to apply for the actual visa. The approval of your visa will be at the discretion of the Russian government.
How long does it take to apply for a Russia Tourist Invitation Letter?
Applying online with iVisa.com will take you less than 10 minutes. Then, shortly after we will let you know the status of your application by email.
How can I apply for a Russia Tourist Invitation Letter?
The form consists of two steps:
First, you need to fill in your basic information. You also need to select the type of invitation letter you want and the processing time.

The second step of the application will require you to revise the first step and make the payment. After the payment is processed, you can submit your application and wait for the invitation letter to arrive via email in the timeframe you selected. Do not forget to print it and take it with you to the Russian embassy.
Click here to start. After you are done, you can submit your form and wait for your letter to arrive. In case you need assistance fill in your application, iVisa has a fantastic support service that you can call 24/7.
What happens after I have applied?
Once you submit your form, you will receive an email confirming your application.
Can I travel to Russia with only my invitation, without a visa?
No, it is not possible. You will need a Russian eVisa and the Tourist Invitation Letter allows you to apply for it.
How does the Russia Tourist Invitation Letter look like?
This is how the Russia Tourist Invitation Letter looks like: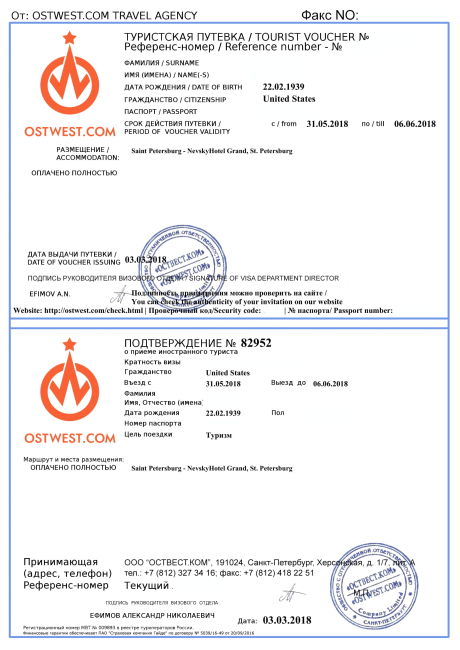 What do I need to do after I receive the Invitation Letter?
After you've received your invitation, you need to go to the Russian embassy to have your interview. Before doing so, you need to find out which documents you need. We recommend you give the embassy a call before you go. After the interview, the embassy will issue your Russia visa if approved.
How much does the Russia Tourist Visa Cost?
The Russian tourist visa costs $160.00 which does not include the administrative fees or letter of invitation letter fee. Please Note: There may be cheaper Russia Tourist visas available depending on your nationality. Enter your nationality into the visa checker to see all available visa types.
What can I do if I make a mistake in my application?
If we already submitted your application, then you can NOT make any changes and you will have to apply again but we will NOT charge you another service fee. If this is the case, let us help you by contacting one of our customer representatives.
Is it safe to use iVisa to get my Russia Invitation Letter?
Many people think that information online leaks and that it can get into the wrong hands. However, that is not the case with our services. We provide maximum safety for your personal data, confidentiality, and we invest a lot in the security of our database. Your personal information could not be safer. You can check what hundreds of happy customers say about us here.
I have more unresolved questions, where can I find more info?
Click here and start chatting with one of our customer service representatives if you have specific questions. Alternatively, you can find more info and FAQs here.