Did you know Russia has 23 sites on the UNESCO World Heritage List? It's unbelievable how much rich culture this huge country has to offer to the world. The Russian government is stepping in the right direction by simplifying its visa process with the new Russia Vladivostok eVisa.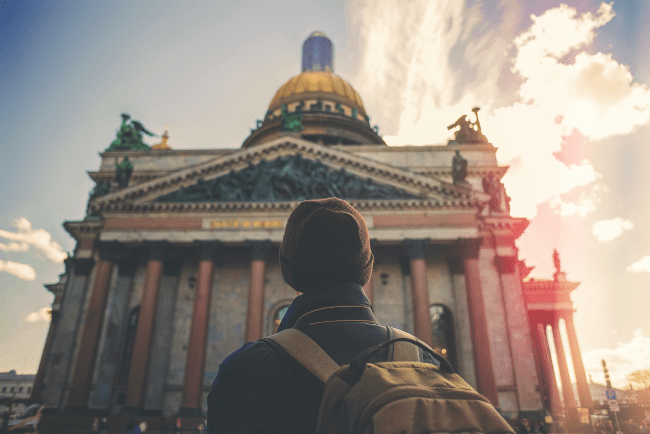 Citizens of Northern Macedonia can rest assured that it is one of the countries able to apply for the three eVisas offered by Russia, the Far East (Vladivostok) eVisa, Saint Petersburg eVisa, and the Kaliningrad eVisa.
The electronic process is made easy with iVisa.com. Get a fast, simple, and reliable service with us. Apply for your Russia Vladivostok eVisa.
Explore more about these eVisas and plan your journey to Russia.
Frequently Asked Questions (FAQs)
What is an electronic visa or eVisa?
The Russia eVisa is a new online process without the many requirements of a regular visas. In this case, you just need an Internet connection and some spare minutes to complete the application.
According to the region you want to visit in Russia, you choose between the three available e-Visas, the Far East (Vladivostok), Kaliningrad, and St Petersburg.
It's time to travel to Russia, so start by applying for your eVisa.
Do I need an eVisa as a citizen of Northern Macedonia?
Yes, citizens of Northern Macedonia are required an eVisa to enter Russia. There are only 53 countries that can apply for a Russia Vladivostok eVisa, the rest need to go through the tedious traditional application process for a regular visa.
Remember that as a citizen of Northern Macedonia you can choose between the Kaliningrad eVisa, the Saint Petersburg eVisa, and the Far East (Vladivostok) eVisa. This will depend on your itinerary and the specific sites you intend to visit in Russia.
Get to the iVisa.com's application page and start your trip soon!
How long are the eVisas valid for?
The three Russia eVisas are valid for 30 days after issued since the issued date. They allow you a single entry and you can stay up to 8 days Per Entry in the country. There are specific points of entry for each eVisa, so make sure to choose wisely where to go and remember that you should exit the same way you arrived.
Do you have any questions? Reach our support team for further clarification.
What relevant documents do I need?
Make sure to have the following requirements before applying:
A passport scan, showing your details and photo. Your passport should be valid for the next 6 months after you arrive in Russia.
A return flight,this requirement proves that your visit is short-term and you don't intend to stay in Russia indefinitely.
An accommodation reservation,to prove that you are staying in a hotel or an Airbnb.
A valid email address, where iVisa.com will send the eVisa.
Payment alternatives, you can pay using a Paypal account or a credit/debit card. iVisa.com charges a minimum fee to bring you the best process for your eVisa.
What processing times and prices do you manage?
For each eVisa to Russia, the Saint Petersburg eVisa, Kaliningrad eVisa and the Far East (Vladivostok) eVisa, we bring you three options:
Standard service, wait only

9 days

for the lowest price at

USD $28.49

.
Rush service, there is a waiting time of

7 days

that will require a fee of

USD $50.99

.
Super rush service, the shortest amount of time with

5 days

at the fair price of

USD $82.99

.
We are here to help you, if you have some doubts, please contact our support agents and they will gladly answer any questions.
What are the steps to get the Russia eVisa?
You just need to follow 3 important steps and your eVisa will be ready soon.
Respond the electronic questionnaire and choose a processing time (Standard, Rush, or Super Rush).
Double-check the answers and try not to leave blank spots (if applicable). Proceed to pay with a Paypal account or with a credit/debit card.
Upload the documents required, like your passport, and apply.
That's all! Start the simple process with iVisa.com here.
How secure is using iVisa.com for the eVisa process?
iVisa.com is a specialized company in all sorts of travel documentation and eVisas are the star products. We work with updated systems and we keep close control of the personal information that our customers entrust us with. Review our client's opinions so you get to know our quality service.
Who can I contact for more information?
Get in touch with our support agents if you have questions or specific requirements. You can also email [email protected] and you will receive a prompt response.
Russia Vladivostok eVisa is ready for you, go for it!