Before traveling to Saint Lucia, you have to apply for the Saint Lucia Travel Registration Form. This document was created to screen all international arrivals, including those arriving from nearby countries like Barbados, Grenada, Curacao, Antigua and Barbuda, Dominica, etc. The good news is that you can apply for this document using an online application form, so there's no need to go to a local embassy.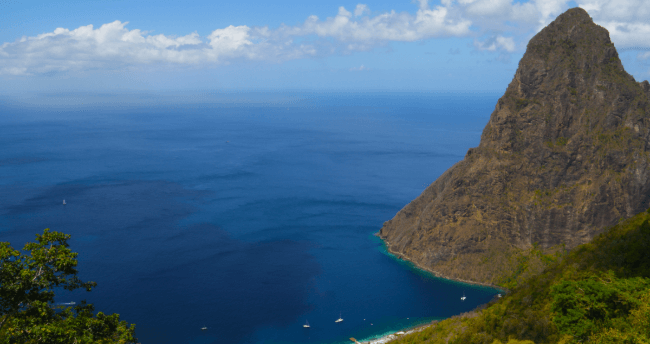 Another great news for you is that iVisa.com created an effortless application form that allows you to apply for this document faster than an official website. This process is quite affordable and easy-to-understand, so we recommend you to consider it.
If you want to learn how the citizens of the United States can enter St. Lucia During Coronavirus, we invite you to read the following FAQs. You can be sure that once you finish reading, you'll be ready to take the next plane to Saint Lucia.
Frequently Asked Questions
What is the Saint Lucia Travel Registration Form?
The Saint Lucia Travel Registration Form is an electronic document that authorizes you to enter Saint Lucia while the COVID-19 Pandemic is still present. This document was launched by the officers in this country, and it's mandatory for all foreign travelers.
With this travel requirement, the officers can track all the citizens entering the country, which is an excellent help to avoid the spread of the COVID-19.
To apply for this document, you only have to complete an online application form. You don't have to go to the embassy, and for your convenience, you can easily apply using iVisa.com's service to save much of your time.
Do I need a St. Lucia Travel Registration Form if I'm from the United States?
All foreign citizens must apply for the Saint Lucia Travel Registration Form as it is obligatory for everyone. This means that, if you're from the United States, you also have to apply for this document before entering the country.
There are no exceptions for this rule, so be aware of that before planning the rest of your trip. Just remember that if you're living in the US but you're from another country, then you should verify this information with our Visa Checker Tool. By using this tool, you'll be able to confirm what documents are required according to your nationality.
Do I need to get tested before traveling to St. Lucia?
Applying for the Saint Lucia Travel Registration Form is mandatory, but you also have to meet other requirements before traveling to this exotic island. Notice that all travelers from the Bubble countries must get journey permission before landing in Saint Lucia. These travelers should also confirm reservations at a COVID-19 authorized accommodation.
In the case of the COVID-19 test, keep in mind that a PCR negative test result (COVID-19 test) is also necessary, and it shouldn't be more than 7 days old.
You could also need to complete a 14-day quarantine depending on your travel history, especially if you've been to high-risk areas.
What requirements do I need to apply for the Saint Lucia Travel Registration Form?
This online process might be easy, but you still have to offer a shortlist of requirements before applying. If you decide to use iVisa.com's application form, then you have to meet the following documents:
A passport with no more than 6 months of validity.
A valid pre-departure PCR COVID-19 test result with negative results.
A document to prove that you'll stay in a COVID-19 certified accommodation.
A valid credit/debit card or PayPal to pay for iVisa.com's service.
What are the processing times and prices with iVisa.com?
The price of this document will vary depending on the processing time you choose with iVisa.com. You can choose any of the following options according to your travel plans, but keep in mind that the slowest processing time takes only one day, meaning that you can receive your document in 24 hours after applying.
These are your options:
Standard Processing Option: This option has a total price of

USD 20.00

and processing time of

24 hours

.
Rush Processing Option: With this alternative you just have to wait

4 hours

by paying

USD 35.00

.
Super Rush Processing Option: This processing time takes

30 minutes

to process your document if you pay

USD 60.00

.
How do I apply for the Saint Lucia Travel Registration Form?
One excellent advantage of using iVisa.com's application form is that you won't need to spend too much time on it because this form has only 3 steps to complete. These steps are:
First, fill in the online application form with your personal details and choose the procedure option you prefer.
Second, be sure that the information you wrote is correct and pay for the service using the best method for you (Paypal or credit/debit card).
Third, be ready to upload the documents and attach them to the form. After that, you're ready to finish the process by clicking on 'submit'.
That's all you have to do! The rest is iVisa.com's work. You can wait for your document via email inbox once it's ready.
If you're ready to start, click here.
How much time do I need to apply?
You can use iVisa.com's application form at any time because our platform is available 24/7. The best part of it is that you can save time with this form- it only requires around 15 minutes of your day.
If you need help while applying or you find issues in your form, don't hesitate to contact iVisa.com's customer service via chat online.
Is it safe to apply online?
You can be sure that iVisa.com's Saint Lucia Travel Registration Form is totally safe due to our strong and reliable platform that's constantly updated to offer you only the best results. Your information won't be put in danger.
To prove our point, we invite you to read our reviews here.
Where can I obtain more information?
Since the Saint Lucia Travel Registration Form is very recent, it's completely normal to still have questions about it. Therefore, we suggest you take a look at our website if you want to read more details. If you prefer personal attention, you can always contact iVisa.com's customer service at any time.