Slovakia has plenty of attractions to offer. Visit Košice and see the beautiful St. Elisabeth Cathedral, or have some coffee in the famous Hlavná Street. If you are into art performances, don't miss the chance to go to the Neo-Baroque State Theatre. Slovakia must be your next destination!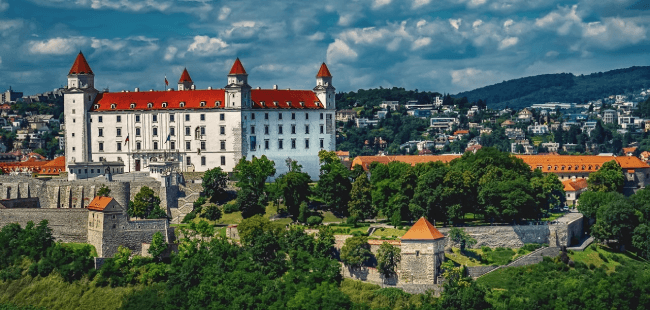 Citizens of Canada who want to travel to Slovakia or any other Schengen country need to have the ETIAS authorization. The Slovakia ETIAS will be mandatory for international visitors by the end of 2022.
Check all the requirements to obtain the Slovakia ETIAS with iVisa.com. iVisa.com offers a simple, fast, and 100% reliable product.
Continue exploring!
Frequently Asked Questions
What is an ETIAS?
ETIAS is the European Travel Information and Authorization System. The Slovakia ETIAS is a simple process that most international travelers will need to go through if they want to visit the Schengen zone. EU immigration expects to gather the travelers details for better management of incoming visitors.
I'm from Canada, should I get a Slovakia ETIAS?
Yes! Citizens of Canada must apply for a Slovakia ETIAS as they are exempt from a Schengen visa. Countries that don't require the Schengen visa are required to complete the ETIAS application. Canada is among the countries exempt from a visa to the Schengen zone. For this reason, Canadian citizens must have Slovakia ETIAS.
How many countries can I visit with Slovakia ETIAS?
Citizens of Canada can enter the 26 European countries in the Schengen zone with their Slovakia ETIAS. If you want to confirm what countries are Schengen, try the iVisa.com Visa Checker. iVisa.com can tell you all the travel documents you need for your next trip.
iVisa.com can help you! Travel to Slovakia soon!
Can I use the Slovakia ETIAS for multiple entries?
Yes! The Slovakia ETIAS allows multiple entries to the Schengen area, which includes Slovakia. But, citizens of Canada must follow the next parameters:
iVisa.com has a full support team at your disposition if you need some help.
What info do I need for Slovakia ETIAS?
Citizens of Canada must fill out an online application with personal information. Visitors may be requested data about criminal records, visa denials, and previous trips to war zones.
Check the following items too:
What are the waiting times and fees?
Citizens of Canada have three options:
Not sure about something? Don't worry, contact us!
What is the process for Slovakia ETIAS?
Citizens of Canada need to follow these three steps:
After you finish these steps, iVisa.com will send you the Slovakia ETIAS! You will be ready to travel in no time!
How will I receive the Slovakia ETIAS?
The Slovakia ETIAS will arrive at your email inbox. Make sure to provide a valid email address when completing the application.
Citizens of Canada should print the ETIAS authorization and show it to border control upon arrival. EU immigration has the final decision for the admission of international travelers, so keep the ETIAS document with you to have a smooth entry to Slovakia.
How safe is iVisa.com?
iVisa.com is 100% secure. Citizens of Canada can trust iVisa.com because we work with the best security guidelines to process travel documents. We can assure your information is kept safe with iVisa.com.
Read our customer reviews and confirm iVisa.com has an incredible rate of satisfactory services.
I have some doubts, who should I reach out?
Contact our incredible support team, who is available 24/7. If you have specific questions or you need some advice during the ETIAS process, we are here to help you!
Also, you can write to help@ivisa.com.
Travel to Slovakia with iVisa.com!