With the arrival of the coronavirus vaccine, travel restrictions have reduced around the world and more people have become embarking on adventures again. As a tourist of Slovakia, you might be wondering, "Do I need a vaccine to travel to Slovakia?" Well, you are lucky because visitors of Slovakia do not need a coronavirus vaccine to visit the country as per the current guidelines.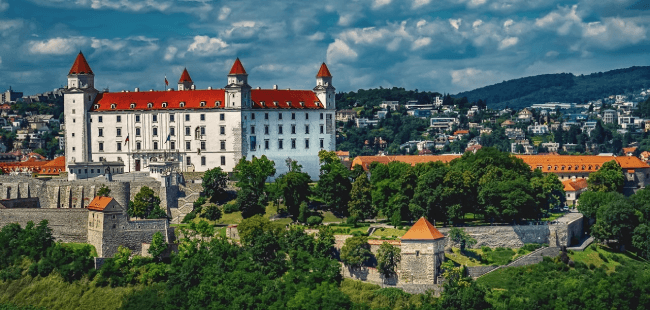 Slovakia has something to offer to everyone. The country is famous for its history, heritage, and culture, hence, history nomads love to visit this landlocked place every now and then. With breathtaking natural landscape views, mountains, castles, and ski resorts, there are plenty of things to explore in this country.
If you are planning on visiting the land of castles, and are still thinking, "Do I need a vaccine to travel to Slovakia?", then you need not worry anymore because as per the current rules, people from all over the world can enter Slovakia without the coronavirus vaccine.
Find out more about the travel documents for your trip to Slovakia.
Can I get a Health Declaration through iVisa.com?
At the moment, those visiting Slovakia need not worry about getting the vaccine to enter the country. However, getting the Health Declaration can be a time-consuming task, but through the following three quick steps, with the help of iVisa.com, your Health Declaration application process will be completed successfully:
Complete the online form and enter personal information accurately.
Check your answers in order to ensure that all the information you have added is correct and up to date. Once you have done that select your preferred processing time and complete the payment for your Health Declaration application process.
Upload any essential document as asked in the form. iVisa.com will send you the approved Health Declaration to your email address as soon as the process is completed. With these simple steps, your application process will be done in no time.
Frequently Asked Questions
Which risk category is my country?
Safe countries are EU countries, Argentina, Australia, Bahrain, Canada, Chile, China (special administrative regions Hong Kong and Macau), Colombia, Jordan, Kuwait, Namibia, New Zealand, Peru, Qatar, Rwanda, Saudi Arabia, South Korea, United Arab Emirates, Uruguay, Taiwan.
All the other countries are considered high-risk.
Do I have to quarantine when I get to Slovakia?
It depends whether you're fully vaccinated or not and where you're arriving from:
Fully vaccinated travelers do not have to quarantine.
Unvaccinated travelers must quarantine for 10 days, or take a PCR test to end the quarantine after 5 days upon receipt of negative results.
All travelers, regardless of vaccination status, who have visited South Africa, Botswana, Namibia, Lesotho, Eswatini, Mozambique, Zimbabwe, Israel, Hong Kong or Seychelles in the 14 days prior to entering Slovakia must for 14 days if asymptomatic or until negative results are received from RT-PCR tests on days 1 and 8.
Do I need a COVID vaccine or vaccination certificate to enter Slovakia?
Yes, Slovakia has been taking steps to restore travel within its borders. If you are not coming from the EU countries or the safe countries, in order to enter Slovakia, you'll need to display your COVID vaccine passport or vaccination certificate. You won't need to present a negative PCR test nor to follow a quarantine.
Approved vaccines are Pfizer, Moderna, AstraZeneca, Johnson & Johnson, Bharat Biotech, Sinopharm, Sinovac.
You are considered vaccinated if all doses of a vaccine against SARS-Cov-2 have been administered for at least two weeks before traveling.
You can find out more about the procedure to get your travel documents ready before your trip.
Can iVisa.com help me in obtaining the entry documents for my visit to Slovakia?
If you are still concerned about, "Do I need a vaccine to travel to Slovakia?", the quick answer is that you do not need to worry about having a vaccine. However, you will need a passport to travel to Slovakia. Among other things, you might need a Health Declaration to visit and stay in Slovakia.
Begin the application process now
I have to travel urgently! Can iVisa.com help me get the Health Declaration faster?
Yes, we can help you get your Health Declaration to Slovakia as soon as possible. iVisa.com has created three options for all our travelers to ensure that any urgent requests can get processed faster in order to help all those who are visiting Slovakia. These options include:
Standard processing: This is the cheapest option for those who already have some time before they plan on leaving for Slovakia.

USD 20.00

-

24 hours

.
Rush processing: This would be a great choice for those who need the Health Declaration in advance and can afford a slightly more expensive option.

USD 35.00

-

8 hours

.
Super Rush processing: This is the ideal option if you need to leave for Slovakia urgently. This is the quickest option and will make sure that you get your Health Declaration in a record number of days.

USD 60.00

-

4 hours

.
Start applying for Slovakia Health Declaration today
Will I need a lot of documents to start my iVisa.com application?
When applying for the Health Declaration, you will need the following documents:
Your passport with the information page (you must make sure this is the page with your picture).
A debit or credit card with which you can pay the charges for your Health Declaration application.
A valid email ID through which iVisa.com will share your approved Health Declaration.
Start applying for a Health Declaration to Slovakia today
I still have a few more questions, what do I do?
If you are still doubtful, "Do I need a vaccine to travel to Slovakia?", you can send us your queries on our email to get more information about the Health Declaration application for Slovakia. Alternatively, you can also visit this link to read more about Slovakia, its tourism, and the documentation processes.
iVisa.com Recommends
Slovakia has often been touted as one of the cleanest countries in the world. It has unique open-air museums like the Museum of the Slovak Village. Visit one of its many fairy tale castles, some of them being the Orava Castle, Bojnice Castle, Devin Castle, and the Strecno Castle among many others. The Slovak Paradise National Park is your best way to explore the flora and fauna of Slovakia. Prielom Hornadu is among the most commonly visited routes in the area for its scenic beauty. You can wrap up your trip by taking a walk down the lanes of Bratislava and visiting the Slovakia National Museum located in the region. iVisa.com hopes you have an exciting trip to Slovakia.